Anthem Unveils New A/V Processors, Receivers, Amps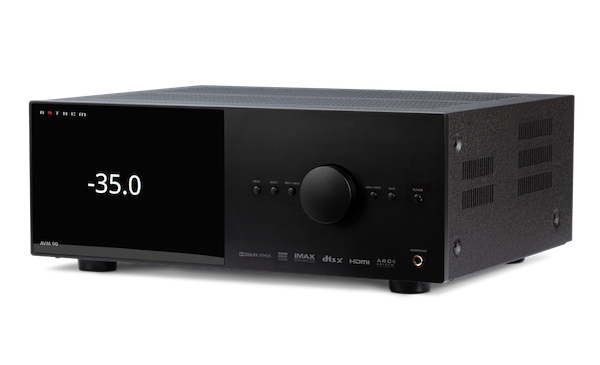 Canadian A/V electronics maker Anthem has announced a comprehensive refresh of its AVM processor, MRX receiver, and MCA amplifier lines. Estimated to ship in December, the new arrivals consist of a pair of preamp-processors, a trio of receivers, and power amps in 2-, 3-, and 5-channel configurations.
AVM 90 and AVM 70 A/V processors
At the top of the pack are Anthem's flagship AVM 90 ($6,999, shown above) and AVM 70 ($3,499) A/V processors. Both feature a minimalist front panel with large, high-resolution TFT-LCD display similar to the company's STR integrated amp and preamp and are outfitted with the latest version of Anthem's ARC Genesis Room correction that uses a redesigned, higher-precision calibration mic. Another new feature provided in the AVM 90 and AVM 70 is Anthem Web User Interface, which uses a network connection to access any function or setting during viewing or listening via a smartphone, tablet, or laptop.
An all-new electronics platform used in the AVM 90 and AVM 70 allows for up to 15.4 channels with four independent subwoofer outputs with phase and distance delay. Each model features seven HDMI 2.0b inputs, two outputs with Enhanced Audio Return Channel (eARC), and independent Zone 2 HDMI. According to Anthem, its new A/V processors support Dolby Vision and Hybrid Log Gamma HDR pass-through and are hardware-upgradeable to HDMI 2.1. Other features found in both models include an MM phono stage and AirPlay 2, Chromecast, and Bluetooth wireless audio streaming, with support for Spotify Connect and Roon coming soon.

MRX 1140, MRX 740, and MRX 540 A/V receivers
Anthem's revamped MRX A/V receiver lineup consists of the MRX 1140 ($3,699), MRX 740 ($2,699), and MRX 540 ($1,599). All models feature the same streamlined front-panel design with large TFT-LCD display as the company's new A/V processors, the same wired and wireless connectivity options, and also the latest version of Anthem's ARC Genesis Room correction plus Anthem Web User Interface. The MRX 1140 provides 15.2 pre-amplifier and 11 amplifier channels, and the MRX 740 11.2 pre-amplifier and 7 amplifier channels, with both models spec'd to deliver 140 watts-per-channel continuous power into 8 ohms. Anthem's MRX 540, meanwhile, provides 7.2 pre-amplifier and 5 amplifier channels, and delivers 100 watts-per-channel continuous power into 8 ohms. An amplifier re-assignment feature on all models gives users the flexibility to assign unused channels for bi-amping, to route audio to a second zone, or to set any combination of height, width or presence speakers.
MCA Power Amplifiers
Anthem's "Crafted in Canada" Gen2 amplifiers are rated to deliver 225 watts into 8 Ohms and up to 600 watts into 2 Ohms, with "perfect stability while driving the most demanding speaker loads." According to the company, its new amps also have a 120dB signal-to-noise ratio that almost completely eliminates background noise, while the 8 paired bipolar output devices used per channel results in "less stress on each device." The new MCA power amps will be available in 2-, 3-, and 5-channel configurations priced at $1,999, $2,499, and $3,499, respectively.
Visit Anthem's website to get the full story on the new AVM processors, MRX receivers, and MCA amplifiers.