Android TV to Get More Apps, 4K But Can It Keep Up With Roku?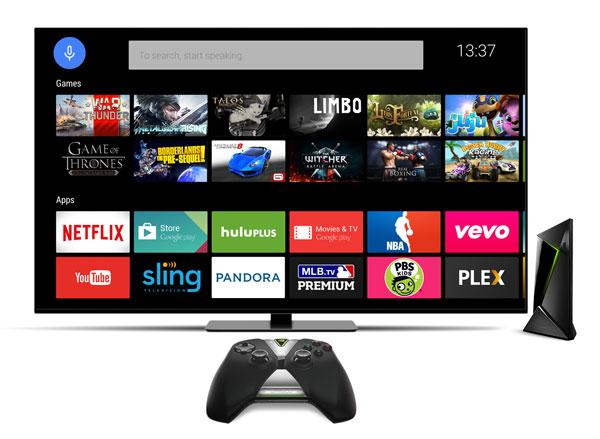 New apps and new stand-alone devices may give Android TVs some renewed interest. The Nexus player was the first Android TV when it arrived last November but hobbled along in a slow start with an extremely limited number of apps. New announcements at the Google I/O developer's conference, the release of two Android TV set top boxes, and upcoming TV models with Android TV built-in may boost interest in the platform.
A quick visit to the Google Play store will still show a paltry few entertainment apps for Android TV, but Google has promised more apps soon. A Sling TV app was released in May. There are reports that HBO Now is available for Android TV, but it's presently only available as part of the Sling TV offerings. If you've been interested in Sling TV which is Dish Network's online streaming option of popular TV channels—Food TV, A&E, TBS, as well as sports or entertainment add-on packages—it may be a good time to subscribe. With a prepaid three-month subscription ($60) you can get a Nexus Player for half off the $79 full price ($40).
Google announced that new entertainment apps for Android TV will be coming soon, including HBO Now, HBO Go, CBS News, CBS Sports, Fox Sports, FX Now, Fox Now, Fox News, EPIX, WWE, UFC, USA Today, Vimeo, Qello, Vudu, and Twitch. HBO Go, Vudu, Fox Now, and Epix have Chromecast capabilities that can already be sent to an Android TV device via Google Cast. Still, native apps may yield better picture and sound quality.
While the Nexus Player has limited AV quality (1080p and no surround sound), the new Nvidia Shield stand-alone Android TV is capable of 4k and Dolby 7.1 surround sound. The recently released Shield is designed as a mini video game console with future Android games in mind. The Shield has the power and capability to stream 4K from Netflix, YouTube, and Pluto TV to a 4K TV. This makes the Shield the first streaming media player capable of 4k at 60 Fps (VP9, H265 and H264 video formats) from online video services. It also supports FLAC and passes through 24-bit/192 kHz audio over HDMI and USB.
There are two Nvidia Shield models. The entry level Shield, with 16 GB of memory, costs $199. The Shield Pro, with 500 GB of memory, has a price tag of $299. For a limited time both include a $30 Google Play gift card and Google Play Music free for three months. The Pro also includes a much anticipated Android game, Borderlands—The Prequel. Both include a capacitive touch game controller. An optional remote control is available for $50.
The Nvidia Shield also lists that it has the Google's Live Channels app for watching live TV, but that's not exactly true. The Live Channels app can be downloaded to Android TVs but requires a HomeRunHD network tuner (a fact that is not mentioned when you download and install the app from the Google Play store). An HomeRunHD will run between $100 and $150.
Google Live Channels aggregates streams of online video streaming services along with broadcast TV channels. Reminiscent of the Qplay video aggregate, channels will stream continuously as it does when channel surfing on your TV. Users can flip through a combination of both online and terrestrial channels to find something to watch. Clearly, the app was designed for use on Android TVs and may not be worth the extra cost to have it on an Android TV box. While Google Live Channels can be downloaded to the Nexus player, it does not appear in the home app screen. In most online reports users have not succeeded in getting it to work.
Razer, a company like Nvidia that is more focussed on computers and games than entertainment content, has also released an Android TV set-top box. The Razer Forge is priced at $150 with a controller, or $100 for the streaming device by itself. If you want to use a remote control, you'll have to use the Forge remote control app for Android or iOS. Unlike the Nvidia, it isn't 4k and cannot pass through surround sound.
If you are a gamer that is excited for the upcoming Android games, this infusion of new apps and hardware may convince you to try an Android TV. While it's nice to stream 4K from a device, most 4K TVs already include the Netflix and YouTube app (and Amazon) that can stream 4K video directly to the TV. Most apps can be cast to a Chromecast at less than half the price of a Nexus Player. Sorry Google, there is nothing that convinces me that Android TV is yet a viable player when compared to Roku, Fire TV, or even Apple TV.