Alexa Now Controls Fire TV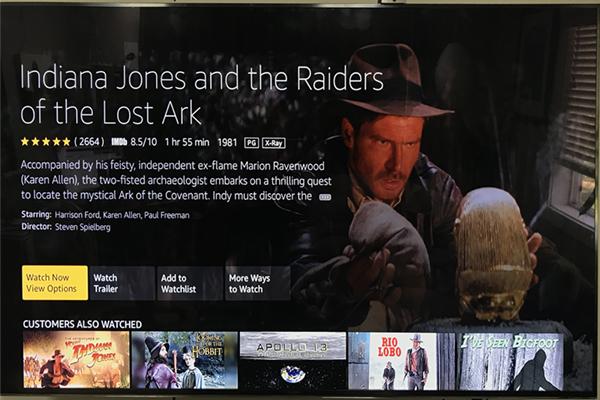 Amazon is expanding Alexa's voice control capabilities to command what you watch on TV. Following Alexa's newly released skill that lets you control Dish Hopper receivers, Amazon has now added Alexa voice control of Fire TV players, Fire TV Sticks, and Fire TV Edition smart TVs. While control of Fire TV media players and Sticks is limited to search and playback, control of Fire Edition TVs is more extensive and useful. Alexa users will still need to use their Fire TV remote controls for now. Nonetheless, it's Amazon's first step toward a future where Alexa can completely control our home theaters.
Setting up Alexa to control a Fire TV is easy. If you only have one Fire TV device registered to the same account as your Alexa device — Amazon Alexa Echo, Amazon Tap, or Echo Dot — the two will pair automatically the first time you say a command to play a movie or TV show on Fire TV. You can link more than one Alexa device (i.e., the Tap in the living room and the Echo in the kitchen) to control a single Fire TV. But once you pair an Alexa device with a Fire TV, you can't use it to control another Fire TV device. If you want to use that Alexa to control another Fire TV, you'll need to unlink it with the new device. (In contrast a Google Home can control all Chromecasts in your home network by indicating the name you've given the Chromecast device when you say the play command.)
If you have more than one Fire TV device connected to your account you'll need to pair it to Alexa using the Alexa smartphone app. To pair Alexa with a Fire TV device, open the Alexa app and tap on "Music, Video & Books." The next screens walk you through set up to pair your Echo device with a specific Fire TV. Once set up, the command need only include "on Fire TV" and not the name of the specific Fire TV player. "Play House of Cards on Fire TV," will start the Netflix series playing.
Alexa can search for movies and TV shows by genre, actor, or title. Voice commands can be used to control basic playback. When choosing a title to play, movies exclusive to Netflix begin playing immediately. Practical Magic started playing within seconds of saying, "Alexa, play Practical Magic on Fire TV."
Still, Alexa isn't ready to replace the Fire TV remote control. When you request a title that is available to stream from more than one service, the Fire TV will display a show information screen. From there, you must use the remote to click on the "Watch Now View Options" button and choose a streaming service. Raiders of the Lost Ark is available on both Amazon Prime and Hulu free to subscribers. You'll need to use the remote to choose. Movies for rent or purchase also require interaction with the remote as do TV shows where you want to choose which episode to watch.
Alexa cannot control navigation through the Fire TV menus with the exception of returning to the Fire TV home screen when you say "Alexa go home on Fire TV" or opening/launching an app. When Alexa is asked to see a genre of movies — comedies, Brad Pitt Movies, action, drama, etc. — only five titles are displayed on the horizontal carousel menu. Again, you have to pull out the remote to scroll through more results.
While Alexa can't move around the menus, it can control playback. You can ask Alexa to play, pause, stop, or fast forward or rewind a specified amount of time. According to Alexa instructions on the Amazon website state, you use a "Next" or "Next episode" command to advance to the next episode in a series but I was unable to get this feature to work. The playback control feature is convenient as you can tell Alexa to pause your TV rather than digging between cushions or sitting up and reaching across the coffee table for the Fire TV remote. My Alexa (Amazon Echo) is in the kitchen. Sometimes when I go for a snack I realize I should have paused the movie so I don't miss too much of the story. All I have to do is tell Alexa to "pause the movie" and playback will stop while I make myself a cup of coffee (or whatever). It's more convenient than walking back into the living room and finding the remote.
For the most part, Alexa cannot start music playback or find specific photos in the Fire TV apps. In comparison, Google Home can start a slideshow of photos of a specific subject on a Chromecast (i.e., dog photos) as well as choose and play music from the desired streaming service. Alexa can only launch the music or photo app on the Fire TV — you have to use the remote control to navigate from there. While it can't start the music, it can pause and resume music that is already playing on a Fire TV. I streamed music from Spotify on my iPhone to my Fire TV using Spotify Connect. Once the music started playing, I was able to use Alexa voice control to pause, stop, and resume playing the tunes.
Alexa has far more control when used with an Amazon Fire TV Edition smart TV (available from Element and Westinghouse). Although I didn't get a chance to test the voice control feature on one of these TVs, Amazon says Alexa can be used to turn the TV on or off and adjust or mute volume when the Alexa control feature is enabled in the TV's menu. Voice control can also be used to change channels, open the TV's program Guide, or switch inputs.
On the flip side, a recent update has expanded the capabilities of Fire TV. Using the microphone on its remote, the Fire TV can now do much of what an Amazon Echo can do without the need for a separate Alexa device. You can ask questions, see your calendar, add to your shopping list, turn on lights and other compatible smart-home devices, adjust compatible heating units, view a security camera, and use voice controls in much the same way you can with any other Alexa device. Which begs the question: "Should you buy an Echo to control a Fire TV or skip the Echo and use the Fire TV to control your home instead?" If you already own an Alexa-enabled device, it's handy to have the option to control your Fire TV. But with the newest Fire TV updates, you already have all the convenience of Alexa voice control without the need to buy an Echo. For me, until I can get rid of my remote completely, I won't be relying on Alexa to control my Fire TV.