Aerosmith Redraw the Line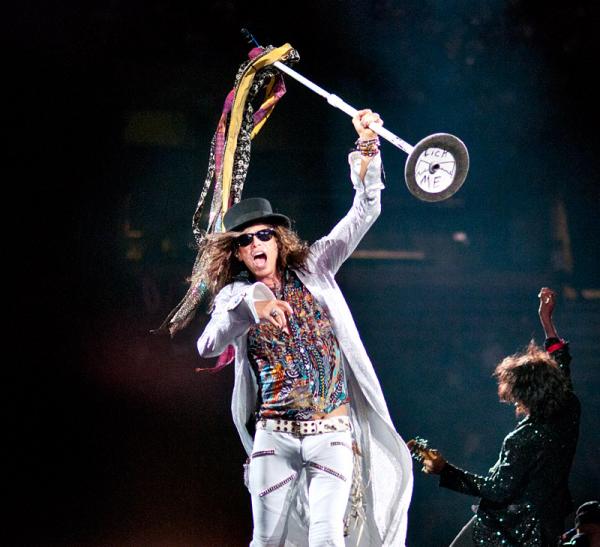 Those wondering whether Aerosmith could still kick ass and take names live saw any lingering doubts dissipate with the band's vibrant 107-minute show at the Izod Center in East Rutherford, New Jersey on July 24.
My third time seeing the mighty 'Smith was definitely the best slot of the lot. Their August 6, 1997 gig at Madison Square Garden was uneven for many reasons, and their double-bill set with Kiss at the Garden on November 16, 2003 was indeed good, just not long enough. Last night, the band came out swinging, with frontman Steven Tyler and guitarist Joe Perry iconically positioned at the front end of a stage segment that extended out into the middle of the floor (and I had a straight-on view from my third-row, center-ice seat) as they rolled hard into the down 'n dirty set opener, "Draw the Line." Tyler was in full-on shimmy 'n shake mode and in F.I.N.E., fine voice while a determined Perry leaned back and displayed his ace slide chops. Guitar partner Brad Whitford (who earlier in the evening had joined top-flight opening act Cheap Trick for a killer riff-trading version of "Ain't That a Shame") and bassist Tom Hamilton kept the song's low-end thrust chugging from the main stage.
The band's energy was palpable from that point on, and when you connect with a packed audience — and each other — like that, a great night is definitely ahead. The overall mix of the five master 'Smiths (plus four supporting players in the backline) was quite clear with minimal sludge, so nuances like drummer Joey Kramer's cymbal work and trio of military-precision kick-drum thumps at a key break in "Livin' on the Edge" came through with impact. (Kramer made further impact a bit later in the set by using his fists and, yes, his head on his kit during the denouement of his drum solo.)
Like a man possessed, Tyler attacked all 20 songs in the set with fervor, making sure to maintain eye contact with and lean on and/or put his arm around each and every standing band member throughout the set — and his voice was strong from the first to the final minute. The one-two punch of new song "Oh Yeah" (from the forthcoming, aptly named Music From Another Dimension!) followed by the nasty-grooved classic "Last Child" portends good things for future gigs that I expect will be filled out with even more new tunes. (Another new offering, the in-the-Aeropocket "Legendary Child," made me hungry to hear more Dimension cuts.) On "Sweet Emotion," after Kramer's rat-a-tat-tat snare hits set the table, Whitford and Perry blended harmonious riffage like they were in the Allman Brothers Band and/or Wishbone Ash. The supercharged, set-closing "Walk this Way" brought the show to its apex, as special guest Darryl McDaniels — the D.M.C. in RUN-D.M.C., clad in a short-sleeved black t-shirt with Jim Morrison adorning the front — rapped and stomped alongside Tyler and Perry on the stage extension and reinforced the song's genre-bridging magic.
"That's a little bit of history right there," observed Tyler after "Way" came to its close. With a balls-out performance like this one, Aerosmith is poised to continue pumping out history every night they step onstage.