7 Soundbars; Simple to Luxe Page 4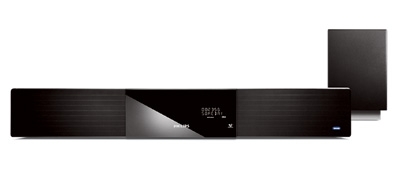 The HTS8100 is a complete, soup-to-nuts playback system. Its soundbar contains a DVD/CD/MP3/JPEG/DivX player, as well as decoders, amplifiers, and speakers. And, yes, Virginia, there is a separate subwoofer. Just add a flat-panel TV and electricity, and you're in business. But wait! There's more! The system includes an AM/FM tuner and even an outboard iPod docking station. The supplied remote is exceptionally stylish, and is the perfect complement to the soundbar itself.
Many playback systems can accept optional iPod docking stations, but Philips includes its dock as part of the package. Sleek and black, it accepts various flavors of iPods, and a simple control mode lets you play music and watch video on your TV using either the remote to handle simple functions or the player itself to operate other features. An extended mode disables the iPod's controls and enables the remote to control everything via an onscreen display on your TV - well, almost everything, since you can only listen to music in this mode.
Price $800 / philips.com / 888-744-5477
Soundbar •(6) 2.5-in woofers; (2) 1-in soft-dome tweeters •Finish: black •37 x 5.5 x 5.5 in; 16 lb Subwoofer •6.5-in long-throw woofer •Finish: black •11.75 x 17.75 x 11.5 in; 24.6 lb
Setup As you might expect, because the HTS8100 is an integrated system, there are fewer input/output options. The front panel is sleekly buttonless and connectorless. A chrome strip across the top of the bar has a very discreet row of buttons for handling basic playback. The rear panel sports outputs for component and composite video, analog stereo, and HDMI. Two box connectors accept cables that are captive to the subwoofer. Tucked away on the left side panel are jacks for analog MP3 input, USB, and the iPod dock. There's no AC cord - power is provided through the subwoofer's umbilical cord. Threaded inserts, along with a provided sturdy bracket, allow wall mounting.
The subwoofer cabinet contains a side-firing driver with a rear port. It also houses the system's power amp as well as other electronics. (When installing, make sure the cooling fan has plenty of clearance.) There are jacks for digital audio input, two pair of analog audio inputs, and AM and FM antenna jacks.
I placed the soundbar under my HDTV and the sub along my front wall beside the display, and connected the two. I then used an HDMI cable to connect the bar to my TV. The first time you power up, you see a setup menu, which I used to specify general parameters for room acoustics, placement, height, and distance. Since the soundbar also contains a DVD player, I also spent a moment selecting the various settings that conformed to my display. Easy breezy.
Music Performance On No Balance Palace, Kashmir's characteristic sound was readily apparent, with an overall bright sound and nice detail on the vocals. But the brightness negatively affected the lower midrange, which reproduced without some of the warmth I know is in this recording. I also found the upper midrange a bit forward; it sometimes sounded forced, particularly at musical peaks. This distortion seemed to be equally shared between the amps and speakers, and was acceptable at moderate levels. But when playback volume was pushed - and this system can play surprisingly loud - the harshness became objectionable.
The external subwoofer pumped out bass that was a cut above what you get with most soundbar subs. It had a good lower end and enough upper reach to blend with the bar. It had a musical sound for bass guitar and enough punch for kick drum. As with the soundbar, it couldn't play excessively loud, but its reproduction stayed clean at moderate levels.
For Blue Man Group, I selected the "Ambisound" virtual surround mode. This mode doesn't use aggressive signal processing techniques, so its sense of surround is quite modest, but it did open the soundstage a bit. Even better, the processing didn't detract from the playback quality. The downmixed surround channels meshed nicely with the front channels, though I would have appreciated a fader control so I could adjust relative levels of the front and rear signals.
Movie Performance The soundtrack for Superman Returns provides a good workout for any playback system, and the HTS8100 was up to the task. Dialogue intelligibility was very good, even when I moved off axis. Surround sound effects, although downmixed and moved forward, created a front semi-circular soundstage that complemented the onscreen action. The subwoofer, as with any small sub, couldn't pound out all the LFE content in some scenes, but was strong enough to make the point. When I cranked up the volume, the system was satisfyingly loud enough to complete the sensory experience. And the DVD player's video output, as viewed through the HDMI interconnect, looked detailed and crisp on my TV, in part because of built-in Faroudja 1080p upscaling.
Bottom Line The whole point of a soundbar is convenience, and the HTS8100 carries that to a logical conclusion. With everything onboard except a TV, it's super simple to set up and operate. The big downside to all this integration, though, is upgradeability. If you want to play Blu-ray Discs, for example - well, you can't, because there's no input to jack a BD player into. Still, within its confines, this system has lots to like. Sleek styling, multiple playback sources, and good audio/video performance make it ideal for out of sight/out of mind installations.
LATEST VIDEO