7 Smart Ways to Get Rid of Your Old TV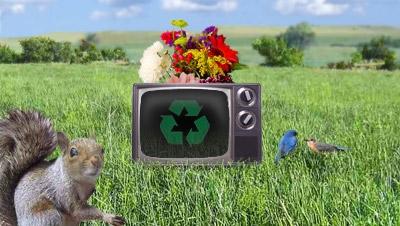 Instead of messing around with a converter box, you handled the DTV transition the proper way: By upgrading to a sweet new HDTV. But that means your old box is still sitting around taking up space. Before you send it packing to the dump, consider a few different options. Or, just smash out the guts and use it as a planter.
Freecycle.org
Craigslist can be a great way to get rid of your old appliances and even make a few bucks, but, if you deal with it enough, you're bound to run into a shady character. Freecycle is more of a group of localized communities centered around people spend their time looking for free stuff. Even in smaller areas, items don't tend to last long, especially if they're in working order.
Find a recycling center
There are quite a few recycling centers around the country, but finding one willing to take your monsterous old TV is trickier than it sounds.
Take Back My TV
is an effort by a site originally designed to help people find places to recycle their old computers. Click on
your state on the map
and it will guide you to a participating center. Just be warned that there are quite a few states with only a few listings, so be ready to drive.
Send it back to where it came from
If you were lucky enough to get your old set from a certain set of manufacturers, they will do some of the dirty work for you. The dirty work, in this case, meaning that they'll pay for the recycling.
Sony is on-board
, providing the service for their old sets (who didn't have an old Sony Trinitron at some point?) assuming that you can drop it off yourself at a participating plan. Samsung and LG are also on-board, assuming you can find a participating plant.
Have it picked up from your house
Sony will grab your old set right from your house if you buy a 32-inch or bigger Bravia TV and opt for their Premier in-home Delivery service. You can request a free pick-up from
ASL Recycling
, too in case it's crippling laziness that's preventing you from doing the right thing.
Let your installer take care of it
Your high-end installer probably isn't about to haul your old behemoth down the stairs for you, but chances are, he knows a thing or two about getting rid of old equipment. The
Geek Squad
will also haul your old set away and recycle it for you, but that's not going to change the fact that you're letting the Geek Squad install your home theater.
Donate it
Sites like
E-Cycling Central
and
Techsoup.org
have listings for charities who can put your old TV to use. Of course, the local
Salvation Army
and
The Goodwill
will still take it as long as it works. Just don't be a jerk and try to pawn a broken set off on them. It's not their job to throw it out.
Re-use it
After the digital change-over, there are going to be a lot of older analog sets kicking around, which makes it a great time to take on your own DIY project. Sites like
Make Zine
have some really cool projects you can undertake using only your tools, some instructions and an old TV. Or, just make it your dedicated TV to be used only for playing NES. We can think of no finer after-life for a TV than that.
LATEST VIDEO