4K Streaming About to Flow With UltraFlix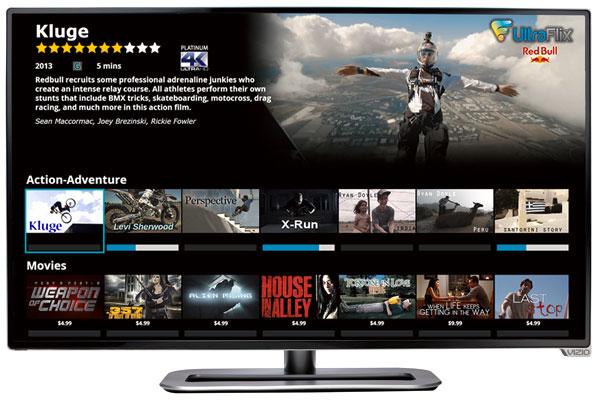 We sit on the precipice of 4K streaming becoming more than a couple of titles on Netflix or Sony movies downloaded to a media server. Sony and Vizio have announced that their 2014 Ultra HD (UHD) TVs will include the UltraFlix streaming 4K video app. The TVs will also include Netflix 4K, and 4K streaming from Amazon Instant Video when it rolls out in October.
"Ultra HD is on the verge of taking off here in the U.S.," said Aaron Taylor, executive vice president of sales and marketing for NanoTech, the company that created UltraFlix. Taylor is right. As more content becomes available, more consumers will be willing to pay a premium to buy 4K TVs. There will be no 4K content on cable or satellite in the foreseeable future, so that content will likely be streamed. Surely that is the impetus behind Vizio's strategy to include UltraFlix in its newly announced P-Series Ultra HD TVs.
The Vizio P-Series UHD TVs are equipped with everything needed to stream 4K directly to the TV. The TVs include the HEVC H.265 decoder required to stream 4K video. They also have HDCP 2.2 support to play copyright-protected 4K rented and purchased films and TV shows. The TVs have built-in 802.11ac dual-band wireless because 4K requires not only fast internet speeds, but a fast connection from router to the TV. AC routers have been available for a couple of years. Finally, the Vizio TVs can take advantage of the fast speeds just in time to stream data-heavy 4K video.
Like the Vizio, Sony's 2014 UHD TVs incorporate an HEVC decoder that can display 4K/60p content streamed directly to the TV. Sony also claims to have the "fastest playback in the industry" when it comes to streaming 4K content.
In a press release, Netflix's Chief Streaming and Partnerships Officer Greg Peters said, "Netflix, streaming is becoming the primary way for consumers to watch Ultra HD TV shows or movies. As the world's leading smart TV app, Netflix is at the forefront of delivering the 4K Ultra HD streaming experience to Vizio P-Series consumers."
However, Netflix 4K content is still limited to Breaking Bad, House of Cards,Smurfs 2 and both Ghostbusters movies. Adding the UltraFlix app to the Vizio Internet Apps Plus smart TV lineup and the Sony Smart TVs makes hundreds more streaming 4K titles available.
"Our decision to bundle UltraFlix with our next-generation 4K Ultra HD TVs was based on our continual quest to deliver the most immersive viewing experience that consumers are seeking," said Nick Colsey, vice president of Sony Electronics in a press release earlier this month. "We can now provide our customers with the industry's largest number of options for streaming 4K VOD (video on demand) content..."
UltraFlix 4K Streaming claims to have the largest selection of streaming movies. At this point, however, it's a bit reminiscent of the beginning days of HDTV. The 4K streaming app touts 300 hours of travel and nature docs including 40 made-for-IMAX titles. There are a number of beautiful nature films both from land—Zion Canyon and Yellowstone National Parks—to animals—Wolves, Bears, Dinosaurs and Africa: the Serengeti— to the sea— The Living Sea, The Last Reef and Wild Ocean. Also similar to the early HDTV offerings there are concerts from artists that include Jason Aldean and Rickie Lee Jones, and music videos from AC/DC, Beyonce, Madonna, and others. UltraFlix offers a smattering of sports videos that include Xfighter bouts and motor sports. Although nothing is being formally announced, UltraFlix is currently in talks with Yahoo, YouTube Nation, HuffPost, and AOL to add their content to the apps' list of 4K streams.
It shouldn't be long before a number of movies and TV shows start becoming available in 4K. A spokesman for Nanotech/UltraFlix told me in an email that their 4K Studios facility is working 24/7 to convert titles to 4K. Also, while there hasn't been an announcement about the exact date or titles that will become available through Amazon Instant Video, it was previously announced that titles will start showing up mid-October.
The market for 4K Ultra HD TVs is gaining momentum. Prices have dropped substantially on UHD TVs. Vizio's new 50-inch UHD TV will be $1,000 and the 70-inch model $2,500. Research firm HIS Technology reported a sales forecast of up 15 million 4K UHD TVs in 2014, compared to 3 million TVs sold in 2013. That number is expected to grow to 36 million in 2015. It's looking like the content will show up by the end of the year and drive UHD 4K sales. The transition from HDTV to UHD is here and it will be driven by streaming content.