3D Glasses: Can They Have Universal Appeal? Page 3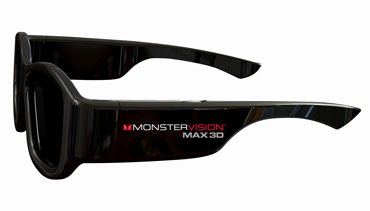 A Monster-ous Approach
Taking a very unique approach is Monster Cable - its Vision Max 3D active-shutter glasses, also expected to arrive in September, will be the first to use radio-frequency (RF), rather than infrared (IR), technology to sync with the TV. Monster's senior product manager Elbert Lee says the technology offers improved performance while eliminating typical IR issues, such as interference from room lighting or other IR devices, and losing sync when someone steps between the glasses and TV.

Physically, the Max 3D glasses are a bit larger than the X103 prototypes I saw. The transmitter uses a technology licensed from a company called Bit Cauldron to convert the IR shutter signals sent by the TV into 2.4GHz (ZigBee) RF signals, which communicate with a receiver embedded in the glasses. Lee says that as new 3D TV brands enter the market, updated IR codes will be available via the Monster Vision website. If you're only going to use the Monster glasses you can place the transmitter in front of the TV to block its IR emitter, but moving it away from the TV allows you to use both the Monster glasses and those provided by the TV manufacturer. Unlike the X103 glasses, which use a standard replaceable battery, the Max 3D glasses have a rechargeable battery that rejuices via a mini USB plug. The Max 3D system, which includes one pair of Monster 3D glasses and a transmitter, will cost $250, while individual 3D glasses will be priced at $170 each.


LATEST VIDEO