Tech the Halls: 2017 Holiday Gift Guide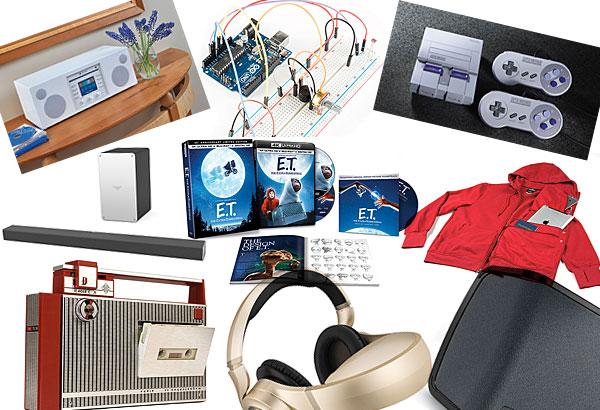 'Tis the season to start driving yourself crazy trying to figure out what the heck to get friends and family members for Christmas, Hanukkah, Kwanzaa (insert your holiday here). The 2017 Holiday Rush is fast approaching, soon to be top of mind—unless you're Scrooge or just really good at procrastinating. Me? I fall into the latter camp, so the rush won't start until a week before December 25th. Same- and next-day delivery has spoiled us and made it exceedingly easy to perfect the art of...well, you know. (Thanks, Amazon.) Whether you tend to get an early or late start, you can rest easy—maybe even rejoice—knowing that an abundance of awesome tech gifts awaits you. For better or worse, most of us are obsessed with technology, whether it comes in the form of that shiny phone we can't stop staring at (please, no texting while driving) or a super-sexy voice-enabled wireless speaker. Here are 12 gifts worth a look.
No Drilling Required
Everybody loves the idea of a wall-mounted TV, but many of us avoid the task for fear of making mistakes and turning a blemish-free wall into Swiss cheese—or worse. For that special someone who talks about hanging their TV on the wall but never quite gets around to it (or simply can't because of lease restrictions), we have the perfect gift: Erard's STANDiT, a stylish yet unobtrusive TV stand that hugs the wall. It's a breeze to set up, has a hidden channel for concealing cables, and can be painted to match the wall. Three models accommodate TVs with 30- to 55-inch screens weighing up to 66 pounds ($299), 40 to 75 inches up to 99 pounds ($399), and 40 to 90 inches up to 110 pounds or 140 pounds with a wall bracket ($599).
us.erard.com
Earful of Bliss
If you have a serious music lover on your list who deserves a set of real earbuds, let us save you some time and money. Cambridge Audio's first headphones—the in-ear SE1 ($85)—features beryllium-diaphragm drivers and impressed us with their refined sound, comfortable fit, and excellent build quality. Editor Rob Sabin described them as "transparent and open, with clear and detailed highs, a smooth and unforced mid- range, and modest but satisfying bass with a proper fit using the supplied Comply tips." A selection of three foam and four silicone eartips is included along with a storage pouch. All that for 85 bucks, plus Cambridge has pledged to donate 50 percent of proceeds from U.S. sales to Music Unites, a charity that supports music education around the world. A nice bonus.
cambridgeaudio.com
Bargain Jam
The Jam Rhythm Wi-Fi speaker from Jam Audio isn't fancy, but for $50 on Amazon ($100 on jamaudio.com), it'll put your giftee into the wireless speaker game with a good-sounding speaker ideally suited for kids in high school and college. The speaker has an auxiliary input and buttons for power, volume up/down, and preset selection—that's it. There's no battery option and no display: Everything is controlled via a rudimentary app offering direct access to five streaming services—Spotify, TuneIn internet radio, Tidal, iHeart Radio, and Napster—four presets, bass and treble controls, a sleep timer, and two surprise features: Intercom (for use when additional Rhythm speakers are connected for multiroom playback) and Amazon's Alexa voice assistant. Press and hold the Alexa button in the app, and you can ask questions or issue basic control commands. Not bad for a 50-dollar speaker.
jamaudio.com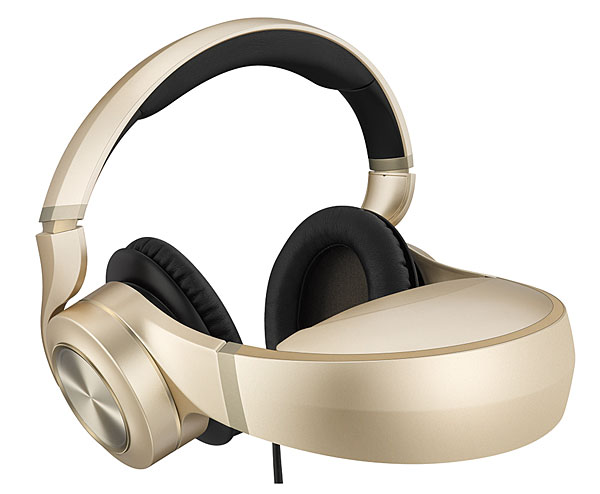 Head Trip
No, this is not a virtual reality headset. Royole's Moon ($799) is a 3D Mobile Theater that goes wherever you go. Tech enthusiasts and business travelers will appreciate being able to simulate the experience of watching movies on a ginormous IMAX-like 66-foot curved screen…anywhere. Put on the headset, adjust the viewer for a comfortable fit, and prepare to get lost in the moment. You can load content directly into the Moon—it has 32 gigabytes of storage—or connect to external sources via Wi-Fi or the supplied Micro HDMI and Micro-USB cables. A pair of advanced AMOLED displays with adjustable optics present 2D and 3D content in 1080p resolution, and the headphones employ active noise cancellation to keep you engaged. Battery life is about 5 hours, and the headset folds down to a nice, manageable size. Available in black, white, or gold.
royole.com
The Art of Sound
Audio hobbyists, collectors of vintage gear, music lovers, and stu- dents of history will love The Art of Sound: A Visual History for Audiophiles ($50). The 352-page hardcover book documents the evolution of sound recording and playback through four distinct periods: acoustic (1857 to 1921), electrical (1925 to 1945), magnetic (1935 to 1979), and digital (1969 to the present). Each section opens with a time line and overview by author Terry Burrows that leads the reader to a wonderful selection of photos of the people and technologies that changed the way we listen to music, long-forgotten marketing materials and music packaging, and other iconic artifacts, including patent blueprints. The book contains more than 700 pristine images, all scrupulously annotated. You might want to pick one of these up for yourself—or put it on your holiday wish list.
thamesandhudsonusa.com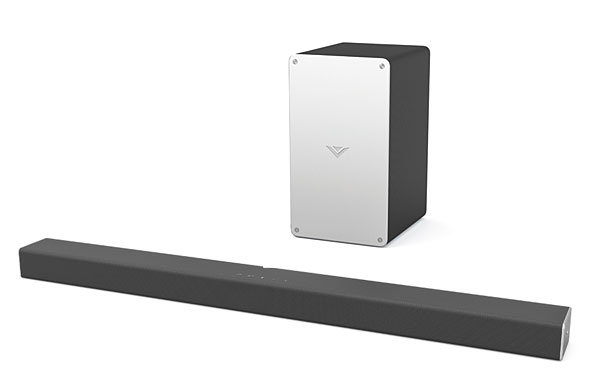 $150 Soundbar Sensation
That's not a typo. Vizio's $150 SB3621n-E8 is a super-economical soundbar that delivers shockingly good performance with music and movies. It will delight your audio-challenged loved ones or make a great gift for use with a bedroom TV or in a vacation home. The soundbar is 3 feet wide but only 2 inches tall, 3 inches deep, and comes with a compact subwoofer. It's extremely easy to set up and use, supports Bluetooth streaming, and offers optical and coaxial digital inputs as well as Dolby and DTS surround processing. S&V contributing technical editor Steve Guttenberg auditioned it and was particularly impressed by how well it played music...not to mention its tremendous value: "I kept thinking, 'This is a $150 soundbar?'" Shipping is free if you order on Vizio's website.
vizio.com
Low Fashion, High Tech
We're willing to bet there's at least one gadgeteer in your family. Or maybe s/he's a close friend? Either way, we've got you covered. The SCOTTeVEST Hoodie ($95) has 21 pockets (17 hidden) for stowing a smartphone (in its own see-through pocket), a tablet, headphones, you name it—all in addition to your keys (tethered to a coiled wire), wallet, passport, travel documents, and what- ever else you "need" to carry around. Sewn-in conduits make it easy to run charging cables from pocket to pocket and snake earbud wires up to the collar; wires are held in place with elastic loops, and "bud buck- ets" on the inside of the collar hold your earbuds when they're not in use. Bonus: Hand warmers are integrated into the main pockets. Seven sizes are available in black, blue, gray, or red.
scottevest.com
T2 to E.T.: I Told You I'd Be Back
Terminator 2: Judgment Day (1991) and E.T. The Extra Terrestrial (1982)—two of Hollywood's most celebrated films—are getting special 4K gift- box treatment in time for the holidays. One of the most endearing family movies of all time, E.T. The Extra Terrestrial debuts in 4K Ultra HD in the 35th Anniversary Limited Edition gift set ($25 on walmart.com), a package offering more than three hours of bonus features—including deleted scenes, a cast reunion, and interviews with director Steven Spielberg and composer John Williams—plus standard Blu-ray and digital HD versions of the movie, the remastered soundtrack on CD, and a collector's booklet featuring rare photos and behind-the-scenes stories.
Not to be outdone, Ah-nold is back in glorious 4K in the Endo Arm Special Edition version of T2: Judgement Day ($135 on bestbuy.com), featuring 4K Ultra HD and Blu-ray Discs with a new documentary and other bonus content, a digital HD version of the film, and the coup d'état—a life-size replica of the endoskeleton arm from the original T-800 (Arnold Schwarzenegger in Terminator) mounted on a uniquely numbered stand with director James Cameron's signature. Only 6,000 box sets are being released, so it'll be hasta la vista, baby if you don't act quickly.
blu-ray.com
blu-ray.com
Back to the '90s
Sure to be one of the season's most sought-after gifts, the Super Nintendo Entertainment System Classic Edition ($80) is a throwback to the heyday of console gaming… but in miniature. SNES is the perfect gift for would-be gamers who have no interest in Xbox or PlayStation but have fond memories playing Donkey Kong back in the day. The remake is about a quarter the size of the original SNES console and preloaded with 20 classic games—running the gamut from Super Mario Kart (1992) to Street Fighter II: Hyper Fighting (1993)—plus StarFox 2, a new sequel to 1993's StarFox. The system has been updated with HDMI and USB connectors (cables included), rewind, and a My Game Play Demo feature, but it includes wired controllers to keep it real.
nintendo.com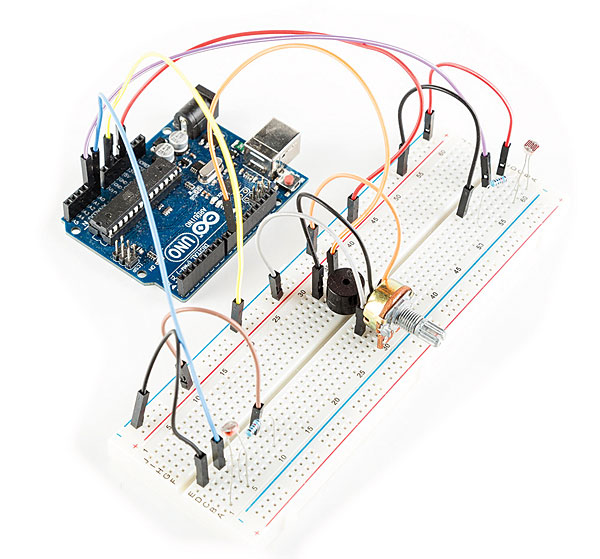 Maker's Mark
Creation Crate's tech-in-a-box approach to DIY electronics is the gift that keeps on giving. The company has developed a 12-month curriculum for curious minds, young and old, who want to learn how to build and program electronics but don't necessarily have any experience. Subscribe to the program, and a new project arrives in the mail every month, each more challenging than the previous. Projects range from a Mood Lamp (Month 1) and Optical Theremin (Month 5) to an Audio Visualizer (Month 8) and Digital Multimeter (Month 10). Each kit includes an instruction booklet with step-by-step instructions, educational information, and all of the components you need to complete the project, including a micro- controller. Four subscription packages are offered, ranging from $29.99 a month for one project to $22.49 a month for all 12 projects.
creationcrate.com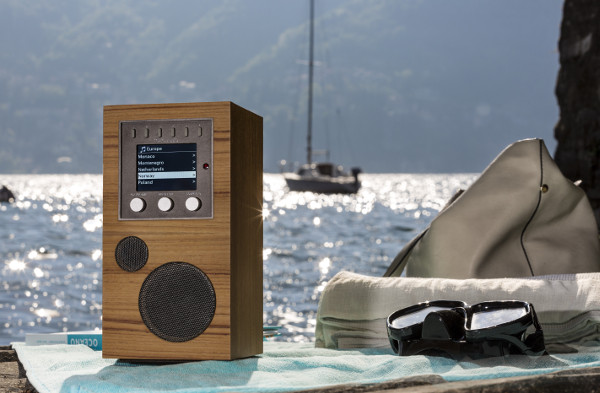 Radio Paradise
Know someone who could use a wireless speaker, internet radio, or a music system they can build on? Of course you do! Como Audio's Amico ($399) is all that and more, housed in a striking teak-veneered cabinet. The newest member of Como's family of outstanding wireless speakers (see "Dynamic Duo," April 2017 and on soundandvision.com, for our review of the Duetto and Solo), Amico is a Solo turned on its side but with a twist: It's moisture resistant and has a battery that's good for 8 hours. The versatility doesn't stop there: You can access hundreds of internet radio stations, enjoy Spotify Premium or music on your PC over Wi-Fi, stream via Bluetooth, listen to FM, and link to other Como Audio speakers (like the $599 Musica shown below) to play music throughout the house with up to five speakers per zone. Oh, and did I mention it sounds great and doubles as an alarm clock? If you want to save 100 bucks, you can give up the portability and go with a Solo.
comoaudio.com