2014: Does the 4 Stand for 4K?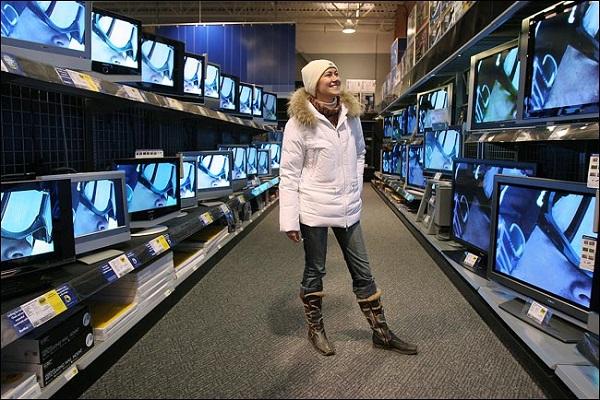 Attention all you early adopters: It may be time to pull the trigger on a 4K Ultra HD TV. If you act now, you can still hold the coveted title of First on Your Block. If you wait, you'll have only yourself to blame. 2014 may be the break-out year for the new TV format.
No one can predict the future, but that doesn't stop research firms from trying. Using heaven-knows-what kinds of analytics, they look at market trends and tell us (with reasonable uncertainty) what we'll be buying next. And according to NPD DisplaySearch, we'll be snapping up 4K televisions.
Their "Quarterly Global TV Shipment and Forecast Report" predicts that in 2014, 4K shipments will increase impressively. By the numbers, they estimate that 1.9 million units were shipped in 2013, but that will swell to 12.7 million in 2014. That's a pretty dramatic bump, especially considering that these are expensive TVs, sold to a limited number of early adopters who are willing to pay a premium.
If the retail market can truly support that number of sales, it will mark the beginning of the transition from early adopters to mass market. That will trigger price reductions as companies begin to recoup their R&D costs, and the price reductions in turn will trigger more sales. 4K is certainly not an outlier technology; it is riding the historic LCD boom which now accounts for 96% of the market; plasma and CRT are in a death spiral and could end production altogether as soon as 2016.
Interestingly, according to NPD, China is the hottest 4K market right now, accounting for a whopping 87% of 4K sales in 2103, dropping slightly to 78% in 2014 as the market widens. Note to Rob Sabin: When will we see a Chinese edition of S&V?
Of course, all of this mushy talk about our wonderful future is predicated on price. The average price of a 4K set is about $2,000 in North America (about $1,000 in China and $1,100 worldwide). The $2k figure is a little steep for us middle-class Joes, and lower prices will be needed if the market is going to grow. The cost of OLED, at least for now, has apparently put it out of reach; all eyes are on 4K to carry the TV ball downfield. One open question is whether 4K might carry renewed interest in 3D along with it.
As I write this, all of us on the intrepid S&V staff are packing our bags for Vegas, baby. We'll be reporting hot and heavy on 4K at the International CES, as well as everything else that's going on. We'll see you from the show floor.
Meanwhile, it's time for early adopters to start planning their Super Bowl festivities, and deciding what kind of TV will light up their party. Buyers like those are the ones who will determine the fate of 4K. Early adopters, I'm looking at you.
Oh, and Happy New Year!