The 2007 1080p RPTV Face Off Sony KDS-R60XBR2 SXRD HDTV
Sony KDS-R60XBR2 SXRD HDTV
Measurements don't say it all.
At this point, you are surely asking yourself, didn't this TV's predecessor win this competition last year? Well, yes, it did. What a difference a year makes.
It isn't that this XBR2 is worse than the XBR1. In fact, in most ways, it is better. It's just that, in the intervening year, the competition has gotten that much stronger, while this Sony is, well, very similar to last year's. In reality, the performance of this display, the two runners-up, and the winner are all very close. Each display does some things well and other things not so well.
Obviously, contrast ratio and black level are two of the things that the KDS-R60XBR2 does well. At 14,544:1, its contrast ratio is more than double that of the next closest competitor. This is thanks, in part, to the fact that the Sony has the most active auto iris. This handy device tracks the incoming video signal and adjusts the built-in iris accordingly. So, with dark scenes, the iris closes up and makes the whole image darker. With bright scenes, it opens and makes the whole scene
brighter. As you can imagine, this makes for some rather inflated contrast-ratio measurements. Even so, when you set the iris to stay at one setting, the contrast ratio is still in the 5,000:1-to-6,000:1 range, which makes the Sony comparable to the JVC and the Samsung. Being able to get 0.008 foot-lamberts out of an RPTV is noteworthy. This is twice as good as the next closest competitor. Adrienne, Michael, and John all had positive comments on the black level. Even when I set it up in the mode with the best contrast ratio, the XBR2 put out only 0.009 ft-L.
Color, in that typical Sony fashion, was quite oversaturated. None of our judges felt that the colors were realistic, although Nikhil for one liked the extra color over some of the other sets. (He still chose the more accurate Samsung as his number-one pick, though.)
The Sony's processing was pretty middle-of-the-road. It picked up the 3:2 sequence with the Gladiator clip but not with the Silicon Optix discs (neither 480i nor 1080i). The video processing was OK; the waving-flag scene from the same discs had only slightly jagged edges. Maureen, John, and Adrienne all felt that there was more noise in the image than with some of the other sets. Scaling, too, got some lukewarm responses. Michael felt that the Fifth Element clip didn't look as sharp as it did on some of the other displays, while Adrienne thought the same clip was "a little soft."
The elephant ears (side speakers) were not liked.
Last year, due to the other aspects of the XBR1's performance, everyone was able to overlook its oversaturated colors. This year, however, the Sony wasn't so lucky. With other TVs offering a similar onscreen contrast ratio, better processing, and more accurate color points, the Sony dropped down in the rankings. The inclusion of 1080p inputs and a little better performance make this TV a little better than last year's model, but, with everyone gunning for you, you can't make do with baby steps.
Highlights
• Highly adjustable iris
• Excellent black level
At A Glance: Sony KDS-R60XBR2 SXRD HDTV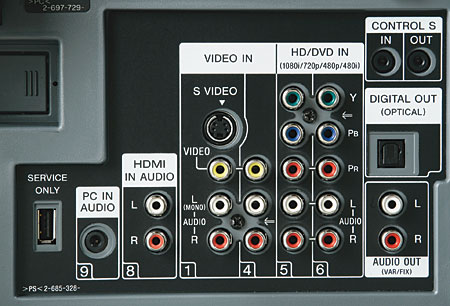 Connections
Inputs:
Video: HDMI (3), component video (2), S-video (1, shared), composite video (2, 1 shared)
Audio: None
Outputs:
Video: None
Audio: Optical (1)
Additional: CableCARD (1), PC-RGB (1), Control-S, RF (2)
Features
Type: LCOS (SXRD)
Screen Size (diagonal): 60
Native Resolution: 1080p
Lamp Life: NA
Dimensions (H x W x D, inches): 40.6 x 67 x 20.6
Weight (pounds): 121
Price: $3,800
Ratings: Sony KDS-R60XBR2 SXRD HDTV
Build Quality: 91
Value: 87
Features: 89
Performance: 90
Ergonomics: 88
Overall Rating: 89
General Information
KDS-R60XBR2 SXRD HDTV, $3,800
Sony Electronics
(877) 865-SONY
www.sonystyle.com
Dealer Locator Code SNY
HT Labs Measures: Sony KDS-R60XBR2 SXRD HDTV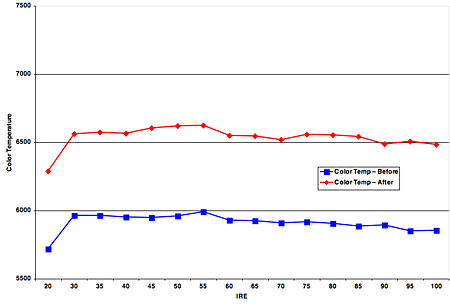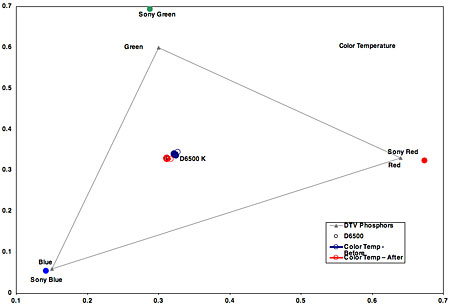 Full-On/Full-Off Contrast Ratio—14,544:1; ANSI Contrast Ratio—364:1
Measured Resolution with the Leader LT-446:
480: 480 (per picture height)
720p: 720 (pph)
1080i: 1,080 (pph) With DRC Off only
DC Restoration (poor, average, good, excellent): Excellent
Color Decoder (poor, average, good, excellent): Excellent
Measured Color Points:
Red Color Point: x=0.674, y=0.324
Green Color Point: x=0.288, y=0.693
Blue Color Point: x=0.142, y=0.054
The left chart shows the KDS-R60XBR2's gray scale relative to its color temperature at various levels of intensity, or brightness (20 IRE is dark gray; 100 IRE is bright white). The gray scale as set by the factory, in the Warm 2 color-temperature mode and the Custom picture mode, measures fairly warm. After making adjustments using the Photo Research PR-650, the gray scale measures slightly warm with the darkest images, a little cool with lower midtones, and close to D6500, the accurate color temperature, with brighter images.
The right chart shows the gray scale (or color temperature) relative to the color points of the display's red, green, and blue LCOS panels. These are off those specified by SMPTE. Red is oversaturated. Blue is somewhat oversaturated. Green is very oversaturated.
After calibration, and using a full-field 100-IRE white (130.9 foot-lamberts) and a full-field 0-IRE black (0.009 ft-L), the contrast ratio was 14,544:1. Using a 16-box checkerboard pattern (ANSI contrast), the contrast ratio was 364:1. The best contrast ratio was achieved in the Auto 2 mode with Power Saving set to Off. The brightest image was achieved in the Max mode with Power Saving set to Off. This created 131.8 ft-L with a 100-IRE field and 0.03 ft-L with a 0-IRE black (4,393:1). The best black level was achieved with Power Saving set to On and in the Auto 2 mode. This mode created 112.1 ft-L and 0.008 ft-L (14,013:1) measurements.—GM