2006 Volvo C70 Dynaudio Sound System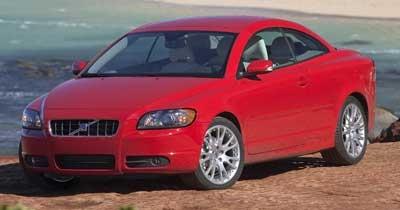 Convertibles aren't conducive to great sound - at least not when you're speeding along in one with the top down. But with its unique, three-piece retractable hardtop, the 2006 Volvo C70 (sticker price $47,307 as tested) isn't a typical convertible - and the Dynaudio Premium Sound package that's available as a $1,550 option isn't a typical OEM system, either.
The system boasts an impressive 910 watts powering 14 speakers, including two 8-inch subwoofers behind the rear seat that receive 130 watts of juice each. But that's almost too much of a good thing. I found that the bass often overpowered the rest of the system, and I was constantly dialing it down - using the separate controls for bass, front and rear equalization, and subwoofer level - to find an appropriate and consistent level relative to the rest of the frequency spectrum. There was also the option of completely switching off the subwoofers, but that defeats the purpose of having them in the first place (and, frankly, it seems wimpy).
Complementing the subwoofers are 8-inch(!) drivers that Volvo managed to squeeze into each door along with a 4-inch midrange and 1-inch tweeter. The system also features a 4-inch mid and 1-inch tweeter in the center of the dash and a 6.5-inch midrange and 1-inch tweeters in the rear side panels. While the 8s up front ease the transition to the subs and help prevent low bass from skewing the soundstage rearward, as happens in most vehicles with rear-mounted subwoofers, it also contributed to the overbearing bass at times. On delicate acoustic tracks from Red House Painters' Ocean Beach and Luka Bloom's Turf, for example, the 8-inch drivers started to distort at moderately loud volume.