Roon Demystified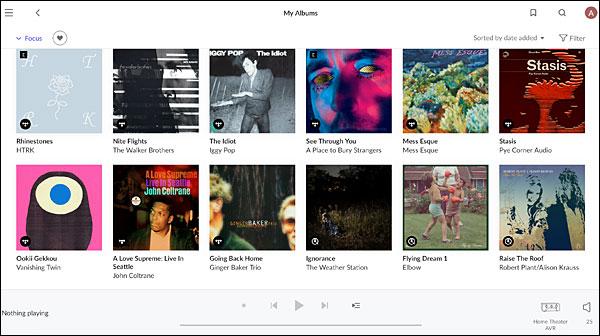 Why does summer always seem to fly by and winter to drag on? Why does the line you're in at the supermarket always seem to be the one moving the slowest? What is Roon? These aren't the easiest questions to answer.
For our purposes, we'll address the question of Roon, a subscription-based digital music library and streaming management software that runs on Windows, Mac, and Linux-based computers as well as music servers like Roon's own Nucleus and Nucleus Plus. Created by Roon Labs, Roon is billed as "the music player for music fanatics." We've name-dropped it many times in these pages, typically in the context of audio component reviews, but for some folks the Roon concept might be something of a mystery—one we'll engage with Scooby Doo-style right now.
Roon Roots
Roon Labs is run by its founders Enno Vandermeer, Danny Dulai, and Brian Luczkiewicz. In 2006, the trio launched the Sooloos music server system, a physically imposing and pricey suite of hardware products that quickly found use in many ultra-high-end stereo systems. After selling Sooloos to Meridian Audio in 2008 and then developing a music software app for Hewlett Packard, they next launched Roon Labs in 2015 to develop Roon. To briefly sum up, Roon aggregates audio recordings stored as local files on your computers and any attached storage and combines them with ones you've added to your Tidal and Qobuz streaming service collections, along with internet radio stations you listen to. It then presents everything in a unified "gallery" format for browsing. That last feature, unique among digital music players, accounts for much of Roon's mysterious nature.
By default, Roon will play the locally stored version of a music title. If no such version exists, it will stream the highest-resolution version available from Tidal or Qobuz. But you can also instruct Roon to override this default setting for any title and play any of its available versions.
Roon costs $12.99 per month if billed monthly, $9.99 per month if billed annually, and $699 for a lifetime subscription. It allows for the creation of multiple user profiles to give every household member the ability to receive personalized title recommendations and create their own playlists, favorite titles, metadata tags, and listening history.
Roon Features
There are things aside from source aggregation that make Roon stand out from the pack. First, there's its user interface, which eschews the limited title and artist information plus thumb- nail cover art you typically get with streaming services in favor of detailed information and large, high-resolution images. When you select a specific artist or composer, the interface will show a discography, information about collabo- rations, photos, a biography, and, where applicable, concert/tour dates. For musical works, it displays artwork, critic reviews, artist and production credits, and real-time lyrics during playback.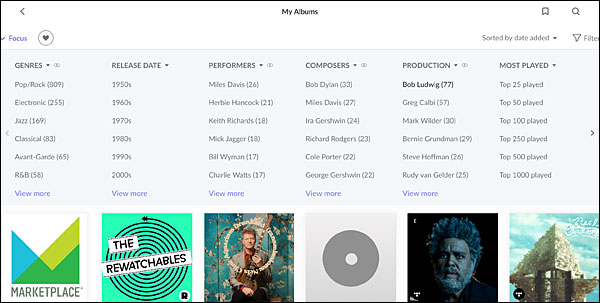 And then there's Roon's powerful search engine. A unified search function scans local and internet music sources with one click of a button, while a Focus feature allows for a customized search that can find the proverbial "needle in a haystack" among millions of music titles. Focus uses searchable metadata, some of which is found in musical recordings and some of which Roon itself generates. The combined meta- data trove covers more than just title, track, and artist, but includes items like genre, release date, producers, retail source (e.g., HDtracks or Bandcamp), record label, and title type (e.g., a live or studio recording and album, single, or compilation).
Roon not only organizes metadata for a recording, but adds to it and even corrects errors, all without altering the user's original files. (Metadata errors are especially common with music files that have been ripped from CDs using commercially available software.) Metadata also powers Roon's artificial intelligence-powered music curation feature, Valence, which taps information gleaned from both the user and Roon's subscriber base of 100,000 "expert listeners" to make individually tailored music suggestions.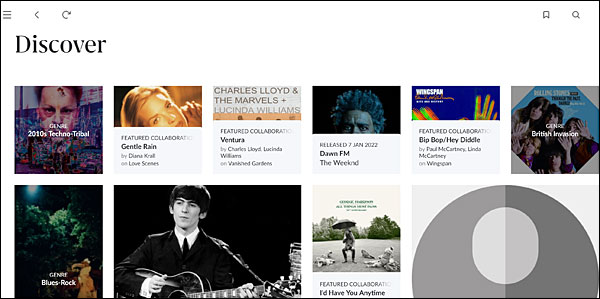 Further, Roon is a multi-zone networked music solution with a built-in digital signal processing (DSP) engine that lets the user apply EQ individually to multiple systems to enhance the performance characteristics of listening rooms and headphones. Multi-channel music can be played through Roon on supported devices, and it fully decodes MQA files, plays lossy and lossless recordings including PCM and DSD (up to 32 bits/768kHz and DSD512, respectively), and does not limit signal upsampling.
Roon Setup And Terminology
In its most basic configuration, Roon can be used on a single device, typically a Mac- or Windows-based computer. Though for users with very large digital music file collections, or those who want to maximize sound quality, it's best to run an advanced, multi-device configuration. To understand these options, you'll need to master several Roon-specific terms.
Roon's brain, called the "Core," runs on the Mac, Windows, Linux, and Linux-based Roon operating systems. The Core receives music streams (Tidal, Qobuz, internet radio stations, and local files) and controls the playback of content via one or more "Audio Devices," which are known in some systems as "End-points, "Renderers" or "Outputs."
In a basic configuration, the device that runs the Core and the Audio Device are the same. An example of this would be a laptop computer connected to a USB DAC/headphone amplifier. In an advanced configuration, the device that runs the Core and the Audio Device are separate. Examples of this include configurations where a network- attached (NAS) drive or an Intel NUC hosts the core.
There are several reasons why a Roon user would run with the advanced configuration. Primarily, Roon is resource-intensive and if a home computer is used in the basic configuration, Roon could slow the computer's ability to do things like surf the web and open documents. Also, separating the device that runs the Core from the Audio Device generally allows Roon to function—and sound—its best.
Audio Devices can be classified as either "Roon Ready" or "Roon Tested." Roon Ready components, which currently number over 500 in total from nearly 200 brands, involve collaboration between Roon Labs and the manufacturer. The component, which could be a standalone streamer, an integrated amplifier or preamp, or a wireless speaker solution, integrates Roon's streaming software development kit (SDK) and has been certified by Roon Labs to be fully functional within Roon's ecosystem and take advantage of all its features.

Roon Tested audio devices have been profiled and tested for compatibility with Roon, but there's no collaboration between Roon Labs and the manufacturers of such devices. Instead of Roon's SDK, Roon Tested devices use protocols like Apple AirPlay, Google Chromecast, USB, and HDMI. The Tested category ups the Roon ecosystem to over 1,000 audio devices, with new ones being added regularly.
Dedicated devices that run the Roon Core include certain network attached storage (NAS) devices, an Intel NUC computer running the Roon OS (provided as the DIY Roon Optimization Core Kit), and two components designed and sold by Roon: Nucleus ($1,459) and its more expensive sibling, Nucleus Plus ($2,559). Both Nucleus models come with a free one-year Roon subscription.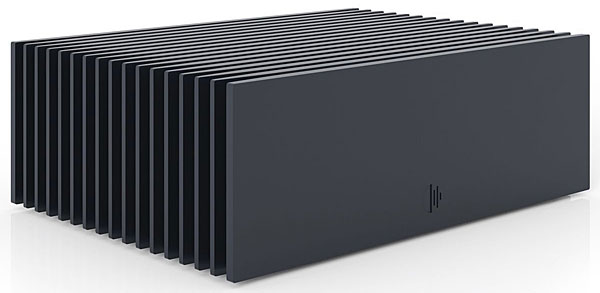 Developed by Roon in partnership with Intel, the Nucleus (and the Nucleus Plus) should be strongly considered when choosing a dedicated Core device. The Nucleus is built around Intel's NUC hardware platform and comes preloaded with Roon OS. Devoid of fans or other moving parts, its visually striking satin-finished chassis (the design was inspired by both the monolith from Kubrick's 2001: A Space Odyssey and the puzzle box from the Hellraiser franchise) is made from a single block of die-cast aluminum.