Roon Demystified Page 2
Inside the Nucleus' chassis is a 2.5-inch drive tray that can hold a SATA SSD or HDD storage device. On the back panel are two USB 3.0 ports for connecting external hard drives for music file storage and/or USB storage devices. As another storage option, the Nucleus can connect to a NAS via Ethernet.
The Nucleus Plus offers more Random Access Memory (RAM) and a more powerful microprocessor than the Nucleus. Although these are only given as rough guidelines, Roon Labs states that the Nucleus Plus is better suited to manage music file libraries in excess of 100,000 titles (approximately 10,000 albums), to run more than five zones, or to use Roon's DSP engine with high sample rate DSD tracks.
Whichever dedicated Core device you select, since it's network-attached, it can be physically located anywhere in the home. However, since Roon is resource-intensive, it's best to choose a place located near a router or Ethernet switch so the device can be connected to the network via a hardwired connection rather than Wi-Fi.
Multiroom zones created using the Roon desktop or iOS/Android control app are independent, meaning that any Roon Ready or Roon Tested audio devices on the network can simultaneously play the same or different recordings. The Roon app is included with a Roon subscription and can be downloaded to as many iPads, iPhones, Android tablets and phones, and Mac or Windows computers as desired to remotely control what the Core sends to Audio Devices.
Roon In Action
Roon offers so many features that a single article can't do it justice. Still, the following examples from my own Roon experience demonstrate what one can expect.
Initially, I tested Roon's unified search feature by hunting for obscure titles within the progressive rock genre. My all-time favorite rock band is Yes, so one title I searched for was the One Live Badger album by Badger, a band that featured ex-Yes keyboardist Tony Kaye. Instead of me having to search multiple hard drives on my network or streaming services, Roon located the title on Tidal. (This is no knock on Qobuz, which also contains titles that are not present on Tidal.)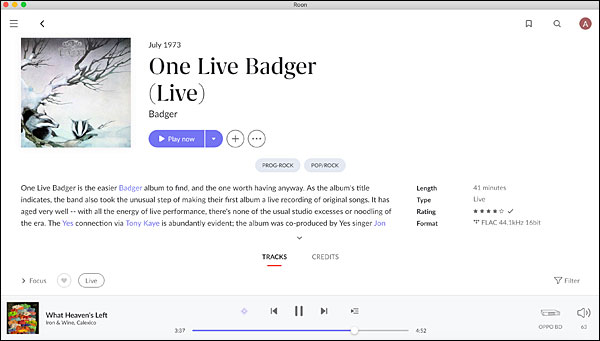 Clicking on the thumbnail album cover art for One Live Badger that appeared on Roon's search result page brought me to the album's main Roon page. Clicking again on the album's cover increased its size, and a second click opened it in fullscreen mode. Returning to the album's main page, Roon listed the album's date and applicable musical genres ("prog-rock" and "pop/rock") and also provided a professional critic review and star rating (four out of five) for the album. The review contained links to Roon's pages for each of the artists mentioned and was presented alongside a column containing the album's length (41 minutes), type (live album), source location (Tidal), and file type (FLAC, 16/44.1).
Lower on the album's main page were links to two other pages—one labeled "Tracks" and the other labeled "Credits." Tracks provided a track list for One Live Badger that contained expected information like track length, but also identified tracks on the album that had been recorded by other artists and provided a link to a playlist solely comprised of such recordings. For example, the playlist for "Wheel of Fortune" consisted of 83 tracks, including ones by Peggy Lee and Ray Conniff. It also provided links to Badger's most popular albums, its complete discography, and works by similar artists. There were links to recommended albums and new releases, each compiled by Valence based on my interest in One Live Badger and general listening history.
The Credits page provided links to One Live Badger's artists, writers, production staff (e.g., engineers and producers), and record label. It identified, among other things, the album's co-producers, including Yes front man Jon Anderson, and the graphic artist responsible for its cover and that of many Yes albums, Roger Dean. The amount of information and links that Roon displayed even for the arcane One Live Badger album was astonishing.
Continuing my use of Roon, it wasn't long before Valence started to get a finely honed idea of my musical taste. It surprisingly suggested the eponymous first album of prog rock band U.K., whose members included ex-Yes drummer Bill Bruford. The vinyl version of this title received heavy rotation on my turntable at the time of its 1978 release, yet I'd forgotten about it in the ensuing 40 years and it had never been suggested to me by any streaming service. Listening to the album brought back a rush of memories.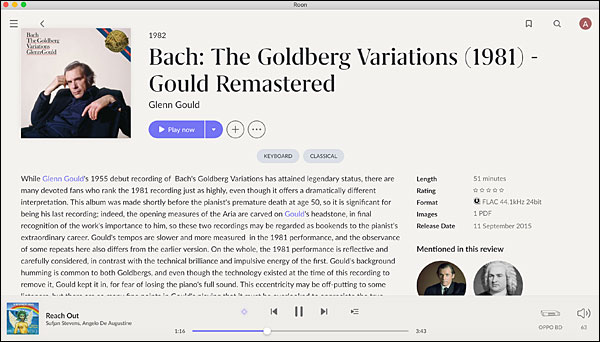 To further test Roon's Focus feature, I switched to another musical genre, classical. Johann Sebastian Bach's The Goldberg Variations, BMV 988, often cited as the most profound musical composition ever written, has been recorded by countless artists. Scanning all performers of this work for which I had listening rights, Focus pulled up 296 CD-quality titles and 45 high-res ones. But few performers have played The Goldberg Variations, BMV 988 with the mastery of Canadian pianist Glen Gould. Focus revealed that Gould recorded one of the 45 high-res titles, Bach: The Goldberg Variations (1981, Sony Classical), which is available on Tidal and Qobuz in 24-bit/44.1kHz format. For me, finding this title without having to manually dig through each of the 341 possibilities was a huge time-saver.
I could continue, but the point is that Roon's many features not only redefine how users interact with their music collections, but open up an almost unlimited number of interesting rabbit holes for music aficionados to explore.
Roon Limitations
Roon requires a robust and relatively high-speed home network. And if you live in an area where home internet access is spotty, it won't be a good option. Also, Roon is not a "take it with you" music management solution—it can't be used in your car or outside work office.
Roon also won't appeal to those listeners who mind paying a subscription fee on top of what they are already being charged for Tidal and/or Qobuz. But in my experience with it, Roon not only provides a substantial benefit for managing a large collection of locally stored music files, but the value proposition becomes even more compelling when one or more streaming services are used.
Who Needs Roon?
With its Sooloos roots, high-end sound quality, and powerful music search and recommendation features, Roon is a popular option for audiophiles and music industry professionals. However, Roon's configuration flexibility also makes it perfect for just about anyone who loves music. Once its mysteries are uncovered, it creates a simplified and seamless listening experience that lets users spend less time worrying about the mechanics of music playback and more time learning about music, artists, and production. Count me in as a firm Roon believer.