SpeakerCraft TIME Five In-Ceiling Speaker System
Moving speakers for moving pictures.
I've had the good fortune of being able to bring some extremely cool gear into my house: a 50-inch plasma HDTV (way back when 50 inches was big for a plasma), a $40,000 Kaleidescape multiroom movie server, and, last but not least, five gorgeous Legacy Audio Harmony in-wall speakers (each one weighing 54 pounds). So, when something arrives and causes more than one member of my family to say, "That's the coolest thing you have ever reviewed," I know there's something special about it.
After much whining and pleading on my part, SpeakerCraft stiffed a few dealers and moved me up in the line to get one of the first of the new TIME in-ceiling speaker systems. TIME stands for Theater in Motion Experience; and, while that's an OK marketing name, they could just as easily have labeled the system TUIC for The Ultimate in Coolness.
It may seem a bit of a stretch to get so excited by a set of in-ceiling speakers. I mean, come on, how exciting can filling a couple of (or, in my case, five) holes in the ceiling really be? In general, talking about the standard, run-of-the-mill in-ceiling speaker is about as thrilling as discussing wall plates or roofing tiles. Even discussing more advanced speakers with tweeters that pivot still doesn't rise much above the techno-geek-installer I-know-what's-behind-the-grille kind of thing. The average home theater owner begins to yawn right after the 5.25-, 6.5-, or 8-inch part of the conversation.
A Hunk, a Hunk of Turnin' Love
But you don't have to mention a single spec when it comes to the TIME speakers. All you need to do is play a CD (or a DVD or a TV channel—anything with audio), and each TIME speaker drops down out of the ceiling to a predetermined angle (0, 15, 30, or 45 degrees).
That's pretty cool all by itself; but, while it's unusual, it's not unique. KEF makes a couple of motorized in-ceiling speakers, and Auton makes a motorized lift for use with any speaker less than 50 pounds that will fit within the housing. But SpeakerCraft's TIME speakers do something else. In addition to angling themselves downward into the room, these speakers can rotate up to 320 degrees to aim at nearly any position in your home theater. Now, why in heaven (or in the ceiling) would you want a speaker that's capable of doing that?
Covering All the Angles
Any real-estate salesperson can tell you the answer: location, location, location. Ceiling-mounted speakers present a tough acoustical challenge for your home theater system. Sure, they'll play sound, but, with most in-ceiling speakers, you'll never get the kind of results you'd have with a good set of floorstanding speakers—or good in-walls, for that matter. It's extremely difficult for in-ceiling speakers to make the front soundstage seem to come from directly in front of you rather than from above. SpeakerCraft, Sonance, Niles, and other manufacturers build speakers with tweeters that can angle toward the listening area. Some are pretty darn good at creating a believable theatrical or musical experience, but it's the rare design that can fool you into believing the sound is coming from directly in front of you.
There's also the issue of where in the ceiling you should install the speakers. Until architects, home builders, and interior designers realize that the most important part of any home is the home theater, they'll continue to create homes in which you can't place the speakers (whether they're floorstanding, in-wall, or in-ceiling) in the ideal locations for the best sound. Inevitably, there's a window, wall, curtain, fireplace, stud, or some other inconvenient thing that exists solely to mess with your home theater mojo.
With standard in-ceiling speakers, you'd be out of luck. Even a set of drop-down speakers can't save your audio butt when you can't center the center channel, or the right-channel speaker has to go "way over there." Thus the benefit of the drop-and-pivot: It can make poor locations sound better and make good locations sound really good.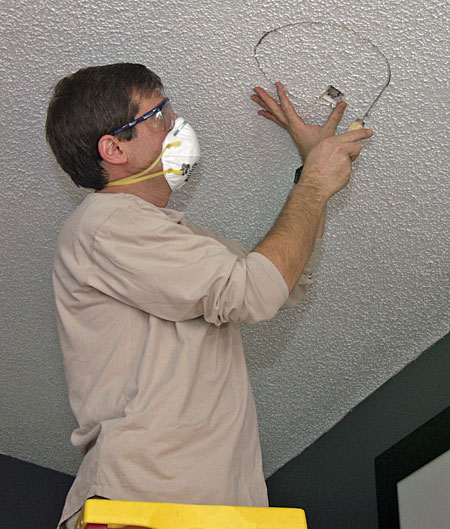 Good Looks...and Brains, Too
The TIME series consists of three outwardly identical models: the TIME Five, TIME Three, and TIME One. Each one incorporates an 8-inch woofer and is 11.75 inches in diameter and 11 inches deep. That's quite a bit deeper than most in-ceiling speakers, so you'll definitely need plenty of attic or crawl space above your install location. The motorized mechanisms are the same, too, and the speakers install using standard hardware. In its at-rest position, the TIME speaker looks almost like any average-Joe in-ceiling speaker. The almost circular metal grille in the center of the flange has a 4-inch straight edge with an LED eye midway along the line. This line is the hinge point for the drop-down action.
A TIME Controller is required with any system, which can consist of up to eight TIME speakers (total) in up to four zones. Each speaker connects directly to the controller via Cat-5 wire and to the system amplifier(s) using standard speaker wire. The included IR remote control makes speaker positioning easy, and it's only during this process that each speaker's built-in blue LED is illuminated. When there is no audio playing, the speakers obligingly rest snug in their flanges, flat on the ceiling. A built-in auto-sense function reacts when there's an IR command, a voltage trigger, or when audio is present. When this happens, the speakers come to life with a low (in volume and tone) rumble as they move into position. The movement is slow and smooth, which gives the speaker mechanisms the aura of quality and precision.
The IR and voltage triggers can access three different presets, which means you could have one orientation for the speakers when you're watching a DVD, another when you're listening to the radio, and maybe a third for a party mode. The auto-sense circuitry closes the speakers (after a programmable delay time) when no audio is present.
From the outside, the three TIME speaker models may look identical, but the drivers—and audio performance—are different. The TIME Five speakers that SpeakerCraft sent for this review use an 8-inch Kevlar woofer and a 1-inch aluminum/magnesium tweeter. In terms of drivers, that puts it up there with SpeakerCraft's best non-motorized in-ceiling model, the AIM8 Five.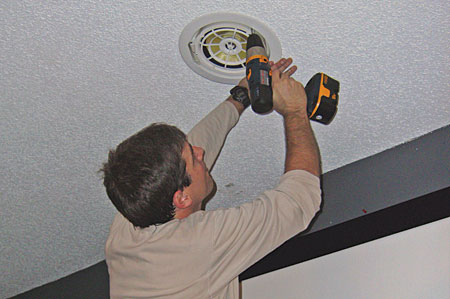 All of That and Great Sound, as Well?
So, aside from the manly rumble when they move into position, how do the TIME Five speakers sound? Pretty dang good, if you awant my opinion (which I guess you do since you're still reading this). They don't have quite the bass power that I remember from SpeakerCraft's impressive AIM-series speakers, but they're no slouches, either. You certainly could use the TIME Fives without a subwoofer, especially for music, and have an acceptable experience. But, as with all but the beefiest speakers, a subwoofer will be mandatory for any serious movie watching.
The TIME Five speakers' overall tonal balance is quite good, and it's pretty amazing how well the system pulls the soundstage down from the ceiling. It's not exactly the same as having a set of speakers at ear level, but it comes extremely close. At times, it's easy to forget that you're listening to speakers mounted in the ceiling. That's especially true if you install the TIME Fives above a large against-the-wall image, such as a large plasma or an even larger front-projection screen.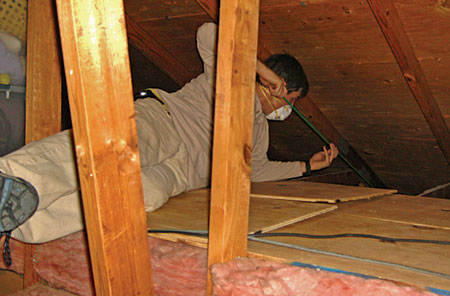 I hate to say it, but, in one way, it doesn't matter how good the speakers sound. The mechanization alone will get the system installed in some home theaters. Why, even if it sounded bad (which it doesn't), I'd be tempted to install it anyway just for the moving show—and then install a different set of speakers for the sound. (Hey, I've got a family to impress.) Fortunately, there's no need for that. SpeakerCraft's TIME Five speakers could easily sell on sound alone, even if you didn't see them drop down from the ceiling.
Of course, four grand for a five-speaker package isn't cheap. But, when you figure it's a speaker system that takes up no floor space, can be mounted in a variety of ceiling locations, sounds as close as I've heard a ceiling speaker come to approaching the performance of an ear-level speaker, and has a coolness factor that's way off the chart, I'd say that's one heck of a bargain. SpeakerCraft's TIME Five speakers will make you stop by for the show, but you'll stay for the sound. And I can't think of anything more you can ask of a system.
Highlights
• Speakers drop down from the ceiling and pivot toward listening area
• Controller connects to up to eight speakers and four zones
• TIME Fives operate automatically or can be integrated into a sophisticated wholehouse control system