Dolby & DTS Advanced Audio
You can't have a completely immersive HD theater experience without HD surround sound—it's that simple. I asked Craig Eggers of Dolby and Tom Dixon of DTS to give us the latest on that most important element of HD theater—the surround sound.
Maureen Jenson
It's the Sound!
by Craig Eggers, Senior Manager, Consumer Electronics Technology Marketing, Dolby Laboratories, Inc.
You Are in the Action
The year 2007 promises to be a great one for home theater enthusiasts. Next-generation optical media offers significant storage capabilities compared with traditional DVDs, and advances in audio and video coding enable users to experience unprecedented levels of video and audio performance in their homes.
There are two new Dolby technologies. Dolby TrueHD is a highly sophisticated lossless audio codec that delivers audio performance that's bit-for-bit identical to the original recording. Dolby TrueHD and its companion, Dolby Digital Plus, have the potential to inspire and elevate appreciation for high-quality audio among a wider consumer audience. Both technologies have been incorporated into the HD DVD and Blu-ray formats for next-generation audio delivery.
Dolby Digital Plus
With its new coding efficiencies, Dolby Digital Plus delivers broadcast-quality 5.1 surround sound at data rates one-third to one-half less than Dolby Digital 5.1. At the same time, it provides full playback compatibility with the more than 50 million A/V receivers that are presently equipped with Dolby Digital decoding. These new coding efficiencies will empower next-generation broadcast, cable, DBS, and IP providers to offer more HD content with immersive 5.1 surround sound.
With next-generation optical media, Dolby Digital Plus incorporates data rates as high as 3 megabits per second and delivers up to 7.1 discrete channels of surround sound—not to mention that it has built-in expandability to operate at data rates as high as 6 Mbps and deliver up to 13.1 discrete channels. It provides the flexibility and quality that will satisfy the most demanding home theater enthusiast.
The BDA (Blu-ray Disc Association) enabled Dolby Digital to operate for the first time at its maximum 640-kilobit-per-second data rate when they adopted Dolby Digital for 5.1 content. This is a rate compatible with all A/V receivers, but it's never been possible with DVD or broadcast standards. Sony and Warner have used the 640-kbps Dolby Digital rate for their 5.1-channel Blu-ray titles. Dolby Digital Plus' higher data rates further enhance Blu-ray's 7.1-channel audio performance.
Dolby Digital Plus incorporates all the capabilities of today's Dolby Digital technologies. Serenity, an HD DVD title from Universal, is one of several that feature a Dolby Digital Plus soundtrack encoded at 1.5 Mbps. Reviewers have praised Dolby Digital Plus at 1.5 Mbps as being "virtually transparent," but you must listen and decide for yourself.
This is a solution for content providers who want to include multiple high-quality audio tracks without compromising data demands for HD video. Dolby Digital Plus can also deliver complementary high-quality audio tracks on a disc in conjunction with a primary Dolby TrueHD selection.
Adding to its flexibility—and built-in compatibility—every 7.1 discrete Dolby Digital Plus soundtrack includes a core discrete 5.1-channel mix that the content provider created. This is great news for the home theater enthusiast who wants to get the maximum benefit from a 5.1-channel setup.
Dolby TrueHD
Dolby TrueHD delivers 100-percent lossless audio—audio that is bit-for-bit identical to studio masters upon playback. Supporting up to eight discrete channels (14 for future compatibility) of 96-kilohertz/24-bit audio (up to 192/24 in 5.1 content), Dolby TrueHD represents a crowning achievement in delivering audio playback that reproduces every nuance of the original performance. Enthusiasts can now enjoy the same level of quality audio playback in their homes that engineers hear in the studio or when recording a live concert event.
Dolby TrueHD delivers audio performance that's identical to uncompressed PCM, yet at data rates one-half to one-fourth of the PCM equivalent. This is especially beneficial to content providers, who can now include the highest level of audio performance on a disc without negatively impacting data demands for HD video quality, value-added extras, and more.
To be certain, while there is more disc space in next-generation optical formats, data-storage capabilities are not unlimited. We anticipate further demands on disc space with the advent of Deep Color. This technology is expected to add as much as 20 percent more data to HD video, making the efficiencies and quality that Dolby Digital Plus and Dolby TrueHD provide even more valuable to content creators. And, since Dolby TrueHD is the only mandatory lossless codec for HD DVD, it allows content makers the extra flexibility to optimize disc resources by eliminating the use of parallel lossy audio on the disc. Hardware players that include internal Dolby Digital 640-kbps encoders ensure compatibility with every 5.1 A/V system ever made. They also offer the owners of older A/V receivers a perceptible increase in audio-playback quality compared with DVD-Video soundtracks.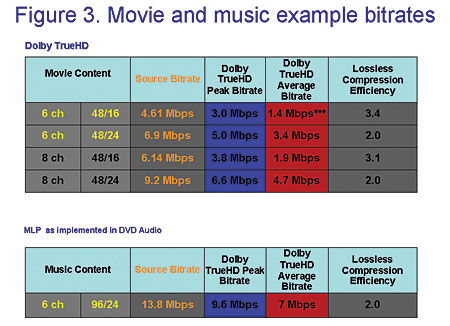 One of the most dramatic and thrilling examples of Dolby TrueHD in action is Legends of Jazzwith Ramsey Lewis on Blu-ray. Originally recorded at 96 kHz, this disc reveals all of the warmth, color, and depth of live jazz. On selections such as "My Funny Valentine," you can actually hear how the brass in the trumpet influences the tone and timbre of the performance. Likewise, Dolby TrueHD further reveals the rich vocal textures on The Phantom of the Opera, an HD DVD selection.
Summary
Dolby Laboratories is excited about the future of multichannel audio in the home theater. The Dolby TrueHD logo is your assurance of 100-percent lossless audio performance every time. Dolby Digital Plus delivers the flexibility of lossy coding, while simultaneously elevating standards of quality and flexibility in the home theater. Both codecs are fully supported by a rich tradition of dedication to audio engineering and multichannel audio excellence.