Dolby & DTS Advanced Audio Page 2
The State of High-Definition Audio
by Tom Dixon, Director, Strategic Marketing, Consumer Division, DTS
Since the debut of HDTV and the recent introductions of the next-generation optical-disc formats, Blu-ray and HD DVD, there has been an increasing interest in and awareness of the enhanced entertainment experience that these new technologies offer. We are noticing that people are paying more and more attention to high-definition sound as an essential element.
DTS has conducted studies in conjunction with Nielsen Entertainment of HDTV owners, which show that high-quality multichannel surround sound is extremely important to HDTV consumers. It's at the top of the list and is nearly as high up as the strongest-rated attribute (which is great video quality). However, CEA studies are showing that 70 percent of HDTV owners also own multichannel surround systems. This means that 30 percent of HDTV owners are missing out on the surround experience. "Don't forget about the audio!" is DTS' mission.
Last year, DTS led focus groups with technology enthusiasts who own HDTVs. We found that three key messages resonated with these groups with regard to high-definition surround sound:
> The ability to have high-definition audio to match HD's video quality
> The idea of reproducing surround sound at home that is identical to the original studio soundtrack
> Being immersed in 7.1-channel surround sound that puts them in the action
These are all simple messages that everyone can understand, but the challenge is translating these ideas into the retail environment, which is not at all conducive to the world of multichannel sound. For the most part, large chain retailers don't have the room to demonstrate surround sound systems, and, even if they did, the acoustical environment can't accurately convey the basic benefits of surround sound, much less high-definition multichannel audio.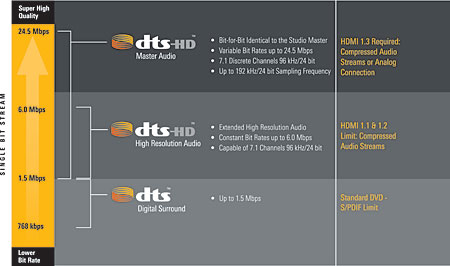 With the launch of the next-generation audio formats, and specifically DTS-HD Master Audio, the retail sales floor has become a critical point in the purchase cycle to make a strong impression on consumers.
Recognizing that DTS is communicating the message of a complex and intangible technology in a very challenging retail landscape, we created three high-definition education stories, or video vignettes, that communicate the key benefits of DTS-HD, and we are broadcasting them in-store in the HDTV section via the PRN Network. The idea is to communicate audio benefits in a video medium.
The first video vignette, "Better Sound Today," covers DTS-HD's unique value proposition of improved audio performance on existing DTS A/V receivers. It ran once an hour every day in all 170 Tweeter stores during November and December of 2006. Starting in January 2007, DTS has expanded advertising of the vignette into all Best Buy and Circuit City stores.
We will introduce two more video vignettes, "Identical to the Studio Master" and "7.1 Channels Put You in the Action," later this year.
All of the video vignettes feature high-quality animation and were created in 1080p high-definition video. Although they feature narration and multichannel background music, they are designed to convey messages with or without sound. We anticipate that this in-store outreach will go a long way in educating consumers about DTS-HD and high-definition surround sound in general.
Two questions that consumers often ask us are: What are the differences in the various "flavors" of DTS in the HD space? And, if I have a Blu-ray or HD DVD that features DTS-HD Master Audio and my next-generation player is connected to my existing receiver, what happens?
DTS Digital Surround has long been considered by some to be the reference audio format for standard DVD, and DTS-HD is the latest extension of the original DTS Coherent Acoustics technology, which was originally introduced in 1996. The unique DTS-HD "core plus extension" design allows for DTS-HD to deliver performance and flexibility to both content creators and consumers. It has the ability to encode and decode three DTS formats: DTS-HD Master Audio, DTS-HD High Resolution Audio, and DTS Digital Surround.
DTS-HD Master Audio: Bit-for-Bit Identical
DTS-HD Master Audio can deliver surround audio that is identical to the studio master. The new high-definition optical discs have far more capacity than standard DVDs. This allowed DTS to develop a format to deliver surround sound at very high bit rates—up to 24.5 Mbps—that is vastly superior to standard DVDs. The transfer rates are so high that it can deliver Lossless Audio, a bit-for-bit re-creation of the original recording.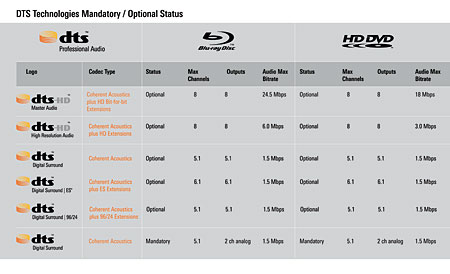 DTS-HD High Resolution Audio: High-Quality Sound
DTS-HD High Resolution Audio was designed to deliver up to 7.1 channels of high-resolution audio that is virtually indistinguishable from the original. DTS-HD High Resolution Audio delivers audio at very high constant bit rates superior to standard DVDs—6.0 Mbps on Blu-ray and 3.0 Mbps on HD DVDs—to produce outstanding sound quality. It is capable of delivering up to 7.1 channels at a 96-kHz/24-bit resolution and allows content creators to deliver rich, high-definition audio on movies where space doesn't allow for DTS-HD Master Audio.
Better Sound Today, Perfect Sound Tomorrow
To experience the full benefits of DTS-HD Master Audio, consumers will need to purchase a new A/V receiver or home theater system equipped with DTS-HD Master Audio decoding.
However, by simply hooking up a new high-definition disc player to an existing DTS receiver or home theater system, anyone can experience the improved audio. All DTS-HD Master Audio–encoded discs carry a DTS Digital Surround core that is compatible with all existing DTS audio components. Consumers can play content encoded with DTS-HD on a new Blu-ray or HD DVD player through an existing DTS-capable receiver via an S/PDIF connection and enjoy surround sound at 1.5 Mbps—over twice the data rate found on most standard DVDs.
The DEG (Digital Entertainment Group) announced at CES this year that 30 million United States households have an HDTV and that 750,000 high-definition media devices have been sold thus far. As those numbers continue to rise, and with the anticipated rollout of next-generation players and receivers, as well as the upcoming increases in available high-definition content, we believe the demand for high-definition sound that can match the picture will also continue to swell.