Denon DHT-700DV HTIB
With the DHT-700DV, Denon takes one small step into the HTIB arena.
Denon threw away convention in the 1990s when they partnered their electronics with Mission loudspeakers to produce a series of two-channel mini-systems. Other than maybe David Crosby and Melissa Etheridge, was there a more-stunning collaboration in the decade?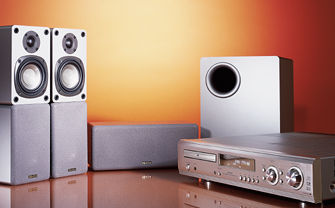 For years, the packaged system couldn't escape the limitations of generic, low-fi loudspeakers. The Denon mini-systems, although a marriage of convenience (Denon is the U.S. distributor for the British loudspeaker company), promised to change that. Someday, they'll do for home theater what they did for the mini-system, but not with the DHT-700DV, Denon's first home-theater-in-a-box for North America. It's a conventional HTIB with house-brand speakers.
The $1,149 system includes the handsome ADV-700 DVD receiver, the diminutive SC-50S satellites and SC-50C center-channel speaker, and the breadbox-sized DSW-27 subwoofer. The control unit, only 3.5 inches high, cuts a dashing figure with its slim design, silver-aluminum faceplate, and half-mirror front-panel display that subtly reflects light or nearby objects. Inside lies a Dolby Digital/DTS/
Dolby Pro Logic II processor, a DVD/CD player with a DVD-ROM drive, an amplifier generously rated at 35 watts per channel, and an AM/FM tuner with 40 station presets. Aside from DVDs and CDs, the DVD-ROM drive plays CD-R and CD-RW discs, as well as discs encoded with MP3 music files. Its 4-megabyte memory buffer eliminates layer-change pauses.
The DHT-700DV has almost everything you could ask for in a lifestyle system (including all of the necessary cables) but lacks one of the new high-resolution-audio formats, SACD or DVD-Audio. There is, however, a 24-bit/96-kilohertz digital-to-analog converter.

The DVD drawer is located on the far-left side of the receiver's front panel, next to the display and push-button controls for the DVD player and tuner. You select the input with a rotary dial—flanked by associated buttons for surround mode, status, timer/set, and bass-treble adjustments—that sits near the master volume control on the far right. It's a dignified, uncluttered look. The Glo-Key remote, bigger and more manageable than the average HTIB controller, also performs all of the system's major functions except, unfortunately, opening the disc drawer.
Your home theater can grow with the DHT-700DV, within reason. The ADV-700 has three S-video inputs, a component video output, and two digital optical inputs, but only a single digital optical output and no digital coaxial output. It's a perpetual rush hour inside this cramped little box. The vents dissipate the byproduct, heat, but they also make it possible to hear the drive mechanism's movement. It's not audible, however, once the movie or music starts, which is all that matters.
Denon measures the amplifier (which is obviously limited by the receiver's size) as 35 watts per channel at 1,000 hertz, not at the more-meaningful full-frequency range: 20 to 20,000 Hz. Even under these favorable conditions, the total-harmonic-distortion measurement is ugly: 10 percent. How significant is this? Buy a good $300 budget receiver, and you'll get readings of less than 1 percent over the full audible range. More power, too. Denon has provided the receiver with only enough power to drive the little 6-ohm Denon-brand speakers that come with the DHT-700DV. Don't think that you can buy this system and someday replace the speakers with an assortment of larger bookshelf models. There's not enough juice.
The speakers have none of the receiver's pizzazz. They're small, wall-mountable, and a color other than black (silver-gray), with soft, rounded edges. They fit the basic lifestyle requirements. The SC-50S satellite weighs 3.74 pounds and is only 6.9 inches high, 4.3 wide, and 5.1 deep. It's outfitted with a 0.75-inch silk-dome tweeter and a 3.5-inch polypropylene-injection-cone midbass driver. The 6-pound SC-50C center-channel speaker is an elongated (10.8-inch) satellite, with room for a second midbass driver. All of the speakers have tiny spring-clip speaker connections.