Pioneer's New Plasmas
Pioneer announced eight new plasmas on Wednesday. That in itself is not terribly exciting. What is exciting is that it is based on their 8th generation glass, which I've talked about
before
.
Called "Project Kuro" (Kuro means "Black" in Japanese), the 8th gen glass is a substantial reworking of how Pioneer's plasmas work. I'll go into more detail when I review an actual product, but here's the short version. By using different electrode placement, they were able to reduce idling brightness by 80%. Basically this means that blacks can be significantly darker than before.
They also announced a new pricing strategy that would take them away from the "race to zero" that every other flat panel manufacturer is going for. So don't expect the new plasmas to come cheap (like Pioneers ever were).
They proof, they say, is in the pudding. At the unveiling, all the plasmas were shown with some bias lighting. This was unlike CEATEC from last year where the prototype of this glass was shown in a totally dark room. If Pioneer was so sure of their black levels, why not a black room? We didn't get a chance to see anything interesting on them that night, but the next day we were invited back to see the new plasma against some competition.
Any time a manufacturer, any manufacturer, sets their product head to head with another manufacturer, you have to take the results with a grain of salt. Without being able to check all the settings, one would have no idea what they've done to each display to make them look good or bad. That said, when one of the displays is one of their own models (which is still for sale), you can at least garner some initial opinions. Here, judge for yourself: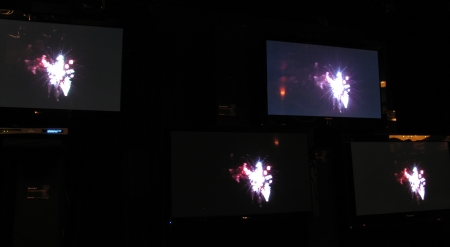 The upper left is their PRO-FHD1 that I reviewed a few months ago. Up top is a new Samsung, and the bottom right is the latest Panasonic. That leaves the lower middle, which is a 768p version of their 8th gen glass. I think the picture pretty much says it all. The black level was noticeably better on the new glass. How much better? I won't know till I get one in the lab, hopefully in a few months when they're released. Keep in mind the settings on all displays were supposedly "out of the box."
Even if the new black level is close to a Panasonic (it looks a lot better), then that is big news. Now you have some of the best processing in the business, and a good black level. I can't wait to check one out.
The 42 and 50-inch 768p models will be out in June for $2,700 and $3,500. A 50 and 60 1080p models will be out in September for $5,000 and $6,500. These for are straight Pioneer models. The Elite models (which have some step-up features and such but the same glass), will have the same sizes, but the 768p models will be available a month later. Prices on those are $3,200, $4,500, with the 1080p 50 and 60 being $6,000, and $7,500.
And in case you didn't see it anywhere else on the site, the Home Entertainment Show starts Friday. If you're in or near NYC, come on down. I'll be doing a panel called "HDTV 101" on Saturday at 1:30. Feel free to come heckle say hi.