Breakfast on Pluto—Sony Pictures
Video: 4
Audio: 4
Extras: 2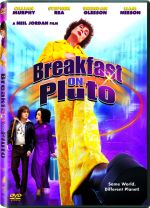 Neil Jordan serves up a taste of Ireland—with quite a bit of style and sass—with his latest film Breakfast on Pluto. It tells the story of Patrick, a very unusual man who enjoys the comfort of a good dress and high heels. He also goes by the name of St. Kitten and is played to peculiar delight by Cillian Murphy, from 28 Days Later. The film follows his exploits around Ireland in the 1970s and '80s, as he searches for his birth mother who abandoned him on the steps of a parish. It's filled with eccentric characters (populated with actors like Liam Neeson, Stephen Rea, and Brendan Gleeson) and a rocking soundtrack reflective of the times.
Presented in 1.85:1 anamorphic, the picture looks better as the story progresses, when more color is introduced to accentuate the glitz and glamour as Kitten progresses in life. The images are crisp, clean, and colorful. The Dolby Digital 5.1 track provides some nice surprises and takes full advantage of the surround channels, which is unexpected for a film like this. And the aforementioned soundtrack is a delight.
The special features are spare but informative if you can stomach them. There's a brief behind-the-scenes featurette that introduces the passion of everyone involved, and there's a commentary with Jordan and Murphy. The subtitles can come in handy when deciphering the thick Irish brogues. Breakfast on Pluto is a quirky Irish fable, full of twisted whimsy and poignancy.
LATEST VIDEO