You're Surrounded! Page 4
Phase Technology Velocity Series V-10 If you've ever thought with a note of alarm that speaker cabinets with a natural wood look - something that was the norm when I was a kid - had all but disappeared, then you'll be glad to know Phase Technology is keeping the idea alive in its Velocity Series speakers. The system that I checked out came not in aluminum, not silver, but a refreshingly earthy finish called Sun Maple. (Okay, it comes in black, too.) Yet another traditional element of the Velocity Series speakers is their boxy, hard-edged design. Phase Technology's crew may be tree-huggers, but they're obviously not yet ready to embrace the lifestyle-speaker phenomenon.
The Phase Technology system's total cost is $1,925 - not exactly lunch money, but a reasonable sum for a rig this decked-out. The V-10s are substantial-looking towers that each come with a pair of plastic feet and two sets of metal spikes to keep them firmly planted on the floor. A wall-mounted speaker that can be switched between dipole and bipole operation with a rear-panel control, the unobtrusive V-Surround measures less than 5 inches deep. Rounding out the system is the V-6 center speaker, a model designed for either vertical or horizontal placement, and the HV-1000 subwoofer. The relatively slim sub has a 0/180° phase switch and a crossover control continuously adjustable between 40 and 110 Hz.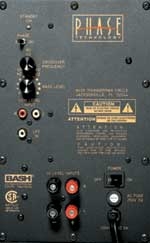 System setup was uneventful. After positioning the V-10 towers and attaching their feet and carpet spikes, I placed the center speaker on a low table and the V-Surrounds on high stands located parallel to my ears. I listened with the surrounds in both dipole and bipole modes but chose the bipole setting since it sounded better with surround music tracks. The subwoofer, meanwhile, was stowed in the front left corner of our listening room.
Returning to the cornfield scene in Freddy vs. Jason, I found that the bipolar surrounds delivered a palpable sense of envelopment as the doomed teen wandered drunkenly through the stalks. And when the action cut back to the rave, the bass lines in the booming techno soundtrack sounded punchy and low. But I was most impressed by a later scene in a hospital. As a terrified security guard approached a metal door being pounded by the bloodthirsty Jason, the accompanying sound effect had a startling, full-frequency throttle. The V-6 center speaker also held its own, delivering clean dialogue at both on- and off-center seats during a heated confrontation between the cop and his superior officer.
A 5.1-channel mix of "I Can't Quit You Baby" from the Led Zeppelin DVD also fared pretty well on the Phase Techs. The system's wide dynamics lent muscle to Bonham's drumbeats, although on this and some other tracks the HV-1000 sub audibly bottomed out when pushed to high volume. Both the crowd ambience and the guitar flourishes in the surround channels came across in a believable manner. For example, a 360° sonic pan during Page's "Dazed and Confused" solo sounded continuous as it arced around the room.
The V-10 towers displayed both good detail and a natural tonal balance on stereo music tracks. During Thompson's "King of Bohemia," the British folkie's voice sounded appealingly smooth yet clear. And I could easily hear the breathy texture of Lloyd's saxophone on "Amazing Grace." On some tracks I felt the V-10 towers' spatial delineation was slightly less precise than that of the other two systems, but for the most part their imaging was very good.
Phase Technology's Velocity V-10 system may look traditional, but it's up to date in its handling of movie soundtracks. It also sounded great with all sorts of music. If you're looking for solid speakers that were designed with performance in mind, I'm sure you'll like this system as much as I did.
Expensive toys like plasma TVs may be all the rage, but what's the point of a great picture without equally great sound? You could spend less on home theater speakers, but any of these systems can deliver a sonic experience equal to the visual jolt you'd get from looking at a cool flat-panel TV. They might not be designed to hang on the wall or merge with your décor, but with sound this powerful you'll be proud to put them out in the open.
PDF: In the Lab
LATEST VIDEO