Alexa Finds More Ways to Say 'Your Wish Is My Command'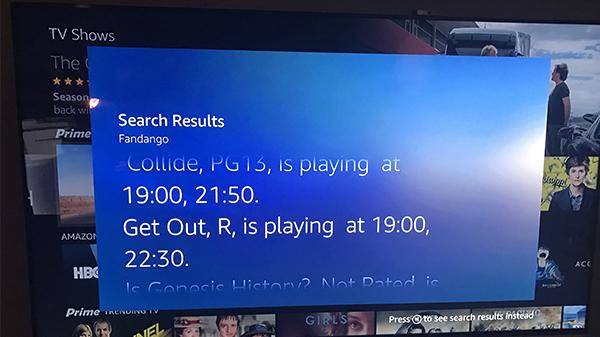 When voice control first showed up in media players, it was used to search for movies and TV shows or to open an app. But over the past couple of years Roku and Fire TV have started using voice commands to control smart home devices. And Sony recently announced plans to integrate Google Assistant into its forthcoming TVs and NVIDIA plans to add the technology to its Shield TV media player. Meanwhile, Amazon has quietly added the full-functioning version of its Alexa personal assistant to Fire TV, which means smart-home voice control is now available for as little as $40 when you buy the new Fire TV Stick.
Of course, the problem with having Alexa on a media player, as opposed to a standalone voice-activated speaker like the Amazon Echo, is that Alexa isn't always listening: She has to be activated by turning on the player and pushing the microphone button on the remote. Despite this minor inconvenience, owners of Alexa-enabled media players can still use their voice to control lights while watching TV, display video from a security camera or cooking instructions from Allrecipes on the big screen, order a pizza, and more—all without leaving the sofa.
The thing is, over the next year or so, you won't have to buy one of Amazon's personal assistant speakers (Echo, Tap, or Dot) to get voice technology. Alexa is being built into a growing number of products, including Guess Smart Connect watches, LG refrigerators, an iHome clock radio, a First Alert smoke detector—even Samsung's POWERbot vacuum. (There's nothing quite like binge-watching The Grand Tour while your robot does the vacuuming.) You can also expect to see TVs based on the Fire TV operating system from Seiki, Westinghouse, and Element.
While the reach of Alexa expands, she continues to gain new skills almost daily. Among them are apps created by third party partners such as Starbucks and Open Table or Capital One and Fandango, making it easier to order a coffee and make a dinner reservation on the way to (or from) work or pay bills and buy movie tickets from the couch. I've used voice commands to accomplish all of these tasks through my Fire TV, and they work better than you might expect.
Of course, Alexa is not alone. Google Assistant is rolling out to more devices and Apple continues to flesh out its Siri voice system while Apple TV becomes a hub for HomeKit-compatible devices, allowing users to use voice commands to turn on lights, close the garage door, lock the front door, adjust the temperature, and more.
Although Google Assistant and Siri have a ways to go before they are able to match Alexa's wide-ranging skills, one thing is clear: streaming players and TVs are destined to become hubs in our increasingly smart homes. The next time you see your kids are "vegging" in front of the TV, they just might be doing their homework with a little help from Alexa or Google.