Yamaha YMC-700 neoHD Media Controller Page 3
Yamaha's back-panel connections include three HDMI and two component-video inputs, but its only output option is HDMI.
ERGONOMICS
The YMC-700's biggest story is its purely visual user interface and stripped-down feature set, which may prove to attract and deter folks in about equal numbers. First, the good: The onscreen graphics come up fast, look sharp, and will come across as beautifully simple and intuitive to anyone belonging to the iPod generation (either nominally or by inclination). The main onscreen menus are full-screen only; there's no overlaying or windowing of video behind it, though the pop-up Control menu for surround modes, bass/ treble, and such does overlay video. On the other hand, the lack of virtually any direct-access controls means that even a simple command like changing sources requires a trip back through the menus, which can require as many as six attentive key presses and a pause of several seconds while the neoHD (and your TV) handshake and re-sync.
The Yamaha's content-streaming abilities are considerable. With any DLNA-compatible server - which includes Windows Media players and many third-party servers, such as the TwonkyMedia one I use on my Mac (coincidentally, the neoHD includes a free download certificate for Twonky's Mac or PC version) - music and photos streamed through painlessly and reliably. The TMC-700 provides considerably more browsing options than many networkcapable receivers, including listings by song, artist, playlist, composer, and a quicker-access alphabetic listing grouped as ABC, DEF, and so on, making access much faster than single listings. Still, there are no search or sorting capabilities, although the neoHD can access the iTunes playlists already resident on your computer.
The stripped-down, 20-key remote becomes second nature fairly quickly. While, as mentioned, a certain amount of menu navigating is required for many functions, a Now Playing command that's always available on the pop-up Control menu gets you back to the current source with just a couple of clicks. I found the pop-up Remote menu, which is used for commanding source-component functions deeper than play/pause/skip, to be quite cumbersome, but I imagine regular use would help here, too. Yamaha's integral IR-repeater system worked well via the supplied "flashers," handily commanding my source components and TV. One quirk is that while the Pause command works fine on streaming music, there's no resume-play option; hitting the key assigned to Play skips forward to the next track. There's no fast-search here, either, and you can't track-skip forward or back without making a trip back through the menus.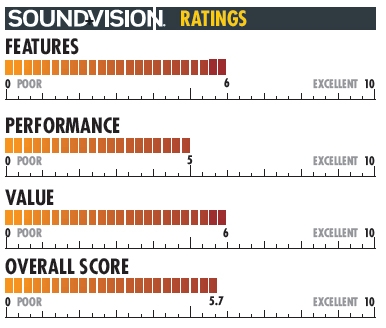 BOTTOM LINE
Boy, this is a tough one. The Yamaha YMC-700 neoHD is one of a kind, making comparison beside the point. Nevertheless, I have to note that $800 will buy you any number of conventional A/V receivers with vastly more power and somewhat more useful surround options - at the cost of some or all of the YMC-700's media-streaming abilities. But it will also come with an inevitably more complicated interface, front panel, remote control, and so on. I don't think I would recommend the neoHD without an extensive hands-on trial in any case, but it's so usable, and its functionality is sufficiently complete, that it deserves to be experienced. This Yamaha's unique combination of simplicity and ability is going to leave some scratching their heads, but it's sure to evoke a "Eureka!" from an equal number of others.
LATEST VIDEO