XGIMI Horizon Ultra Dolby Vision 4K Hybrid Laser/LED Projector Unveiled
The
XGIMI Horizon Ultra
($1,699) is a bold new projector that aims to topple the Sony and JVC home theater hegemony with a device that costs a lot less than those offerings yet offers compelling image quality. It is also a milestone in long-throw projection technology because it is the first such projector to support Dolby Vision.
The company invited press and reviewers to a swanky Manhattan preview event, where I now only saw the projector in action but also got a good look at its innovative hybrid laser/LED light engine that the company says offers triple-laser brightness and color fidelity along with the comfortable speckle-free and viewing of LED projectors.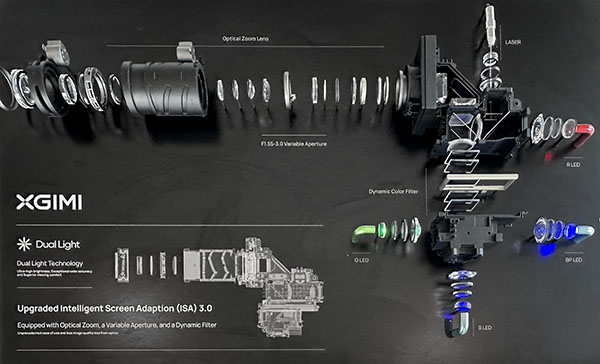 The new projector puts powerful features in a small and comparatively affordable box. XGIMI is keen to highlight its convenience, it has auto-adjustment for those who do not wish to fuss with perfect alignment. But then it offers a high-quality zoom lens that avoids nasty chromatic aberration and is equipped with a dynamic iris for increased contrast in darker settings (at the expense of light output). The idea being this projector is good to go under ambient light and also when doing home theater duty.
It's fair to say that home theater enthusiasts will want to learn a lot more about the image quality related features of the Horizon Ultra. Being the first to offer Dolby Vision is a big deal. On the hardware side, the big question being what sort of native contrast does it achieve, and what are the peak lumens when it is in a calibrated movie or cinema picture mode.
The iris is an intriguing addition. It allows a choice, brightness at the expense of contrast or employ the iris along with a color filter to increase the color gamut and cover a claimed 95% of DCI-P3.
What's notable is triple-laser RGB projectors all get past DCI-P3 gamut and gun for Rec. 2020 coverage. But they suffer from visible laser speckle that can be distracting. That much gamut coverage is unnecessary, HDR today is mastered to the DCI-P3 cinematic standard, so it fulfills director's intent.
And 95% of DCI-P3 is consistent with what you see from OLED as well as quantum dot LED TVs, and is a bit better than what's typically seen from dedicated home theater projectors that are currently in the market, aside from the triple-laser RGB models. Of course these specs need to be tested with measurements but there's real potential here to deliver a truly cinematic viewing experience with a $1,700 device.
XGIMI had Carlos Watanabe, Director, PayTV and Streaming at Dolby, speak at the event.
"I'm here today to talk a little bit about Dolby Vision, and why we believe it's a game changer for the industry. Consumers now, more than ever, they expect best-in-class experiences. At Dolby, it's in our mission to advance the art of sight and sound in order to deliver experiences consumers are looking for.
"Dolby Vision in particular, unlocks the power of HDR, delivering high dynamic range, sharper contrast, more detail, and more color in the image. But the question is, how do we do that? And there are basically three components of a Dolby Vision experience. One is high dynamic range, which means darker darks and brighter colors. And specifically on the darker image point is the ability for consumers to actually see what's going on in a darker scene. Now we have much broader possibilities for creative storytelling.
"The second component is a wide color gamut. So we have many more colors to play with. Creators really enjoy this possibility of experimenting more with color. But the third component, which is really what differentiates Dolby Vision, is dynamic metadata. Metadata is information about the image that is created through the gradation process. And then that image—remember that when a director is creating a movie or a piece of a series—they create it in a post-produced house on a beautiful color grading monitor or a reference monitor.
"But then that image gets displayed in consumer houses on very different and diverse displays. From a high-end TV, to a mainstream TV, to a projector, even to the mobile phone. And what Dolby Vision brings to the industry is a way to optimize that display into every single device we have out there. And not only that, at Dolby we are very proud of working with and together connecting the whole AV ecosystem. From content creation, to distribution, to the playback.
"As I mentioned before, we have been working in content creation ever since the era of film. And of course with digital media, we continue to work with the most prestigious directors and creators to help them express their storytelling. We make sure that that creativity gets passed through from a distributor or a service provider. So we work with them to make sure that information passes through their services and finally reaches the consumer device.
"Of course we also work closely with all of the consumer manufacturers, such as XGIMI, to make sure that whatever the creative intent was in the content is actually displayed in the best possible way in that particular device. And the industry really likes that approach we have to content. The proof of that is that today there is a variety of content available in Dolby Vision through the most popular services. So today you can enjoy Dolby Vision on Netflix, Apple TV+, Max, Amazon Prime Video, and several other services. And it's not only on Hollywood movies—that's where it all started, and that's where we're still very strong today. So every single blockbuster that goes to the movies nowadays comes with Dolby Vision technology. But also on episodic TV. So you have the very popular high-budget episodic TV shows available in Dolby Vision. But also on more mainstream programming like drama, animation, even documentaries, and musicals. And most recently, online sports have come.
"So in total there are more than 20,000 pieces of content available today, both in movies and episodic television, available to consumers. So that ecosystem of creation and distribution of content is very strong already. And we are very proud today to be partnering with XGIMI to be launching the first 4K long-throw home projector with Dolby Vision technology."
Projector Specs
Product classification: Home Projector
Display technique: DLP
Display chip: 0.47" DMD
Supported Formats: HDR 10, HLG
Brightness: 2300 ISO Lumens
IRIS mode: Supported
Standard resolution: 3840 x 2160 pixels
Color Gamut: DCI-P3 95%
Lamp Life: 25000 Hours
Lens: High Light Transmission Coated Lens
3D: (Top and Bottom (Including Frame Packing) & Side by Side)
Speaker: 2 x12W Harman/Kardon
DTS-HD: √
DTS Studio Sound: √
Dolby Audio: √
Dolby Digital: √
Dolby Digital Plus: √
Projection Throw ratio: 1.2-1.5:1
Optical zoom: √
Uninterrupted auto keystone: √
Uninterrupted auto focus: √
Intelligent Screen Alignment: √
Intelligent Obstacle Avoidance: √
Projection Method: Front, Rear, Front Ceiling, Rear Ceiling
Image Size: 40"-200"
RAM: 2GB
Storage: 32GB
System: Android TV™ 11.0
Chromecast built-in/Magicast: Yes