WyreStorm Amps Up HDBaseT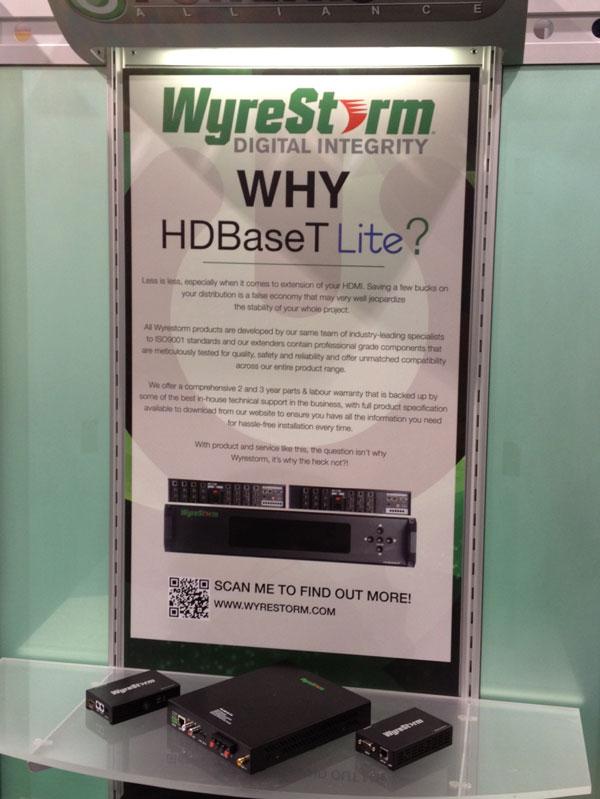 WyreStorm Amps Up HDBaseT If you're not already familiar with HDBaseT, it's an exciting connectivity technology that enables connectivity between HD video sources and remote displays through a single CAT5e/6 cable up to 100m/328ft long. What's really cool and useful is the fact that it is capable of delivering uncompressed high definition video, audio, 100BaseT Ethernet, various control signals, and up to
100W of POWER
. (Imagine running one CAT5e/6 cable to your flat panel from your AV system rack – and not needing to plug in an AC power cord from the display!) Now that Pioneer and Onkyo have joined the HDBaseT Alliance, widespread adoption of HDBaseT technology for regular-Joe AV gear looks like it's just around the corner.
WyreStorm came to CES2013 with "the world's first all-in-one HDBaseT and digital amplification solution" HDBaseT D Class Digital Audio Amplifier (AMP-001-010) that brings together the benefits of HDMI and HDBaseT connectivity, with local audio amplification. One of the device's standout features is its ability to extract stereo audio from the digital audio signal within the HDBaseT signal and amplify it locally. This can eliminate the need for multiroom amps and having to mix digital and analog audio formats. The AMP includes a local source analog audio input to further expand its usefulness for a variety of applications.
While the WyreStorm AMP-001-010 isn't designed as a consumer DIY-type piece, it's still noteworthy for non-custom-install consumers because it shows how much flexibility is possible when implementing the HDBaseT technology. Although not yet officially set, pricing should be under $900 with availability in approximately three to four months.