Wraps Takes the Headache out of Headphones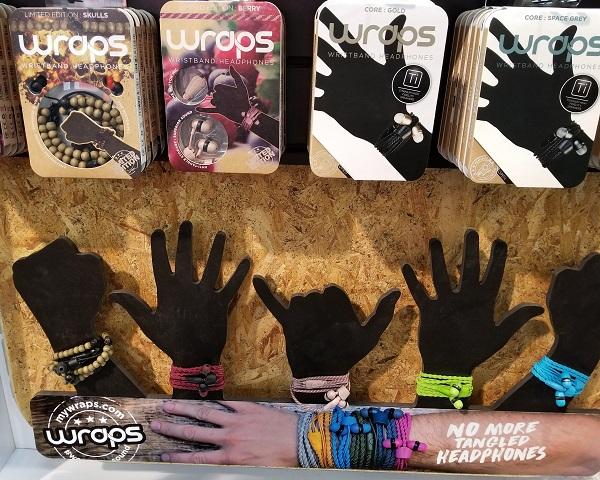 How much does it suck to spend half your workout trying to untangle your headphone cables before you can start to listen to your music? A lot, right? Wraps Wristband headphones and cables never tangle because you carry them wrapped around your wrist instead of stuffed in your bag or briefcase.
Wraps are a patented design with a headphone and a clasp that uses the cable end to hold the cable around your wrist - a fashion statement that also keeps your headphones handy, and tangle-free. They come in a variety of colors and fabrics, including wood beads and other natural elements.
The ($20) Classic is just a basic headphone. The Talk ($25) adds a one-button remote with built-in microphone for taking phone calls. The Natural ($30) features the natural wood and faux leather-wrapped cables for a rugged, earthy feel. The Natural also has the remote for calls and basic playback functions.
The Core ($50) series is the best-sounding of the products. The headphones use better titanium drivers than the other series, and they are available in colors meant to match many popular smartphones, including Space Grey and Rose Gold. The bracelet/cables are faux black leather braids, and like some of the other series, has the one-button remote with microphone.
Also just announced is a series of Wraps cables for audio and charging. An audio splitter jack, Lightning or USB-C to 3.5mm jacks, and USB charging cables, all designed to be worn as a bracelet. They all feature a unique clasp that connects the two ends of the cables around the wrist.
All of the Wraps have slide adjustments so you can wear them tight or slouched around your wrist. For even more of a fashion statement, layer up a few so you can share them with friends.