Wolf Cinema in the RBH Fold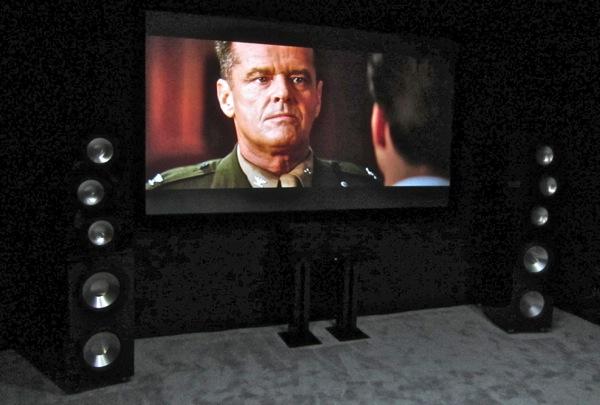 Wolf Cinema demonstrated its SDC15 projector ($23,000 with Wolf's outboard processor, $15,000 without) in a room it shared with RBH Sound. The latter included premier models from the RBH Signature Reference Series, upgraded with a new AMT tweeter and other refinements. The SV towers at the left and right front consisted of the SV831R two-way modules each siting atop SV1212R subwoofer. The side surrounds were SV44Rs, the back surrounds SV6500s, the ceiling speakers for Atmos were SI760Rs, and the center the SV821RC. This speaker package totaled about $30,000.
The projection quality on a 115-inch diagonal, 1.2 gain Seymour-Screen Excellence Ambient-Visionaire Black film screen (about $5000) was exceptional, and particularly notable for the best blacks I've seen at the show so far by a significant margin. It's no secret that this Wolf projector is based on the best of JVC's LCOS models offering a form of 4K (some call it fauxK) that uses e-Shift technology. (This is not the new JVC BLUEscent, a true 4K projector blogged elsewhere here). The screen, reviewed favorably by Sound & Vision earlier this year for its superb contrast, undoubtedly also contributed.
The audio was similarly impressive. I had heard it briefly on day one, but found it a bit loud and biting. I'm glad I went back. Today (Saturday) it had been turned down slightly to more livable levels. It still had plenty of punch and driving dynamics, but without sounding in any way raw or edgy.