Where to Stream Black Movies and Documentaries for Free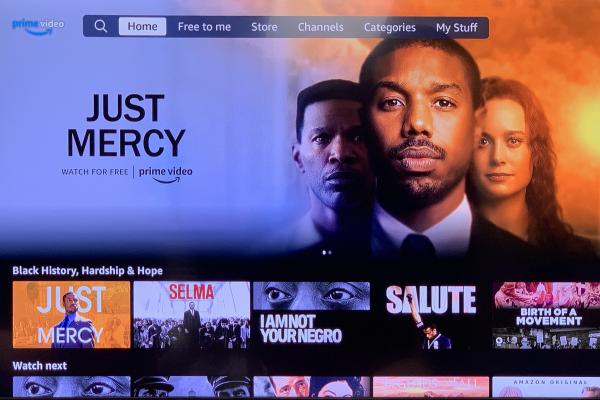 In the wake of protests following the death of George Floyd, Hollywood studios and streaming services are offering movies, TV shows, and documentaries on African-American culture, lifestyle, and history for free during the month of June. Here's a rundown of what's available.
A View of Black Culture
Many of these movies are based on true stories and provide a glimpse into the challenges faced by African-Americans yesterday and today. Rental fees have been removed from several of these titles, which can be streamed through most services, including Amazon, FandangoNOW, Apple TV, and Google Play.
Free titles include:
Just Mercy
Released in January, the movie stars Michael B. Jordan in the true story of Bryan Stevenson, the Harvard law school graduate who moved to Alabama in the 1980s to fight against racial bias and defend inmates on death row, many of whom were wrongfully accused. Brie Larson stars as Eva Ansley, operations director of the Equal Justice Initiative Stevenson founded in 1989.
True Justice, a full-length documentary about Stevenson, is also available on HBO and HBO Max.
Selma
This true story takes place during three months in 1965. After a KKK bombing killed four young black girls and black citizens were blocked from registering to vote, Dr. Martin Luther King, Jr. and others fight for equal voting rights. The movie gets its name from a massive 54-mile march from Selma, Alabama to the state capital in Montgomery, where protesters register to vote. The march was a success as it gained the attention of President Lyndon Johnson, who signed the Voting Rights Act of 1965 that prohibits racial discrimination.
The Secret Lives of Bees
Released in 2008, Queen Latifah, Jennifer Hudson, Alicia Keys, and Sophie Okonedo star in this adaptation of Sue Monk Kidd's novel that takes place in South Carolina in 1964. When a 14-year-old white girl runs away from home with her black housekeeper, they find themselves in rural, segregated living with a family of beekeepers. The girl's unwillingness to follow the rules of segregation cause trouble and heartache.
Antwone Fisher
This 2002 biographical drama was directed by Denzel Washington and is based on Antwone Fisher's memoir of his time as a sailor. Fisher had violent outbursts that landed him with a naval psychiatrist. As the sessions progress, he breaks down and acknowledges abuses he suffered as a child.
Brian Banks
This true story starts after Brian Banks was released from prison for a rape he did not commit. Banks tries to clear his name to pursue a professional football career. Spoiler alert: Banks played as an NFL linebacker for the Atlanta Falcons.
Ali
The 2001 biography, starring Will Smith as Mohammad Ali, follows the famous boxer from 1964 to 1974, a tumultuous period in his life. It's available to stream for free from Apple TV as well as Amazon Prime Video.
The Spike Lee movies, School Daze, She's Gotta Have It, and Malcolm X are available on Netflix but you'll have to go elsewhere to rent the Lee classic Do The Right Thing. The Help has become one of the top streaming movies this month on Netflix.
Independent Films from the Criterion Collection
Beyond mainstream movies, the Criterion Collection is allowing free streaming of several movies with black stories as well as films made by African-American filmmakers. To stream without subscribing to Criterion, open the app and click on "explore" rather than logging in. Choose your desired title and click play. Free titles will play instantly. Movies include:
Down in the Delta
This is the only film directed by American poet Maya Angelou. Starring Alfre Woodard and Al Freeman Jr., the 1998 movie follows a drug addict mother who is sent with her family to Biloxi, Mississippi to stay with her uncle in hopes that she will be able to get her life together and save her family. While living with her uncle, she learns the history of her family going back to the time of slavery.
Watermelon Woman
This movie is considered a landmark independent film of "New Queer Cinema." It follows a fictional young black lesbian filmmaker who makes a documentary about a black actress from silent film days who also turns out to be a lesbian.
Body and Soul
Dating back almost 100 years, this silent film was made by producer/director Oscar Micheaux in 1925 and tells the story is of a criminal who poses as a minister in an African-American community in Georgia.
Black Mother
Filmmaker Khalik Allah pays tribute to the people of Jamaica in this "poetic collage." It's part of a collection of Allah's movies on the Criterion Channel but the only one available for free.
The Criterion Collection is also offering the following films for free: My Brother's Wedding, Daughters of the Dust, Black Panthers, and the documentary And When I Die, I Won't Stay Dead about activist and Beat Generation poet Bob Kaufman.
Civil Rights and Black History
There are a number of documentaries about black history and civil rights. Here are six you can watch for free.
I Am Not Your Negro
Streaming on Amazon Prime, this film is narrated by Samuel L. Jackson and was nominated for an Academy Award for Best Documentary. Historical footage is beautifully paired with the words of activist/writer James Baldwin, who profiles the three prominent civil rights leaders of the 1960s: Dr. Martin Luther King, Jr., Medgar Evers, and Malcolm X. The film captures three men who took different approaches to raising awareness for equal rights and fair treatment.
13th
Borrowing its name from the 13th Amendment, which gave blacks the right to vote, the film explores the history of race and the criminal justice system.
John Lewis: Get in the Way
Available on PBS through July 5th, the film follows the journey of John Lewis, U.S. Representative for Georgia's 5th congressional district and a longtime civil rights leader who marched with Dr. Martin Luther King, Jr.
Toni Morrison: Pieces I am
Hulu subscribers can currently watch this documentary featuring the late author Toni Morrison along with testimonials from Oprah Winfrey, Angela Davis, and others. The film explores race in America through Morrison's literature. If you don't subscribe to Hulu, it will be available to stream for free on June 21st.
You can find a selection of movies and TV shows to stream on Hulu under its Black Stories category.
Coming Together: Standing Up to Racism
In this recent CNN Town Hall with Sesame Street, adults and children from all walks of life explore racism by posing questions to Big Bird and the Sesame Street cast and a slew of experts.
For more suggestions of documentaries to watch, check out this list of documentaries and movies that confront racism. Also, Vanity Fair looks at 28 race-related documentaries available for streaming. Each film has its own distinct style. Even more fiction and non-fiction movies depicting racial injustice can be found here.
If you live in Canada, just about every great black film is available to stream for free through cineplex.com. Unfortunately, the service is not available in the U.S.