Where Have All the Hi-Fi Shops Gone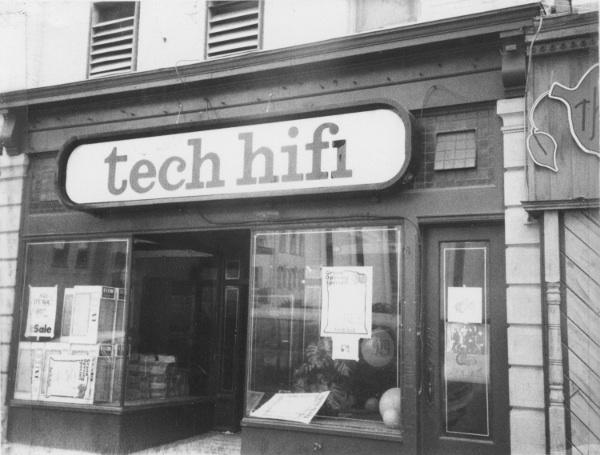 When I was a lad I served a turn as a Hi-Fi looker with no bucks to burn…
With apologies to Gilbert & Sullivan, I'd venture that more than a few veteran audiophiles began that way. Back in the day every city of medium to large size had at least one hi-fi shop. Big cities had dozens. I still remember New York's Sam Goody and Harvey Radio. We lived in Connecticut but I visited relatives in New York several times a year. Goody's main business at the time was LPs, and they might well have been the world's biggest LP retailer. I bought numerable LPs there before CD was a thing. I also bought my first loudspeaker there to go with the Heathkit amp I put together on the kitchen table to the consternation of my what-have-we-raised parents. My hi-fi catalogs and magazines were dog-eared.
I'm not sure exactly when it happened, but by the mid '90s there were far fewer shops than before. Major cities were still served, but smaller cities were lucky to have a Best Buy or Circuit (RIP) City. Was it a lack of interest? Or the growth in that decade of the home theater market that pushed many retailers to transition from exclusively audio to custom installations? Or was it perhaps the perceived, skyrocketing prices of audio, at the least at the high-end, that discouraged buyers and therefore drove many brick and mortar audio dealers into closure?
It's hard to believe it was a lack of interest. Music is a perennial leisure activity. But there's also no doubt that explosive growth in other product categories has grabbed a huge chunk of fans' disposable income. Personal computers were everywhere starting in the '90s, and at least initially they weren't anywhere near bargain priced. I remember paying $2,000 for my first serious laptop in the early aughts, but could justify it for work reasons. But for many folks it was simply something they wanted to have; personal computers were hot, and still are. Later came other tech toys we all needed, from $1,000 cell phones with computer-like ambitions eventually moving to virtual assistants named Alexa and Siri. Then big-screen TV's became must haves, and only recently become relatively affordable — at least at the low end.
We're certainly not into disparaging home theater here, but there's no doubt that it has had an impact on audio sales. True, in some respects this has been positive, since audio is just as important to a home theater setup as video. But it has certainly complicated the marketplace. Many audio dealers managed to survive by moving into custom installation, and some of them closed their less profitable storefronts, saving big time on overhead.
The effect the rise in audio prices has had is hard to nail down. It's complicated. On one hand there's now a wider range of good quality, affordable gear than ever before. True, much of it now comes from countries with low labor costs, mainly China. There are potential downsides to this that are too complex to address here (it would take a books, and has), but for buyers it's been a boon. Because U.S. (and European)-produced gear carries a heavier labor burden, it has tended to concentrate on equipment that most buyers can only dream of owning. That means that the casual or entry-level buyer, who could well first be exposed to such dream gear, might conclude that this is a hobby only for the rich, not even realizing the wealth of affordable equipment still available. Thus the Catch 22; many of these potential buyers then avoid shops where they might experience it, even casually, and with fewer customers the shops pack it in.
It also doesn't help that so-called boutique audio stores have long had a reputation for snobbery. I well recall visiting one such store years ago to audition a pair of moderately-priced but well regarded speakers. I was the only customer in the store, but after five minutes of listening the salesman inquired as to whether I was ready to buy or not, as these were only budget speakers after all! I'd venture that more than one reader has had a similar experience.
The key players in today's audio market, outside of a few big cities, are the internet and regional audio shows. You can buy almost anything audio- (or video) related through your computer or smartphone and often get it delivered in two days (though I've recently been seeing more "out of stock" notices on such sites as Amazon, largely due, I suspect, to shipment disruptions caused by the Coronavirus epidemic in China). Often, returning such items is possible if it doesn't fit your needs, though shipping isn't always free and even if it is return shipment can be a hassle. It's more practical with smaller items such as headphones than with large floor-standing speakers or heavy power amps.
Attending an audio show is another route to actually hearing gear you might be interested in. There's now a number of them in the U.S. every year. The heavy hitters are currently Axpona in Chicago in April and the (Denver-area) Rocky Mountain Audio Fest in the fall. And there are other shows as well in the Los Angeles area, Northern California, New York City, Washington D.C., and Tampa, Florida.
One issue I have with such audio shows is that their demos often feature the exhibitors' most expensive gear. That's understandable, but it also emphasizes the unaffordability of those products to many potential buyers. It would be interesting if someone would run an audio show where no single product in the demoed system could be over a certain retail price, including pair-cost for the speakers. I can't say what that top price might be, but $3,000 would work for me, and even $5,000 might be acceptable as exhibitors would now be competing for the eyes and ears of a bigger subset of buyers than simply those with Platinum charge cards. I know I'd be first in line to attend such a show; I recall going to Rocky Mountain a couple of years ago where one room was designated as the Affordable room, featuring products from a number of manufacturers. It was the most crowded room at the show.