We Give a Critical Eye to 'High Definition Glasses.'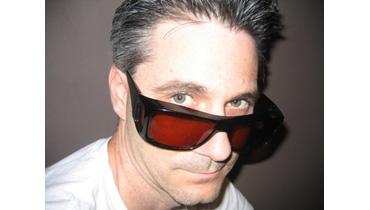 The Short Form
$19.99 ($52.94 as tested) / HDWRAPAROUNDS.COM / 866-262-2403
Snapshot
They're glasses that you can use to see the world in HD. Maybe? Sort of?
Plus
• Incredibly cheap as HD goes • Side panels for peripheral HD viewing • Lightweight and portable for HD viewing anywhere • Terrific scaling - absolutely no motion blur or jaggies! • Free visor clip, carry case, and cleaning cloth • Gives wearer ability to fit in as senior citizen or '70s porn star
Minus
• Exorbitant shipping and handling charges • Color bias towards pinkish-yellowish-brown • Night Vision glasses offer no actual night visionb • Endless spam e-mail offers following purchase • Fitting in as a senior citizen or '70s porn star
Key Features
• UV400 amber lenses • Large enough to wear over existing prescription lenses • Modern (though questionable) European style • Two-year replacement guarantee • Includes bonus visor clip, cleaning cloth, leatherette carry pouch, and HD Night Vision WrapArounds • Rush shipping available for additional $6.99
With the digital TV switchover looming on the horizon, it was inevitable that someone would finally address the root limitation of all high definition displays: our eyes. No matter how great the image is coming off the screen, if your eyes suck, so will the picture.
That "someone" is HDVision. Through a highly targeted, pinpoint e-mail campaign, HDVision reached out to me with an offer to purchase their new high-performance, HDVision WrapAround eyewear. HDVision promised "clarity that you have never experienced" that will "enhance your vision . . . just like High Definition TV!"
And most titillating of all, they feature "modern European style." I've been to Europe and I've seen Europeans, and I'm here to tell you, they are stylish. If I can capture even some of that lightning in a bottle, then brother, count me in!
To sweeten the pot, they also offered me two exclusive bonus offers. As a reviewer, I generally shy away from manufacturer bribes as I don't want to risk anything biasing my opinion, but I felt I could make an exception in this case after I confirmed that they would extend this offer to Sound & Vision readers. For a limited time, HDVision will throw-in a pair of night Vision WrapArounds and a patented visor clip for your car, said to be a $10 value. You're welcome.
With this being such a potential leap forward in optical technology â€" bringing HD quality to every aspect of our lives â€" I owed it to Sound & Vision readers to bring these in for a full review. Again, you're welcome.
SETUP
After placing my order, I was told I could expect to receive my HDVision WrapArounds in 6-8 weeks. Well, that certainly wasn't going to do. When the opportunity to live life in HD arises, one must step up and grasp it with both hands! After several phone calls, I finally reached an English-speaking operator. I could tell she was impressed by the fact that I wrote for Sound & Vision and that I would be reviewing these glasses for publication. After some small talk, my passion for HD â€" and an extra $6.99 â€" convinced her to upgrade me to RUSH shipping status. These are the kinds of perks we reviewers enjoy on a daily basis. Sweet, huh?
After paying $22.96 for shipping and handling on a product that was initially billed as costing only $19.99, I was a little surprised when the package showed up in my mailbox via US Postal Service with no fanfare. The "Priority Mail" logo hinted that maybe the actual shipping was somewhere around $5, however I'm certain my package received VIP handling. This was confirmed when I opened it opened it and saw how the two pairs of glasses had been packed Tetris-style into the small box.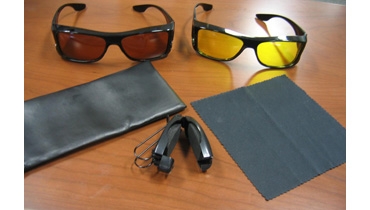 The standard HDVision WrapArounds (left) and the NightVision edition (right).
With technology this sophisticated, you definitely want a good owner's manual. Fortunately, the included two-sided pamphlet tells you everything you need to know to start enjoying life in HD. If you wear prescription eyewear, you simply place the HDVision WrapArounds over your regular glasses. (Note: See the end of this review for my test of the Night Vision WrapArounds.) As I don't wear glasses, I was stumped here for several minutes and nearly resorted to calling Tech Support until my wife pointed out installation step two: If you don't normally wear any prescription eyewear, simply put them on and use as regular sunglasses.
Before experiencing the full glory that is life in HD, I was cautioned not to stare directly at the sun, use as machinery eyewear protection, wear at night, or indoors. While these restrictions were going to greatly impact my normal daily routine, I was willing to sacrifice sun watching for a 1080p lifestyle. Also noteworthy is that the quality, Chinese-made optics should never be cleaned with any harsh or abrasive chemicals.
Prior to installation, I closed my eyes and wished away the memories of 38 years of standard-def viewing. The actual installation was simple and trouble free. The mounting brackets (aka "frames") fit nicely over my ears and made for a snug fit. I took a deep breath and opened my eyes . . .