Voxx Previews Iris ID Technology and 360-Degree Video Camera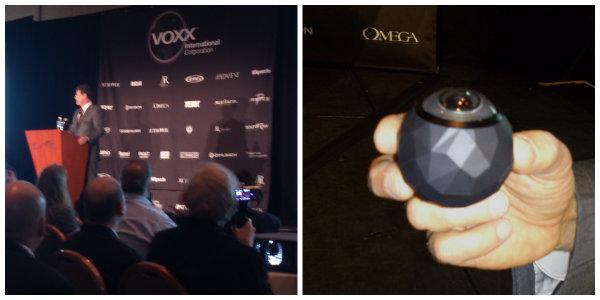 Voxx isn't one of those names that every consumer knows and owns. Standing in line for the press conference today, the guy behind me had to ask me what they make. While not one of the biggest names at CES, they unveiled quite a few new products that might make them one of the most interesting names at CES.
Voxx announced the DUB car audio lineup, an array of rear-seat entertainment options, EV charging stations for the home, in-wall USB chargers and a Bluetooth outlet speaker. They also announced the new "AR for Her" product lineup for women that includes a personal alarm and speakers designed to look like a purse - both a tiny step above the typical "pink it and shrink it" approach to women's gear. Interesting approach, but most women I know prefer their audio gear to look like audio gear.
However, Voxx did preview two exciting new products. They've partnered with EyeLock to produce myris, an iris identification protocol. Straight out of a Jason Bourne movie, iris identification is far more accurate than fingerprinting, especially since the myris scans both eyes. Only DNA is more accurate. Iris patterns are unique - the odds of a false match is one in two trillion. Myris converts the iris pattern to a unique code, and then matches the code to the user's iris to confirm identity and then verify passwords, logins, social media data and user IDs in a format that can't be hacked. The small USB-powered device has a small mirror that the user looks into and within one second, their irises are scanned and identification is authenticated. Up to 5 users can share one device, and it is compatible with Windows, Mac and Chrome. Prices aren't available at this time, but Voxx indicated it will be quite affordable.
The other exciting product Voxx introduced was the 360Fly panoramic video camera. As the name implies, it shoots 360 degrees horizontally and 240 degrees vertically. It captures all of this data so at anytime in the future, you control what you see via a Smartphone app or online. Anyone familiar with Google's Street View will be able to use this with ease - scroll left, right, up or down. You can selectively choose a viewing angle, or unwrap the image to see everything as a panoramic picture. Instead of the photographer showing you what to look at, now the final viewer decides what he or she wants to see. The camera is small, lightweight and waterproof to 5 meters. There's also the 360MicroFly lens that attaches to a smartphone for capturing 360 degree images directly to your phone.
Many companies had lots of news at the show today. Voxx unveiled two new products that people can really get excited about.