Vizio Zones Out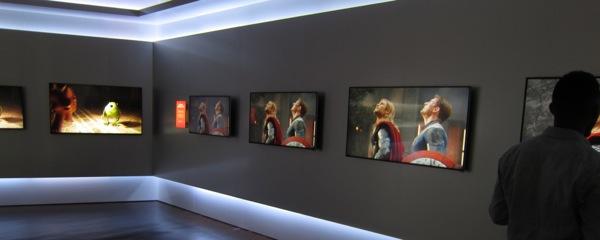 For 2014 Vizio announced three new lines of HDTVs in a bewildering range of sizes. The big news is that all of the new sets, including the cheapest 23-incher in the budget E-Series, will have
full array LED backlighting with local dimming
. The only compromise is in the number of LED zones behind the screen. The E-Series will have 16—not a lot, but at least potentially better than the edge lighting used in most other sets at equivalent or higher prices). The more upscale M-Series (shown in the photo) will have 32 zones.
Prices on the E-Series will range from $160 for the 23-inch model up to $1600 for the 70-inch. All of the E-Series sets above 48-inches will include Vizio's latest smart TV platform and Wi-Fi connectivity. The smaller models will be available without smart TV or, for a slightly higher price, with it.
The M-Series (the sets to the right of the corner in the photo) will have 32 zones of backlighting, and range in price from $330 for a 32-inch model to $3300 for an 80-inch set. All of the M-Series sets have the smart TV features.
No release dates are yet available for any of the Vizio sets, either here or in the Vizio blogs below.