Vizio VP505XVT Plasma TV
In the six short years since Vizio flat-panel TVs have been sold in the U.S., the company has risen to be ranked third in flat-panel sales (plasma and LCD combined) in the North American market. This tremendous and rapid success is due to the high value offered by these TVs—in particular, surprisingly good picture quality for surprisingly little money.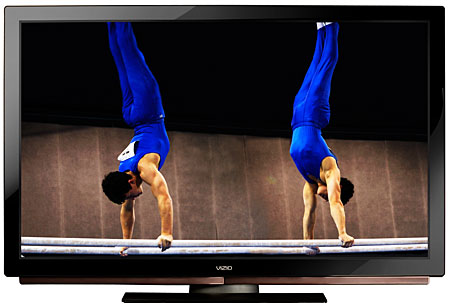 Vizio's latest plasma, the 50-inch VP505XVT, is no exception. I've been very impressed with the company's plasma TVs in the past, so I had high expectations for this one—expectations that were met and even exceeded.
Features
At a list price of only $1500, one can't expect an extensive feature set. Still, what this TV does provide is impressive. The VP505XVT's most important feature is HQV video processing, one of the best and most respected processor chipsets available today.
Otherwise, the set offers 1920x1080 native resolution with 1:1 pixel mapping, four HDMI 1.3 inputs (two on the side), SRS TruSurround audio system, and a lifetime rated at 50,000 hours, which translates to over 17 years at 8 hours a day, 7 days a week. If you watch that much TV, you might consider getting out more often!
You'll also need to be a bit concerned about image retention, especially if you watch a lot of 4:3 content, news channels with a "ticker" along the bottom of the screen, or video games with static elements. All plasma TVs are susceptible to retaining ghosts of static images, though they are much better about this than earlier generations. Still, most plasmas offer some sort of "wipe" function—the VP505XVT's image cleaner displays a full-screen white field to eliminate ghosts. Image retention is usually more pronounced in the first 100 hours of use, after which it subsides substantially.
Unlike most TVs with HDMI 1.3 inputs, this one does not support Deep Color (increased color bit depth), x.v.Color (expanded color gamut), or CEC (Consumer Electronics Control), which allows HDMI-connected devices to communicate with each other. I don't find the lack of these features to be problematic in any way, since no commercial content is produced using Deep Color or x.v.Color, and a good aftermarket universal remote can unify the control of an A/V system without CEC.
One of the nicest features of all Vizio TVs is the company's 1-year, in-home warranty. Vizio also offers free lifetime technical support by e-mail or phone. Such dedication to customer service is rare and laudable in today's consumer marketplace.
Interestingly, the VP505XVT is available only on Vizio's website—no brick-and-mortar stores, at least not as of this writing.
LATEST VIDEO