Vizio TVs Expand Quantum Dots, Add Siri Control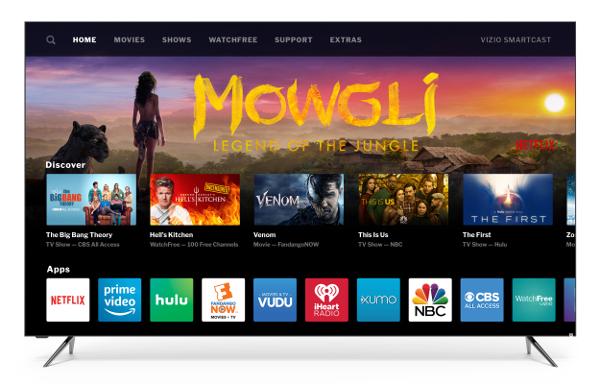 Vizio is adding color-gamut-widening quantum-dot technology to more 4K TVs at lower prices and adding Siri voice-assistant compatibility for the first time, the company announced at CES 2019.
With the addition of Siri compatibility, Vizio contends it will be the first company offering TVs that can be voice-controlled through smart speakers and mobile devices equipped with three of the four major Cloud-based personal digital assistants: Siri, Alexa, and Google Assistant. Alexa and Google Assistant compatibility were available in Vizio's 2018 smart TVs.
Vizio is also bringing Apple Airplay 2 and HomeKit compatibility to its smart TVs, improving black levels in select 4K TVs via as many as 480 full-array local dimming (FALD) zones from a previous maximum of 192. It is also boosting peak brightness in select models up to 2,900 nits from a maximum 2,000 in 2018, the company announced here at CES.
Quantum-dot displays expand from the 65-inch P-Series flagship ($2,199) in 2018 to include all models in the mid-price M-Series 4K TVs, step-up P-Series Quantum line, and top-end P-Series Quantum X line (75-inch model pictured). In 2018, the M-Series ranged in price from a suggested retail of $599 to $1,499 in screen sizes of 55 to 70 inches.
The new entry-level V-Series lacks quantum dots.
Like before, all new 4K TVs feature the HDR10, Dolby Vision, and HLG high dynamic range (HDR) technologies to expand the displays' dynamic range. All three series offer FALD backlighting like their predecessor series.
Details were unavailable on whether any of the TVs feature HDMI 2.1 inputs or enhanced Audio Return Channel (eARC).
The company didn't announce any 8K TVs.
Here's a look at the performance levels of all new 4K TVs:
P-Series Quantum X: The top-end series features two models at 65 and 75 inches, both with quantum-dot displays, 480 local dimming zones (up from 192 zones in the predecessor series), and 2,900 nits of peak brightness, up from 2,000 nits. They're said to be Vizio's brightest TVs to date.
Like last year's sole quantum-dot TV, the Quantum X models deliver 98% of the DCI P3 color-gamut standard (or 80% of the higher Rec. 2020 standard). The bezel-less series lacks bezels on all four.
P-Series Quantum: This series also consists of a 65-inch and a 75-inch model with quantum-dot displays and features up to 240 local dimming zones, up from a maximum 120 in the three-model predecessor series. Color gamut hits 80% of the Rec. 2020 standard. Peak brightness remains at up to 1,000 nits. The TVs lack bezels on all sides but the bottom.
M-Series: The series ranges in size from 43 to 65 inches, delivers 80% of the Rec. 2020 color-gamut standard, and features up to 90 local dimming zones, up from a maximum 48 zones in the previous M Series. As in last year's line, peak brightness hit 600 nits.
V-Series:The entry-level 4K series features 40- to 75-inch screens, up to 16 local dimming zones, and up to 400 nits of peak brightness. A color-gamut spec was unavailable. Last year's similarly positioned E-Series also maxed out at 16 zones and 400 peak nits, and it featured Rec. 709 gamut. The 2018 E-Series was priced from a suggested $349 to $1,549 for six models up to 75 inches.
AirPlay2, HomeKit Rollout
With AirPlay2, consumers stream audio, 4K/HDR video, and photos from Apple mobile devices and Macs to the TV. HomeKit enables the TVs to be included in automated home-control scenes incorporating other HomeKit-compatible smart-home products.
These capabilities, along with HomeKit-enabled Siri, will be added as the company rolls out its new SmartCast 3.0 smart-TV OS in the second quarter as an over-the-air update to new and existing SmartCast-equipped TVs.
Like before, the new Vizio TVs will come with Chromecast, enabling the TVs to stream audio and video from the Cloud via thousands of Chromecast-enabled apps running on Android devices.
SmartCast 3.0 continues to offer audio and video apps embedded in the TV and will expand the number of TV functions that can be voice-controlled through Google Assistant, including TV-app launching. Later this year, the OS will support app launching via Alexa.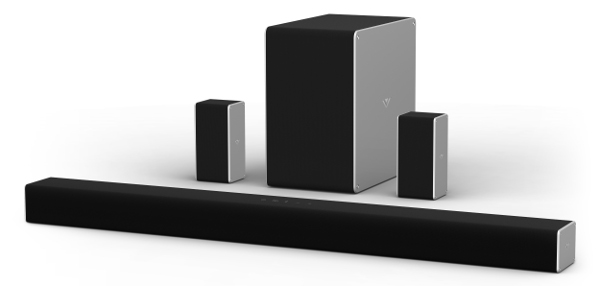 More Dolby Atmos Soundbars
In audio, Vizio unveiled four new soundbars, two with Dolby Atmos to complement three current Atmos-equipped models.
In expanding its Atmos soundbar selection to five models from three, the company will add a 36-inch 5.1.4-channel model (shown here). It will join a $999 46-inch 5.1.4 model. The other new Atmos soundbar is a 36-inch 3.1.2 model, which will join a $799 46-inch 3.1.2 model. The company also currently offers a $499 36-inch 5.1.2 Atmos soundbar.
The 5.1.4 models feature two upward-firing height drivers on the main chassis and two upward-firing drivers on two wireless surround speakers. The 3.1.2 models embed two height drivers in the main chassis and lack wireless surround/height speakers. The current 5.1.2 model has upward-firing height drivers in the main chassis and wireless surround speakers, which lack height drivers.
All 2019 products are slated to ship in the spring at prices that weren't announced.