Vizio Reference Series Features Dolby HDR Technology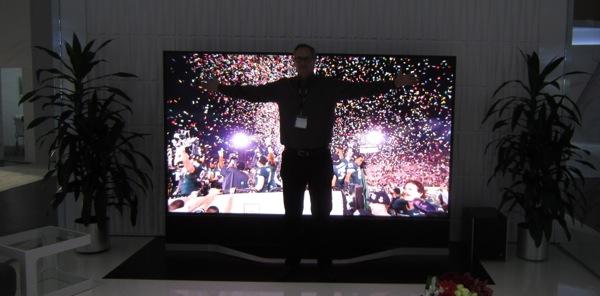 Topping off Vizio's 2014 offerings will be the company's new Ultra HD Reference Series. The big news here is the inclusion of Dolby's new High Dynamic Range (HDR) technology. The Reference Series panels are capable of 800 nits of peak luminance (just under 234 foot-lamberts).
We'll have a lot more to say about this feature as it finds its way into consumer sets, including Vizio's. Suffice it to say that HDR is not designed to produce searing overall brightness, but rather to allow bright details to pop in a more realistic way (for example, bright lights on a darkened street, or the glint of the sun off the wings of an airplane, as in the photo—though of course a photo viewed on a conventional computer monitor can't duplicate the effect you'll see on a set with HDR). In the Vizio the HDR can be dialed back to reduce its effect, which will look unrealistic to some viewers in its full setting, particularly on movies that were never intended to look overly vivid.
For HDR to function properly, it requires a set with a large number of LED backlighting zones. The Vizio Reference sets will have 384 of them.
The Reference Series will be available in two sizes: 105-inches (shown above) and 65-inches (the model used in the side-by-side demo we were shown). Neither pricing nor availability were announced at the show.
LATEST VIDEO