ViewSonic N4060w 40-inch LCD HDTV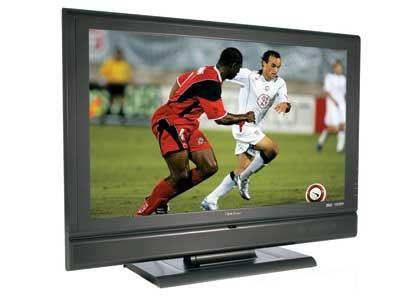 What We Think
After some tweaking, this LCD panel looked great on high-def sports, but less so with DVDs and regular TV channels
You've got to hand it to LCD technology for its meteoric rise. Until recently, plasma ruled the home theater roost, but big flat-screen LCD sets now provide a viable alternative (check out our
recent review of Sharp's 65-incher
). More modest-size LCD models also abound, tempting us with features like 1080p resolution at an affordable price. With LCD accelerating so quickly, it's no surprise to find ViewSonic, a longtime maker of computer monitors, joining the game. The Viewsonic N4060w 40-inch LCD HDTV ($1,800 street price) is one of the largest models the company offers. With a price that low for a screen that large, it's certainly worth a look.
The N4060w's bottom-mounted speakers and charcoal-gray frame give it a compact, understated appearance. It doesn't look as snazzy as some other LCDs in its size range, but most of those models come from well-known TV companies that charge a hefty premium for them. A set of buttons for switching channels and inputs and adjusting volume is located on the TV's side. There's also a headphone output jack, but no A/V convenience input for hooking up a camcorder. I found the TV's included plastic table stand to be workably sturdy, but you could also use ViewSonic's optional wall mount ($150).
With HD DVD and Blu-ray Disc players joining satellite, cable, and terrestrial broadcasting as high-definition TV sources, it's important that your set have plenty of high-def inputs. Unfortunately, ViewSonic skimps in this area, offering only one HDMI input alongside a pair of component-video connections. There's a VGA-style input for connecting a computer, however - no surprise given the company's background in monitors. And since the TV has a built-in HDTV tuner for pulling in over-the-air digital broadcasts, there are also RF inputs for connecting an antenna.
ViewSonic's remote control is a bit on the flimsy side and lacks a backlit keypad for finding buttons in the dark. I found it strange that, despite the keypad being crowded with buttons, none let me control the set's picture-in-picture functions, which are fairly extensive and include side-by-side display and a transparency adjustment for the inset picture - a cool feature. Instead, you're forced to rummage around in the TV's setup menus to make any sort of PIP adjustments.
LATEST VIDEO