VEWD Offers A Smarter Smart TV OS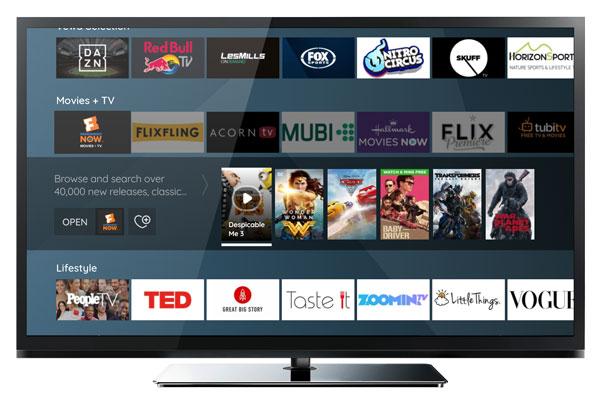 Smart TVs are run on a number of platforms (OS or operating systems). We are usually aware of Android TVs, Roku TVs, even Amazon TVs but there are other platforms. Samsung runs its smart TVs on Tizan. A few years back, Opera TV came on the scene with ideas of a browser-based experience that didn't pan out. Opera TV was acquired and has now become VEWD and they now believe they have a better idea for the best Smart TV user experience.
The VEWD OS expands on the VEWD app that has been available on some TV models from Hisense, Sony, and others. A sort of app store, VEWD expands on the limited number of major streaming apps on a smart TV, adding numerous smaller services like Facebook, broadcast TV, magazine and niche apps.
VEWD looked at the current state of Smart TVs asking why so many consumers are still buying streaming sticks and media players when the apps are often available directly to the TV. They decided that the smart TV experience has been less than ideal. Apps need to be updated if you haven't used them in a while. Often you need to go to an app store and download the apps you want. There is a limited amount of memory on the TV. Once you've downloaded the apps, some TVs show a grid of recommendations you might like. Typically you'll go to the apps you know best then browse through the titles once you open the app. If you don't find anything, you have to open the next app to see what is there.
The idea of the VEWD OS is to show you a number of titles as you click on each app. This is especially useful when you don't know what movies, TV, or videos are on a particular app. As you click on an app, several titles are shown. Click on a title to start them immediately from free apps or those apps to which you subscribe. The home screen offers trailers as soon as you turn on the TV (similar to the Netflix interface). Click on the trailer to open the app and start the highlighted video playing.
There is no downloading of apps as they live and play from the cloud. This is why clicking on a video immediately starts it playing. It also gives you the opportunity to try new apps by clicking on a video that you find interesting.
The VEWD OS also offers an integrated live TV guide. Highlight a show in the guide and suggestions will appear of where you can stream previous episodes.
There were no specific announcements of TVs that will have the VEWD OS, but the company expressed "strong expectations" that there will be major smart TV models that run on VEWD.
With less clicking and features like video suggestions and live TV/VOD integration, perhaps a smart TV with VEWD OS might be complete enough that all you'll need is a smart TV.