Vantage Shows Off Equinox System in Room With a View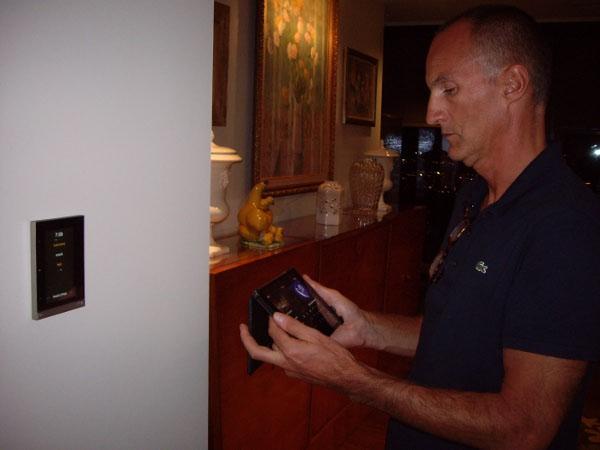 Vantage demonstrated its Equinox family of home-automation control products in a posh 5,000-square-foot penthouse apartment at the Four Seasons hotel with spectacular views of downtown Denver. The homeowners are avid art collectors who use the residence as a second home when they're in town and chose Vantage because they wanted an unobtrusive and easy-to-use control system for entertainment (music and TV), climate control, security, cameras, and—most important—lighting to accentuate dozens of prized paintings. Motorized shades and a TV lift are also covered under the Vantage control umbrella.
All of the system's many functions can be monitored and controlled from a smartphone or tablet or in-wall keypads and LCD touchscreens throughout the apartment. While Vantage offers a 7-inch in-wall touchscreen—the Equinox 7—the homeowners opted for the minimalist look provided by single-gang keypads and Equinox 4 touchscreens. Control is based on the company's User Experience Platform, which presents a graphical signature that is consistent across fixed and mobile control devices. Apple iOS and Android platforms are supported.
Born out of research showing that consumers perceive home automation control as too complex, the Vantage platform was designed for simplicity and consistency across devices so users don't have to learn two (or more) control systems, according to Andrew Wale, vice president of marketing. He describes the control environment as app-esque and says 80 percent of system functions can be executed from the dashboard level of the user interface. "If you use a smartphone or tablet, this will be familiar to you," he said, noting that the control system wakes up with a simple gesture.
The system is highly flexible allowing profiles to be set up by person, time, area of the home, etc. The touchscreen next to the main entry, for example, has only three pages—one with a Clean mode that turns lighting throughout the home on and off, an Accents mode to highlight paintings that line the hallway leading into the living room, and a main home control screen. The owners wanted to be able to walk in and quickly set a lighting mood and turn on music without having to fumble around with an arcane, multi-menu interface, Wale said, adding that they also wanted a system that can be easily updated to accommodate their control preferences as they evolve. More information is available at vantagecontrols.com.