Countdown to Ultra HD Blu-ray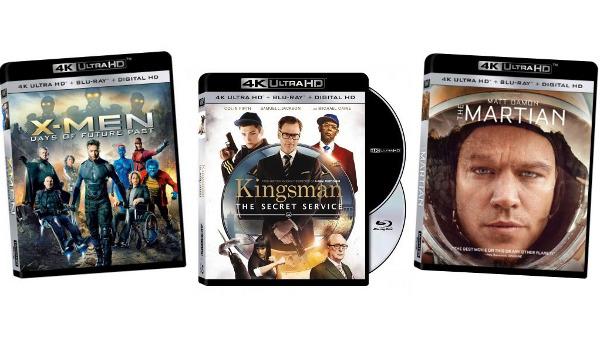 We're only a couple of months away from the scheduled introduction of Ultra HD Blu-ray players and the UHD discs to play on them. At CES both Samsung and Philips announced players due in March, and 17 titles are currently listed on Amazon for release March 1.
Here's a quick rundown of that initial lineup:
Sony Pictures – Salt, The Amazing Spider-Man 2, Chappie, Hancock, The Smurfs 2, and Pineapple Express
20th Century Fox – The Martian, Kingsman: The Secret Service, Exodus: Gods and Kings, Life of Pi, Fantastic 4 (2015), Hitman: Agent 47, and X-Men Days of Future Past
Lionsgate – The Expendables 3, Ender's Game, Sicario, and The Last Witch Hunter
Sony's titles are priced for Amazon preorder at $32.39 ($35.99 list—The Smurfs 2 is inexplicably listed at $35.99 rather than the $32.39 discount price of Sony's other titles—perhaps an oversight unless Sony considers The Smurfs 2 to be the jewel in their Ultra HD crown), Fox's at $29.99 ($39.99 list), and Lionsgate's at $20.60 ($22.99 list) apart from Sicario and The Last Witch Hunter each of which are priced at $38.69 ($42.99 list).
Some of the new UHD Blu-ray titles will be mastered in high dynamic range, though likely not all of them. Warner Brothers, for example, has stated that its first four releases Mad Max Fury Road, San Andreas, The Lego Movie, and Pan) will be HDR. Warner's releases aren't included in the above or following discussions since they haven't yet announced a release date and aren't currently listed on Amazon for pre-order.
The prices above are clearly all over the map, as the studios try to feel out what the market will tolerate. You'll note that apart from the Fox titles the discounts from list price are relatively small, suggesting that either the studios haven't built in much of a profit margin for retailers or that Amazon is also testing the waters for salable prices. It's still a highly fluid situation. I find the Fox discounted prices tolerable, but street prices approaching $40 (looking at you, Lionsgate, though the split in its prices might indicate higher prices for more recent titles) won't enhance the format's chances for success.
As for the titles themselves, there are a few that are justified, a few that are marginal, and a few dedicated to the proposition that early adopters will buy just about anything and this is our last chance to squeeze some money out of them for these dogs. When I averaged the IMDB (Internet Movie Data Base) scores for each title, I arrived at a rating of 6.48 (out of 10) for Sony, 6.87 for Fox, and 6.65 for Lionsgate. While Fox's average was suppressed by the lowest rated title of all, The Fantastic 4 at 4.3, that studio otherwise had the highest percentage of the most highly rated titles: 8.1 for The Martian, 7.8 for Kingsman, 8.0 for Life of Pi, and 8.0 for X-Men. No other studio had a title rated higher than 7.8 (Lionsgate with Sicario).
In the early days of Blu-ray some studios entered the race tentatively, fearing that until there were enough players in consumers' hands it would be self-defeating to release their prize titles. If there were too few sales of, say, Star Wars on Blu-ray at first, when the population of players became large enough those titles would then be old news and wouldn't sell well (this was probably before they hatched the concept of the Special Blu-ray Limited Edition). In any case, our current understanding is that most or all of the first Ultra HD Blu-ray titles will also include a standard Blu-ray so the buy will be more or less future proof—or at least until that Special Ultra HD Blu-ray Limited Edition arrives!
Disc Supremacy and a Call for Choice Titles
To drive the success of the UHD Blu-ray format, with its inherent superiority over downloading and streaming in everything but convenience, we need a flood of choice titles—the sort of titles that collectors will eagerly want to make permanent additions to their collections even if they already own them on 1080p Blu-ray. The world has changed since the leisurely 1080p Blu-ray launch. We need such titles ASAP to enhance the chances that Ultra HD will succeed, not spread out over the next two years.
Such films need to be not only popular but also capable of showing off the benefits of the Ultra HD format—films like Lawrence or Arabia, Star Wars (the original trilogy), E.T., My Fair Lady, Apollo 13, Braveheart, Close Encounters of the Third Kind, Gravity, Gladiator, Harry Potter (any or all of them), Iron Man, Raiders of the Lost Ark, Jurassic Park, Star Trek (any or all), Saving Private Ryan and, in animation, Frozen, The Incredibles, Inside Out, and King Fu Panda (the latter chosen for its eye-popping palette to take advantage of UHD's enhanced color).
In my opinion, street prices higher than $30 (even with two discs) could either drive the failure of the UHD Blu-ray format before it even begins or make Ultra HD Blu-ray a niche product like LaserDisc. The latter would mean that many favorite titles will never be released in the format.
As you peruse the Amazon listings for UHD Blu-rays, you'll see a large number of documentaries labeled "Filmed in 4K." These titles are not 4K but rather were filmed in 4K and downconverted to 1080p. The disc inside is a standard Blu-ray. All of the upcoming Ultra HD Blu-ray movies are in a case with a black band on top, while the "Filmed in Blu-ray" titles have the blue band typical of 1080p Blu-rays. The same is true of several "Mastered in 4K" titles that Sony released a couple of years ago. In both cases the results may look very good, but they are not Ultra HD Blu-rays. This may have been obvious before Ultra HD sets became widespread and the recent finalization of the Ultra HD Blu-ray standard, but today their labeling is certain to mislead consumers.