Two for a View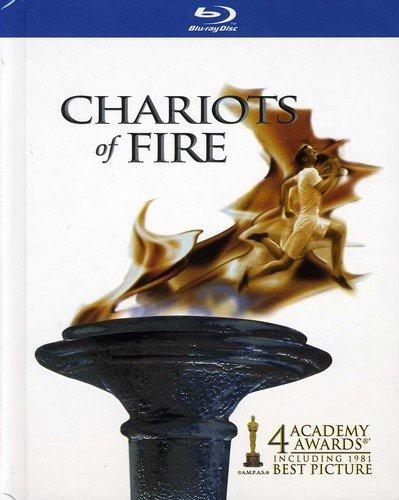 When I have visitors over to watch a movie, the choice of which film to watch is always a challenge. Typically, none of my regular guests care for either science fiction or animation, and those genres make up perhaps half of my collection. But that evening's selection,
Chariots of Fire
, was a title I hadn't watched in years. In fact, I'm not sure I ever actually played my Blu-ray copy. Yes, I do have a number of movie titles still in their shrink wrap, waiting for the right mood to hit before popping them into my player.
I know I saw the film in the distant past in the theater (1981 or shortly thereafter) but recalled little of it apart from it telling the mostly true story (within limits typical of historical films) of three runners competing for the British team in the 1924 Paris Olympics.
Sound boring? It's anything but. In fact, it won the Best Picture Academy Award in 1981. The three runners were Harold Abrahams, Eric Liddell, and ( a young Lord) Andrew Lindsay. Abrahams, the fiercest competitor of the three, endured some anti-Semitism (though relatively mild in the film). Liddell was a Scottish missionary's son, born in China and later a missionary there himself (decades later, he didn't survive WWII; this is noted in the end-titles but not part of the film's story). Liddell was so devout that in the Olympics he refused to run on Sunday, triggering a key sub-plot in the film.
Dramatic liberties were taken in the story as presented here, but they don't distort the important details. Liddell's later experiences in China, described in detail in Wikipedia, could make for a gripping film on their own, though its religious overtones might be dramatic Kryptonite to today's filmmakers.
Lindsay's story is the thinnest of the three, and the least accurate. His character is based on David Cecil, Lord Burghley, who didn't win a medal in the 1924 Olympics (it's hinted in a single line of dialogue that he did, but he didn't do so until 1928). The name Burghley (pronounced Burly) might be familiar to fans of Tudor dramas — his distant ancestor was a close advisor to Queen Elizabeth I.
Abraham's love of Gilbert and Sullivan is accurately portrayed, but while he did marry a D'Oyly Carte singer, (Richard D'Oyly Carte was Gilbert and Sullivan's long-time stage producer) he met her years later than depicted in the film. She's played here by South African actress Alice Krige (pronounced Kree-Ga). Krige's acting career has been extensive, but she'll be remembered best by sci-fi fans as the Borg queen in the film Star Trek: First Contact, and later (in the same role) in Star Trek: Voyager's series finale, "Endgame." She also played Lady Jessica in the SiFi channel's mini-series Children of Dune.
Apart from being a superb movie, Chariots of Fire offers an underappreciated Blu-ray transfer. As viewed on a 100-inch diagonal, gain 1.0 screen (the film is 1.85:1, the transfer is 16:9) on a JVC Projector (2K, pixel-shifted to 4K) the images were clear and crisp, with only an occasional softness that I never noticed after the iconic opening shot of the runners jogging through surf on the beach (pure fiction, by the way).
But it's the film's audio that's exceptional. It's not special in an action movie sense (there are no explosions or gunfights here, unless you count the starting guns!). But it's a sonic feast throughout in the film's wide range of music, including Vangelis' electronic score, choirs accompanied by rich, enveloping ambience, and occasional Gilbert and Sullivan excerpts.
...........................................................
After my guest left, and with the projector and audio system still warm, I dropped another favorite British film of mine, Their Finest into the player. Although it was getting late, I ended up re-watching it from beginning to end. It's a very different, little known film, and likely not to everyone's taste. Taking place in London and nearby during the WWII Blitz, it's a film about the making of a film, the latter intended to buck up the home front in those dark days. While it's both a comedy and a drama, the latter prevails apart from Bill Nighy's performance as Ambrose Hilliard, a fading actor forced into a role he'd rather not play. Nighy's both dramatic and comedic performance nearly steals the movie.
Their Fines was released around the same time as Christopher Nolan's far more complex and ambitious Dunkirk. Their Fines's film within the film is also about Dunkirk, but in a far more modest way. Don't expect it to offer anything like the slick production values and action of Nolan's film. But that's not its intent. What we see here is the sort small, low budget movie that might have actually been made in 1940. That's no small thing. For me, Their Finest is genuinely moving in a very different way than Dunkirk. While it does offer a few explosions (it is during the Blitz after all), it's a solid viewing experience for very different reasons.