Meet Triby, the Super Smart, Voice-Controlled Bluetooth Speaker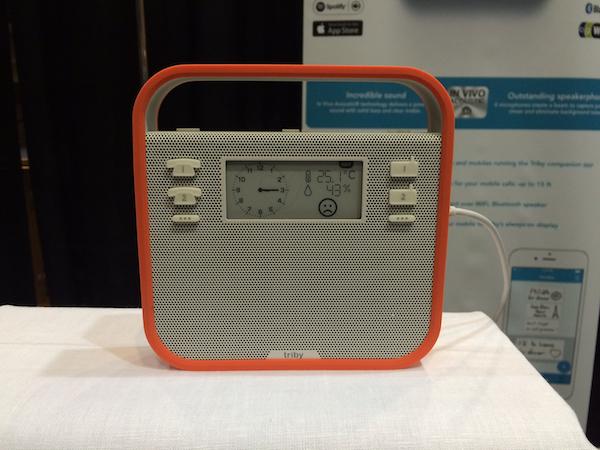 Parent company
Invoxia
calls
Triby
"the next generation voice-controlled speaker for the kitchen", which is a relatively boring, generic description for a device that is much more exciting than that tag line makes it seem to be. And now that Triby is "the first third-party device to announce integration with the Amazon Alexa Voice Service" it's even more exciting.
It's difficult to give Triby an immediately grok-able explanation of what it is because it's a blend of different devices. Triby is:
a Bluetooth speaker that also plays Internet radio stations and Spotify Connect over Wi-Fi
a VOiP device capable of making free phone calls to any device running the Triby companion app outside the home
a Bluetooth hands-free device for mobile calls with a usable range of up to 15 ft away from Triby
a message board that allows you to share text and "doodles" from a smart device to Triby's always-on LCD screen with a motorized yellow "flag" that pops out from the side of the unit to indicate a message has arrived
a voice recognition device for information and automation that's powered by the Amazon Alexa Voice Service
The Amazon Alexa Voice Service integration is expected to be available in the Spring of 2016 and will be available as part of a firmware update for Tribys currently in people's homes. Triby requires the Triby companion iOS app (available for iOS8 and above), but an Android version will be available in Spring 2016.