Tracking Surround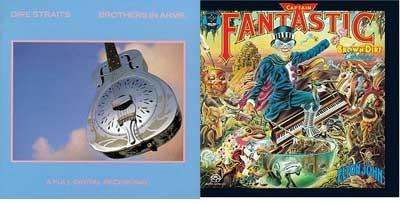 In case you missed it, Dire Straits' Brothers in Arms won the Grammy for Best Surround Sound Album.
It was mixed by Chuck Ainlay for six-channel SACD (on Vertigo/Universal in Europe) and DVD-Audio-equipped DualDisc (on Warner Bros in the U.S.). And as Surroundablog.com's Ron Wheeler quips, "The Academy, IMHO, got it right ... more right than the Surround Music Awards."
He's referring to the fact that, out of five relevant award categories at the Surround 2005 Conference, Brothers was nominated for only the Listener's Choice Award. That award is chosen not by the conference judges but by respondents to Highfidelityreview.com, and they chose John Hiatt's Master of Disaster on SACD.
Other winners at Surround 2005 included Elton John's Captain Fantastic and the Brown Dirt Cowboy on SACD for Best Multichannel Reissue, N.E.R.D.'s In Search Of on DVD-A for Most Adventurous Mix, and, tying for Best Made-for-Surround Title, Beck's Guero and Porcupine Tree's Deadwing, both on DVD-A. But the big winner was Talking Heads' self-titled "brick," named Best Mix, Best DualDisc Release, Best Menu Design, and Best in Show.
So it was rough to open up a recent issue of Entertainment Weekly and see the following entry for the "brick" on The Must List: "Eight studio albums - remastered both in stereo (yes!) and in 5.1 surround (huh?)." Huh?! Guess that about sums up the state of multichannel music in the mass market.
No wonder a prominent surround mixer like Elliot Scheiner is getting impatient with the industry. At Surround 2005, he sat in the audience for the record-label panel. And after Universal's Paul Bishow stated that the surround initiative has to be "artist-driven," Scheiner raised his hand and said: "I've got four Steely Dan masters sitting in my studio. The band wants them done. Do I have your permission to start working on them?" Well, no, he didn't get that permission for Can't Buy a Thrill, Countdown to Ecstasy, Pretzel Logic, and Katy Lied. Nor did Bishow give a release date for more Elton John titles already mixed by Greg Penny: Don't Shoot Me, I'm Only the Piano Player, Caribou, Rock of the Westies, and Blue Moves.
Much of the hesitancy stems from the uncertainty over the actual surround formats. SACD, though relatively popular abroad, has basically been abandoned by the major labels here. Accordingly, five Moody Blues titles - Days of Future Passed, In Search of the Lost Chord, On the Threshold of a Dream, To Our Children's Children's Children, and A Question of Balance - are being released on SACD by Universal's European division, but no plans have been set for the U.S. Similarly, some eagerly awaited SACDs from Genesis - including Supper's Ready, Foxtrot, and The Lamb Lies Down on Broadway - were mixed as long as a year ago but have never been slated for release here. And they seem to be on permanent hold Over There, too.
Except for the odd EMI title, standalone DVD-Audio has also been abandoned by the majors - though the technology has survived on some CD+DVD sets and a few DualDiscs from Warner and Universal. Late word on DualDisc, however, calls it "just about a dead issue," as one major-label source tells Billboard. The only big backer is Sony BMG - but the label's William Sondheim says, "We can carry the ball by ourselves for only so long." Sony BMG has already dropped the ball on surround DualDiscs, as it hasn't released a multichannel title since September.
Meanwhile, the biggest indie backer of DualDisc, the 5.1 Entertainment Group, has sued Sanctuary, claiming that the label failed to deliver music that 5.1 had licensed. But Sanctuary has countersued, claiming that albums it did deliver "failed to sell in any volume" and that others weren't delivered because 5.1 "refused to pay the associated expenses" of mixing them in surround.
Maybe multichannel music will get a new chance on Blu-ray Disc and/or HD DVD. All I can say is: good luck, format warriors!
LATEST VIDEO