TouchTunes Redefines the Jukebox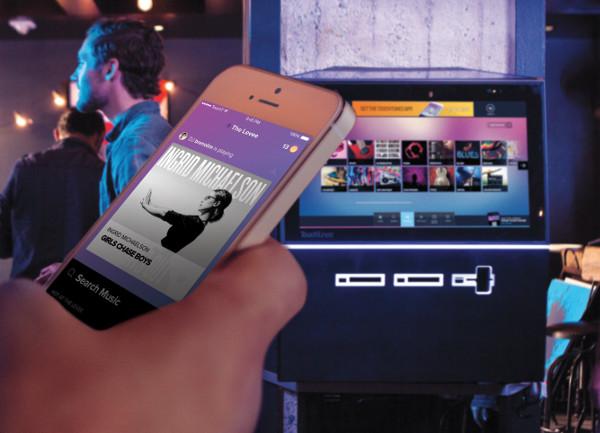 Now that we never need to dismount from the barstool to drop quarters in the jukebox, it just seems wrong to call TouchTunes a mobile app. Pushing through a crowd to reach an illuminated cabinet required actual mobility, also called walking. But that was then. Today no one with a smartphone is budging. In the battle of the bulge, beer wins, waistline loses.
Music lovers win, too. That's because the soundtrack playable by revelers in today's bars is stored in the cloud rather than in a mechanical changer. Instead of 99 selections, you can choose from hundreds of thousands. In an ideal world, I should be able to play the music already in my pocket directly to the bar's speakers via Bluetooth just like at home. But that would constitute a public performance, not to mention a free-for-all among patrons each packing their own portable in the quest to be dominant deejay. Besides, in a commerce-driven economy, artists should be paid.
Enter TouchTunes, a music distributor with internet-connected jukebox screens installed in 65,000 venues throughout North America. Before the app, you inserted money or a credit card into a slot to program the music. The company shares revenues with the watering hole and the music label.
Its mobile app has been out for a few years, but now it's been redesigned to be more personalized. When you install the app on your phone, it can import playlists from Spotify or iTunes. The app's personalization features also combine each user's play preferences with what TouchTunes calls "the venue's vibe" to help users discover the music they have in common with each locale. The new Android and iOS versions were expected this spring. I was able to use a prerelease version on a borrowed iPhone at a New York bar taken over by TouchTunes in March. I easily found "Touch of Grey." Minutes later, the Grateful Dead changed the vibe of the place.
But I really wanted to try TouchTunes on my own, so on the following Saturday, I downloaded the preexisting version. I was prompted to choose a screen name. I wanted "Lucky Man" on account of Keith Emerson having died the day before. But it was taken. So I wrangled "Sir George" as in George Martin, the fifth Beatle, who died the day before that.
It was early afternoon. I was hungry and thirsty and standing in a UPS store making copies. I whipped out the app to locate nearby TouchTunes-enabled establishments. I found a Mexican restaurant just down the block where "Yellow" by Coldplay was currently playing, according to the app. I knew the joint served a hearty brunch and a decent margarita. What sealed the deal was being able to choose the music.
Using a credit card, I bought 13 credits for $5. The new version also accepts PayPal and Apple Pay. Between burrito bites and napkin wipes, I opted for Billy Joel's "You May Be Right." With each credit worth about 38 cents, I could pay two credits to add the song to the queue or three credits to jump the queue. I made the mistake of paying two credits, then deciding I couldn't wait and paying three. There was no way to belatedly add the one credit. Joel did come up quickly after that, but there was no second play later on.
Clearly there are kinks to work out. Still, I expect to be sharing more of my musical tastes from a fixed position in other dives. The new norm may be Norm, the immovable object of Cheers fame, slugging back brewskis and playing the hits.
For more information on TouchTunes, visit TouchTunes.com.