Touch of Class: Classé Sigma SSP Preamp/Processor

Canada's Classé built its first amplifier way back in 1980 and has been perfecting the art ever since, adding preamp/processors and other components along the way. In 2001, the company became a part of the vaunted B&W Group—a meeting of minds that made perfect sense given their shared dedication to uncompromised audio fidelity and design elegance. The Classé story continues with the introduction of the Sigma Series, which includes the $5,000 7.1-channel Sigma SSP surround preamp/processor and the companion AMP5 power amp, also $5,000. (As it turns out, naming products is not one of the company's strong suits, but I digress.)
Drawing on its hi-fi heritage, Classé describes the SSP as a "high-performance stereo preamp/processor with video switching, multichannel processing, and bass management included." Translation: Two-channel reproduction—which, by the way, is based on the $6,000 Delta Series CP-800 stereo preamp—is every bit as important as surround sound performance and the SSP should excel at both.

The SSP is a versatile preamp that courts the audiophile with tools such as a parametric equalizer offering nine bands of adjustment for each channel and an adjustable tone/tilt control. The processor also supports just about every surround format known to man—except Dolby Atmos. What, you say? Classé is of the mind that Atmos won't be a priority for the SSP buyer, who tends to be interested in having fewer high-performance channels in an environment that can typically accommodate 7.1 channels at best.
Still, for anyone who has visions of a 5.1.2 setup with two forward height channels, it will be possible to upgrade the Texas Instruments DSP module with one that supports Atmos when it becomes available.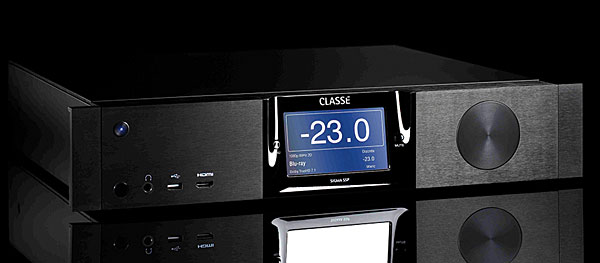 Connectivity is more than covered with AirPlay and DLNA wireless streaming plus an assortment of jacks that includes balanced and RCA analog inputs, eight HDMI inputs (one in front), three coaxial and two optical digital inputs, an Ethernet port, and front and rear USB ports. A phono stage is offered as an option for vinyl aficionados.
You can mate the SSP with any amplifier, but Classé recommends its own AMP5, which brings movie soundtracks to life with 5 x 200 watts of "clean and stable" power (8 ohms, all channels driven). A new Class D amplifier topology is said to deliver wide dynamic range and a smooth, extended frequency response. Amen.
Classé
(514) 636-6384
classeaudio.com