Thrills and Chills: Rescue 3D, Rosemary's Baby, Chernobyl Diaries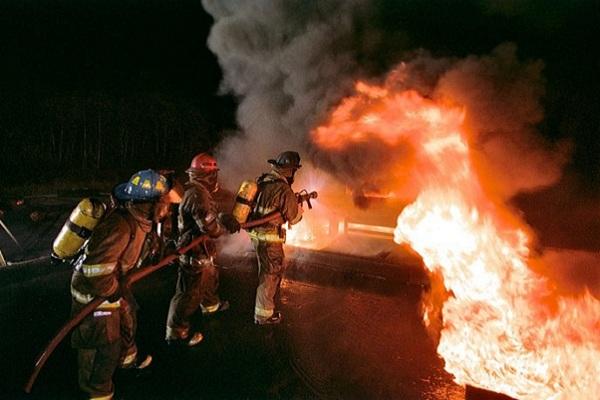 With Halloween right around the corner, we thought we'd take this opportunity to suggest a triple-shot of adrenaline, beginning with the men and women who face real-world danger head-on, then a classic '60s scarer reborn on a boutique label, and finally a very modern, little-seen take on the horror genre.
Rescue 3D (Image Entertainment)
One of the latest documentaries to go from the giant 3D screen to the not-so-giant 3D TV screen, Rescue follows military and civilian first responders through the variety rigorous training that grooms them for just about any emergency. The preparation itself is incredibly dangerous, but the high stakes of their work in the field take the risk to a whole other level. And so, when the unthinkable happens and a 7.0 earthquake rocks Haiti, we have the rare opportunity to sees these real-life heroes in action up close, saving lives via land, sea and air.
Directed by Stephen Low, who's made something of a cottage industry directing these large-format love letters to men and machines, the technically accomplished Rescue manages to capture with a stunning realism the you-are-there experience of being in harm's way. Thanks to its under-an-hour running time, both 3D and 2D versions are included on a single disc, in addition to personal interviews with the humble lifesavers.
Rosemary's Baby (Criterion Collection)
Roman Polanski's eerie thriller has happily received a beautiful new, Polanski-approved HD transfer, the better for us to enjoy this tale of newlyweds, nosy neighbors and deals with the devil. We meet aspiring actor Guy (John Cassavetes) and his wife Rosemary (Mia Farrow) as they move into their impossibly wonderful-yet-affordable new apartment. Their fellow tenants are a strange but mostly cheerful lot (including an Oscar-winning Ruth Gordon), but a darkness slowly emerges, with terrifying ramifications for Rosemary and her unborn child.
The director/screenwriter's "Hollywood" debut, Rosemary's Baby adapts Ira Levin's novel with inspired turns both brilliantly comedic and profoundly disturbing. The new Criterion Collection documentary includes interviews with Farrow, Polanski, and producer Robert Evans, while late author Levin is featured in a 1997 radio chat. A second documentary explores the life and work of jazz musician and film composer Krzysztof Komeda
Chernobyl Diaries (Warner)
After a blink-and-you-missed-it theatrical run, producer/writer Oren Peli's Chernobyl Diaries returns in time for our All Hallows Eve festivities. Set largely at night, the movie follows a handful of present-day tourists visiting a site devastated by the Ukrainian nuclear disaster in 1986. They wind up staying longer than they planned in this abandoned city, which leads to some unwanted discoveries, and some in the group might not make it home alive.
This latest "found footage" opus calls to mind Peli's more highly-acclaimed--and, let's face it, better--franchise-spawning Paranormal Activity, but it is undoubtedly creepy, and virtually impossible to watch in a darkened home theater without inducing at least mild nightmares. An alternate opening and a deleted scene are on board, along with a de rigueur viral video and a cheesy faux infomercial. The combo pack edition also includes a DVD and an UltraViolet digital copy in The (radioactive?) Cloud.
LATEST VIDEO