Three in 3D: Pina, Hotel Transylvania, Fascination Coral Reef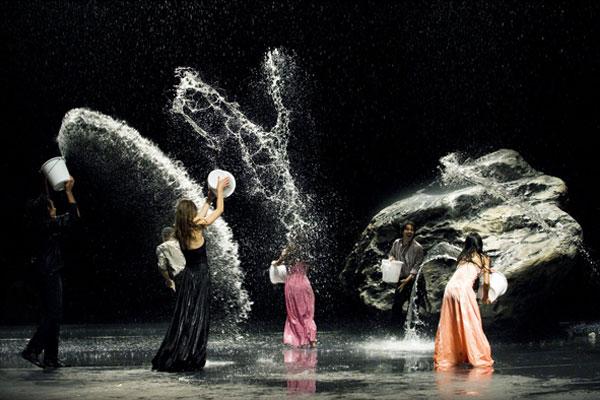 Documentaries in 3D are a special treat, providing that extra level of realism that brings us one step closer to whatever the real-world topic happens to be. And modern digital animation in 3D can look simply tremendous and can make the experience much more fun for all. So keep those active/passive specs handy, although each of this week's titles also includes a 2D Blu-ray option.
Pina (Criterion Collection)
I was all set to write up Criterion's The Tin Drum, really I was. Volker Schlöndorff's freaky, Oscar-winning 1978 adaptation of Günter Grass' freaky novel, with its HD restoration, DTS-HD Master Audio 5.1 remaster and copious extras, new and old was certainly a worthy addition. But then Criterion surprised me with Wim Wenders' Pina. the boutique label's first release of a 3D movie and, just as importantly, their very first Blu-ray 3D.
Released two years after the death of famed choreographer Pina Bausch, the documentary celebrates her life and work, brought to life by the jaw-droppingly gifted members of her Tanztheater Wuppertal company. Shot in 3D, the results are all the more breathtaking for the subject, a wildly original exploration of movement, music and true visual artistry, here with a vital you-are-there quality thanks to the stereoscopic 1.85:1 presentation.
The bonus features are generous, the "making of" and deleted scenes accessible in 3D as well! There's also a Wenders audio commentary and on-camera and interview, behind-the-scenes footage and another wonderful Criterion companion booklet.
Fascination Coral Reef (Universal Studios)
One of three recent 3D aquatic documentaries from Universal (along with Fascination Coral Reef 3D: Mysterious Worlds Underwater and Amazing Ocean 3D), the 45-minute doc combines ironically dry voiceover with some of the most gorgeous underwater photography I've ever seen. Explaining the surprising growth and physical structure of the coral reefs, and detailing but a fraction of its countless, varied inhabitants, the narrative guides us along like a gentle current. The use of the 3D technology here is nothing short of spectacular, turning your big-screen TV into the world's most amazing—and lowest maintenance—tropical aquarium. And while the dramatic depth and HD clarity might threaten to hog all of the glory, the colors here are extraordinary too, with a range and vibrancy that will really flaunt what your display can do.
All of these documentaries are convenient single-disc Blu-ray/Blu-ray 3D combos, owing to their sub-one-hour length. There are no extras whatsoever, but they're watchable in almost every language recognized by the United Nations.
Hotel Transylvania (Sony Pictures)
I was a bit surprised by the box office numbers for last fall's Hotel Transylvania— which was in truth a big enough hit to put a sequel on the radar for 2015—largely because my kids never asked to go see it or if I would receive the subsequent disc. No matter, it's here now and it's a hoot, an all-star animated monster mash wherein Dracula has invited his famous pals Mr. and Mrs. Frankenstein, the Werewolves, the Mummy, the Invisible Man, the Hunchback of Notre Dame and so on to his daughter's birthday party. But scariest of all to these distinguished guests will be the human dude who stumbles in. Yeah, it's a little silly, and a little gross, and the presence of Selena Gomez voicing Drac's progeny should indicate that this one is indeed young-skewing, but it moves briskly with ample clever bits for all.
This three-disc set not only includes the feature film in both 2D and 3D, but also a DVD copy and a unique printed code for UltraViolet access in The Cloud. Bonus-wise it ain't half-dead either, with a new tie-in cartoon (as is the fashion) from director/animator Genndy Tartakovsky, plus a filmmaker audio commentary, music video, DVD-ROM links and beyond.