Thinking Outside the Box II Page 3
Mission fs1 I have a good friend who says "neat" whenever something fires her imagination. And that was my first reaction to the Mission fs1 home theater system-"neat." Instead of conventional drivers, Mission used NXT SurfaceSound flat-panel "exciters" to create a dramatically attractive yet ultra-thin compact speaker system.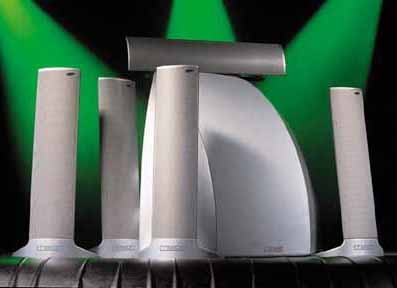 The left/right satellites are four satin-silver oval plastic columns, a bit over a foot tall, 3 inches wide, and only 1 1/2 inches deep, with silver metal grilles. The recessed bottom contains the input jack and two deep, round holes for seamlessly and securely mating the columns with the supplied shelf stands and wall mounts or with optional floor stands. The matching, slightly longer horizontal center speaker has an integral shelf stand for placing it on top of a TV. It's so narrow and light that it should rest securely on virtually any set, even an LCD monitor. You can thread cables through all of the stands to help keep wires out of sight.
Mission fs1
DRIVER COMPLEMENT satellite two 1-inch exciters subwoofer 8-inch cone ENCLOSURES satellite not applicable subwoofer ported POWER (subwoofer) 100 watts INPUTS/OUTPUTS satellite proprietary two-prong plug subwoofer proprietary 10-pin speaker-level socket input, RCA jack for LFE input, proprietary speaker-level outputs to satellites DIMENSIONS (WxHxD) satellite 3 1/8 x 12 1/2 x 1 5/8 inches subwoofer 19 x 15 3/4 x 13 1/4 inches WEIGHT satellite 1 5/8 pounds subwoofer 35 pounds FINISH satin silver PRICE $999; stands, $99 a pair MANUFACTURER Mission USA, Dept. S&V, P.O. Box 4493, Westlake Village, CA 91359; www.mission.co.uk; 818-889-3244
The subwoofer, styled and finished like the satellites but with a conventional 8-inch cone driver, is shaped like one-eighth of a sphere and designed to be placed in a corner. In my room, however, it sounded best on a side wall a couple of feet away from the corner, the same as the other subs. The Mission fs1 system departs from the more traditional wiring for the other systems here. You run the supplied master cable from the speaker outputs of your receiver to the multipin plug on the subwoofer. The master cable also has a standard shielded cable attached to it for connecting the receiver's LFE/subwoofer output to the sub's LFE input. You then run cables with flat two-prong connectors on both ends from the sub to each of the satellites. This makes wiring fast, painless, and all but foolproof. The only problem would be if the cables aren't long enough to reach the surround speakers, but 33 feet of wire should be plenty for most people. Because it has only a level control, the sub relies on your receiver's bass management for all other adjustments. Mission recommends selecting "large" for all the speakers in your receiver's bass-management setup menu. The brief instruction manual Mission provides is exceptionally clear and concise, with photos illustrating every point. Being able to refer to photos instead of diagrams helped speed setup and installation. The fs1 system produced a bigger sound than I'd have expected from such small satellites. The elevator rumble in
Kate & Leopold
didn't shake the room, but it was forceful enough to make my finger instinctively reach for the emergency button. The system superbly reproduced sharp transient sounds like pounding horse hooves, carriage wheels on cobblestones, and clinking glasses. Voices were clear and solid, if a little nasal. And while the dynamic range couldn't match that of the Mirage and Morel systems, it was wide enough to keep my adrenaline pumping. The only noticeable problem was a lack of three-dimensional depth. While the surround sound field was sufficiently deep at the listening position, it didn't seem to extend beyond the plane of the TV screen. My experiences with music-only listening pretty much paralleled those with movies. Of the three systems here, the Mission benefited most from using multichannel modes for music listening. While imaging was good at low levels during two-channel playback, it became blurred at high levels. Switching to multichannel playback eliminated this problem. Although the stereo image didn't have much depth, it did have a good horizontal spread. The subwoofer faithfully reproduced the timpani in
The Planets
, and the voices in
Man of La Mancha
sounded natural. But I remained aware that I was listening to good vocal reproduction instead of having the illusion of artists singing in an actual space. Considering that the Mission system costs only slightly more than half as much as the Mirage system and considerably less than half as much as the Morel, it provided ample bang for the buck. And it can certainly hold its own against other systems in its price range. Since the NXT flat panels don't have ports or vibrating enclosures, the satellite drivers interact very little with surfaces and room boundaries. This makes positioning the speakers relatively easy. And their ultra-compact size, shape, and design made them even easier to place. The only thing Mission overlooked was mounts for attaching the front satellites to the sides of a TV. Choosing the best decibels for the dollar among these systems is almost as hard as picking a favorite color of M&M. The remarkable audio ambience of the Mirage Omnisat 6 was mightily enticing, but some might find its high-tech industrial design distracting. The Morel SoundSpot Applause is a first-rate speaker system regardless of its styling, but you have to pay a premium over a comparable vinyl-on-composite-board box system. And the Mission fs1 breaks barriers with both its styling and value, but it lacks the refinement and richness of the Morel and Mirage. All three systems, though, show that home theater speakers have truly evolved as they've moved from the 20th to the 21st century.
MORE: In the Lab
LATEST VIDEO