That's a Wrap
Home Theater's gift guide goes outside the black box with cool stuff for the movie, music, and game lovers on your list.
It's the most wonderful time of the year…are you humming along with me yet? Time to get in the mood and brace yourself for a few crazy weeks. The holiday hype started in stores weeks before Halloween, the commercials are nonstop now, and many folks made their wish lists months ago. So did we. We scoured pre-holiday events, called manufacturers, and went on an all-out hunt to find some of this season's hottest holiday tech swag—gifts you'll want to both give and get. Skipping the 3DTVs and audio gear we report on month in and month out, we instead zeroed in on some cool extras that'll enhance your theater room or help you and your giftees enjoy your favorite movies and music on the go. Prices range from totally affordable to the serious splurge, but there's a little something here for everyone. Read on for our selections, and happy holidays from Home Theater!
Nyko Zoom for Kinect ($30)
Genius! This gadget uses specially designed optical lenses to decrease the area needed to play your Kinect games by 40 percent. No more rearranging rooms or shuffling furniture to get down with your Xbox. Now you can stand 3 to 6 feet away from the sensor versus the recommended 6 to 10 feet. The wide-angle lens lets two people play in an area normally suited for just one. Gift-ready since it's plug and play, the Zoom slides over the Kinect Sensor with no adjustments needed. Slap it on, and get moving.
EyeSee360's GoPano Micro ($80 )
This Apple add-on is the perfect stocking stuffer. Snap the attachment onto an iPhone 4, press record, and shoot 360-degree panoramic videos. The system includes a plastic case for your phone, the lens, and an app. It's a great gadget to have at a concert or sporting event! The technology was developed with the Robotics Institute of Carnegie Mellon University. Now, it's ready for the movie-making masses!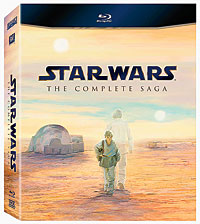 Star Wars: The Complete Saga Blu-ray Box Set ($140 )
Considering Star Wars is one of the top movies of all time, this new gift-box set—with all six films in the space opera saga—is a must-have for any movie maven and a mandatory entry for any holiday gift list this season. The THX-certified 1080p Blu-ray Discs show these classics at the best possible video quality and with 6.1-channel DTS-HD Master soundtracks. You'll enjoy the classic John Williams score in dynamic lossless audio and finally get to see the entire Star Wars odyssey, right from that first unforgettable opening crawl, in beautiful high def.
Sony Personal 3D Viewer ($800); Vuzix Wrap 1200 ($500)
Virtual theater glasses are making a comeback this year, and we've got two for you to look into. Sony's new Personal 3D Viewer, the HMZ-T1, is a head-mounted display device that lets you view 2D and 3D content from cable boxes, Blu-ray players, and game consoles on a movie-theater-like virtual widescreen. Equipped with dual OLED panels with 720p HD resolution, it conveys an experience similar to watching video on a 150-inch screen from 12 feet away. Sony has adapted its original virtual surround signal processing technology so your picture is paired with the acoustical approximation of a 5.1-channel surround sound system.
The Vuzix Wrap 1200 will help you escape to your own private Idaho in stunning sunglass style. The plug-and-play wraparound-style theater shades support 2D and 3D content on LCD lenses with 852-by-480 resolution
and simulate viewing a 75-inch 16:9 widescreen display from 10 feet. AccuTilt technology lets you adjust the eyewear up or down 15 degrees for the best viewing angle and a custom fit. There's separate focus for each eye, and you can wear these over most prescription glasses. Best of all, unlike the Sony glasses, which plug into a wall-powered processor, the Vuzix is fully portable with USBrechargable NiMH batteries, making it suitable for commuting and long plane rides.
Channel Master TV Over-the-Air DVR ($400 )

Cut the cable bill (if not the cord) with this clever set-top box that's both a dual-HDTV tuner and a DVR. Antenna maker Channel Master's newest device, the CM-7400, is thoroughly modern, delivering free, live, over-the-air HD or other digital broadcasts, a subscription-free program guide, and full DVR functions (pause, rewind, and record live TV). The 320-gigabyte hard drive stores 35 hours of HD, and the unit can record two channels at once. You can even store and manage your personal media on it or stream Internet-based content via wired Ethernet or built-in Wi-Fi connection. The initial services include Vudu for high-def movies, Pandora for music, Picasa and Flickr for photo albums, and both Facebook and Twitter.