Test Report: Monitor Audio Platinum Series Home Theater Speaker System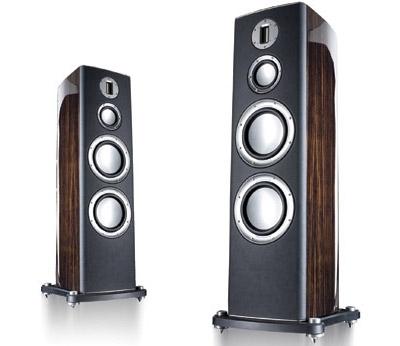 The Short Form
$19,600 (as tested) / MONITORAUDIOUSA.COM / 905-428-2800
Snapshot
A high-end speaker system that combines audiophile-pleasing delicacy with the dynamics necessary for large home theaters
Plus
• Clear and present treble • Enough bass for anyone and any room • Luxury-car-style craftsmanship
Minus
• PL300 demands careful positioning • PL300 and PL350C commandeer much floor space
Key Features
• PL300 ($10,000/pair) (2) 8-in woofers; 4-in midrange; 2 1/4-in-long ribbon tweeter; 43 13/16 in high; 96 1/2 lb • PL350C ($4,800) (2) 8-in woofers; 4-in midrange; 2 1/4-in-long ribbon tweeter; 14 1/2 in high; 74 lb • PL100 ($4,800/pair) 6 1/2-in woofer; 2 1/4-in-long ribbon tweeter; 14 9/16 in high; 28 1/2 lb
People often complain about America's pervasive influence on other cultures. They decry the worldwide proliferation of junk food, throwaway pop music, and carbon-belching cars. But they so often overlook all the good things we invented. Like electricity. Bathing. Fun.
The latest example of conspicuous Americanization is Monitor Audio's new Platinum Series. This company built its reputation on diminutive, beautiful-sounding speakers designed to reproduce the works of Benjamin Britten, Ralph Vaughan Williams, and Petula Clark in the dinky domiciles of the British Isles. But in a more American setting - playing the tours de force of Vin Diesel, Arnold Schwarzenegger, and Bruce Willis in home theaters the size of tennis courts - the speakers were sometimes overwhelmed. The Platinum Series, though, is built for just such demanding fare and capacious surroundings.
Placing the PL300 tower speaker next to a typical Monitor Audio model is like parking a Hummer next to a Mini. It stands nearly 44 inches high and weighs 96 1/2 pounds. It's finished like a luxury SUV, too. Monitor wraps the front baffle in supple leather from the Strathspey region of Scotland - which, like everywhere else in Scotland, is known for scotch and animal products. The sides and back have 11 hand-applied layers of lacquer, covering a piano-black finish or a veneer of ebony or Santos rosewood. Platinum-plated binding posts connect the PL300 to its speaker cables.
Each side of the speaker arcs subtly, lending it a more elegant look and helping to eliminate resonances inside the cabinet. Further reducing resonance are a front baffle made from dense bulk-molding compound, a tarry bitumastic coating applied to all interior surfaces, and four heavy, hand-torqued bolts connecting the baffle directly to the back panel.
The PL300 packs two 8-inch woofers, a 4-inch midrange, and a ribbon tweeter. The last is increasingly common in high-end speakers, but it's a new twist for Monitor. The ribbon has a diaphragm made from the company's light but rigid C-CAM (ceramic-coated aluminum/magnesium) material. Monitor says the diaphragm's nearly massless weight of 18 milligrams (less than one-tenth the heft of an equivalently sized piece of printer paper) allows it to reproduce much higher frequencies than a conventional tweeter can.
The other speakers in the Platinum Series mirror the PL300's design. The PL350C center speaker essentially turns the PL300 on its side and rejiggers the drivers so that the still vertically arrayed tweeter and midrange are between the two woofers. The PL100, which I used mainly for surround duties but will also work as a front left/right speaker, looks like what would happen if a samurai sliced off the top third of a PL300; it has the same tweeter and one 6 1/2-inch woofer.
The series also includes a subwoofer, the monstrous PLW15 ($4,800), which houses a 15-inch driver, a 1,000-watt amplifier, and a digital audio processor with 10-band equalization - all in a cabinet that's crafted to match the look of the other Platinum speakers. Unfortunately, there was only one prototype in the Western Hemisphere at the time of this review, so we didn't get the chance to test it. (Check back soon to read an extended version of this report.)