Test Report: LG 47LX6500 3D LCD HDTV Page 2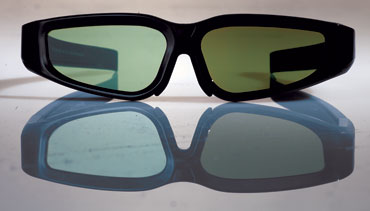 While all these extras add to the LG's intrigue, perhaps the most attention-grabbing feature is its profile. The cabinet measures just over 1 inch deep, making it nearly as slim as the ultra-skinny Samsung UN46C8000 3D model I reviewed in our June/July/August 2010 issue. I really liked the look of the TV's thin, dark-toned bezel and its matching stand, which can be swiveled up to 20° in either direction. Less likeable was the large illuminated LG logo, which can thankfully be switched off in the setup menu.

Back-panel inputs include three HDMI 1.4a jacks, a pair of component-video plugs, and an RGB PC input. On the side you'll find an additional HDMI socket along with a pair of plugs that accept component- and composite-video/stereo audio inputs via breakout cables.

LG's remote control shares the TV's slim form factor and has a fully backlit keypad. The button layout is clean and easy to deal with in a dark room, although I found it difficult to avoid hitting the wrong commands on its arrow-button navigation pad when scrolling through onscreen menus. Buttons that take you to the NetCast media streaming options and Yahoo! Widgets screens are centrally located, and there are dedicated controls to switch between picture modes and inputs. Yet another button calls up the Quick Menu, a handy pop-up screen overlay that presents options to select picture modes and make other adjustments without entering the regular menu.

LG sent a single set of its $130 eyewear for me to use during this test. (That didn't sit well with my two young daughters, both of whom wanted to watch Coraline in 3D at the same time. Kids, it seems, really like 3D.) Unlike the battery-powered glasses that came with Samsung and Panasonic 3D TVs I've tested, LG's are rechargeable models that plug into your computer's USB port to juice up. No batteries to replace? Gotta love that.
LATEST VIDEO